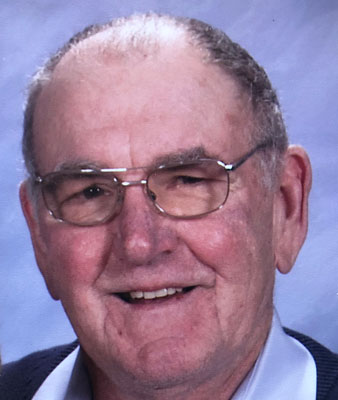 GEORGE E. PLAYFORTH
CANFIELD - Funeral services will be held on Thursday at 11 a.m. at the Canfield Presbyterian Church for George E. Playforth, 82, who died peacefully Saturday evening at Hospice House surrounded by his family.
 George was born Nov. 16, 1936, in Canfield, the son of William and Margaret (Pollock) Playforth.
 He was proud to call Canfield his home. He was a 1955 graduate of Canfield High School, and was inducted to the Athletic Hall of Fame in 1991. Coach Francis McLaughlin referred to George as being the "Toughest athlete pound for pound he had ever coached in football."
He was a member of the U.S. Army Reserves for eight years.
George was an operating engineer for many years. George owned and operated several businesses in the area, including Playforth Mobil Service in Canfield, Diamond Auto Wrecking, and Diamond Back Golf Course.
George always had a love for animals, primarily horses and cattle. He spent many years helping with 4H at the Canfield Fair. He was devoted to his daughters horse shows and livestock shows, which led to an eventual grand champion steer.
One of his greatest passions was watching NASCAR. He was a former race car driver of the #66 at Canfield Speedway, where he was often the center of attention on the track and in the pits. George also introduced his grandsons to racing, and had traveled the country with them.
George is survived by his wife, the former Diane Edwards, whom he married March 1, 1957; four daughters, Georgia (Mark) Wilson of Ellsworth, Becky (Brian) Snyder of Ellsworth, Peggy (Mark) Brucoli of Canfield and Beverly (Mike) Suess of Cincinnati; sister Mildred Kersten of Canfield; 12 grandchildren, Justin (Jenna), Alexandra (Peter), Parker (Angie), Edward, Jake, Paige, Ben, Maggie, Payton (Brenna), Nolan, Samantha (Lee), and Reese; and great-grandchildren, Caleb, Andrew, and Jack.
He was also preceded in death by his parents; two sisters, June McCartney and Violet Crowther; and brother, Bill Playforth.
 Family and friends may call on Wednesday from 4 to 7 p.m. and on Thursday from 10 to 10:45 a.m. all at the church.
 Because of George's love for animals, the family has requested that in lieu of flowers, material tributes take the form of donations to Angel's for Animals, 4750 W. South Range Road, Canfield, OH 44406; or to Hospice House, 9803 Sharrott Road, Poland, OH 44514.
Professional services are being handled by the Higgins-Reardon Funeral Homes, Boardman-Canfield Chapel.
Guestbook Entries
My deepest condolences
"Now is George's time to rest...may Jehovah God the God of all comfort...comfort his family and friends in this time of need...2 Corinthians 1:3,4"
» KMB on May 20, 2019
With deepest sympathy
"I know George loved cattle and horses, but he also loved dogs and cats. At times I didn't know if he was kidding with me when I would tell him we needed to treat the animal he brought in. He would say no and a few other comments, but he always meant yes. He had a heart of gold and I will always remember him for that. I sincerely looked forward to his visits. My deepest sympathy. Dr Mike"
» Mike Simonsic DVM on May 8, 2019
the 5th daughter
"It Took George The saying goes it takes a village to raise a child In our village it took GeogeAlthough he had no sons of birth he had a hand in forming many sons of Canfield. George gave them more than jobs. You always knew where you stood with George. And that is how he taught and earned peoples respect. Giving high school boys jobs. taught responsibility and the meaning of working for a living, trust, and honesty by allowing them to take payments. How many boys learned to save for their first car and how to maintain that car. To George, the Mobile station was where he worked to many of the people of Canfield its a life long memory. I still picture Canfield with the gas stations on the corners. For me, George was a neighbor. That sounds insignificant to the place he held in my heart. George and my Dad had the way of looking at you or changing their tone that just scared the shit out of me. It was like the 2 of them had an unspoken agreement on how their children would be raised. But when George opened up and starts telling a story it always started the same," One Day this GOD DAMN SON OF A BITCH. Whether solving world problems, working or racing with cars and I was lucky enough to hear a high school football one once. I really wish I remembered it. Every story was VERY colorful. So to my other family know I love all of you and wish I could be there. To George, Grab the reins and ride Pegasus through the sky to the heavens. I love you, George. Pete "
» Patricia "PETE" Mealy on May 7, 2019
Condolences
"Mrs. Playforth and girls, Condolences of the loss of George. I remember him well at all of the horse shows, at the service station, and the many stories of his racing at Canfield Speedway. May he rest in heavenly peace. The Family of Phil and Sandy Wertz "
» Terri Wertz Tisone on May 7, 2019
Condolencesou
"Our deepest condolences to the family."
» Biles family on May 7, 2019
Condolences
"My condolences to the family and friends of George. He always greeted me with a smile and hand shake with blessings for a good round of golf. May you find comfort and peace in his many memories. "
» Robin Eisenbrei on May 7, 2019
Friend, Neighbor & Boss !!!
"George Great Guy, good Boss for young guys!!! Offered jobs; some guidance, and at all times an Example of being a Manly Man !!! Condolences to the Family, and Peace be the Journey George ... 😇 !!! Alan T."
» Alan Taylor on May 7, 2019
Sorry for your loss
"Dear Becky, Brian and Family, I always enjoyed talking with Mr. Playforth and he was such a great spirit. My thoughts and prayers are with in your time of loss."
» Ron Friend on May 7, 2019
"Just Go Play"
"My thoughts and prayers go out to the entire Playforth family on hearing the news of Mr.Playforth's passing. And that's what I called him, Mr. Playforth! Never George. For more than a decade as members of Davidsons golf league you survived @ DiamondBack remembering one thing- he's watching! Treat the people and the course with respect- you had no problems. Step out of line? You've got a problem. "George wants to talk to you." Not good! From his chair on the veranda he entertained the world. My entire family, especially my son and I, enjoyed countless hours of Mr. Playforth's hospitality and kindness sharing our in common passion-golf. "Just go play Bobby-catch me later." Heard it countless times. Will never forget it. RIP my friend. God Bless Us All."
» Bob Cramb on May 7, 2019
The Ultimate Fairway
"Well George you have found the final fairway of life. I'll bet it is lush and filled with the friends and playing partners that you enjoyed throughout all of the years at Diamond Back. Thank you for the memories and all the good times. May you rest in peace."
» Alan Steinhauser on May 7, 2019
Sign the Guestbook
---