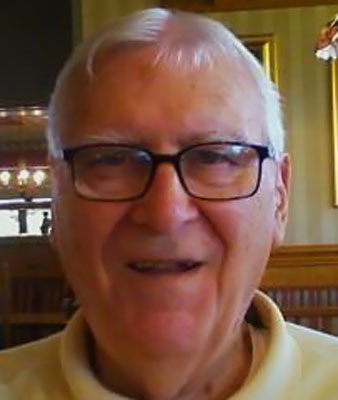 RICHARD RAYMOND JEREN
BOARDMAN - Richard Raymond Jeren, 93, passed away peacefully on March 12, 2019.
He was born in Campbell to the late Anthony and Anna (Schulick) Jeren.
He graduated from Campbell Memorial High School and received his Bachelor's Degree in Education from Youngstown College. He earned his Master's Degree from Westminster College in 1957.
He served in the U.S. Navy as a radioman on a landing craft (LCT), in World War II and answered the call during the Korean War. He participated in the Lingayen Gulf invasion of 1945.
Richard held various positions in the Youngstown School System, including teacher, guidance counselor, principal, data center manager, summer school supervisor, and night school principal. He retired in 1987. He was also the assistant warehouse manager for Pepsi.
In 1990 he was Assistant Manager of Field Operations for the Census Bureau. Also in 1990, he received his real estate license. From that time until his death, he worked for the Mahoning County Sheriff's Department as a foreclosure appraiser.
He was a current member of St. Charles Church and a past charter member and usher of St. Christine Church. He was a life member of the National Education Association, the Ohio Association of Secondary School Administrators, a charter member of Phi Delta Kappa, past director of the Westside Merchants, and past secretary of the Mill Creek Kiwanis.
Richard loved taking his family on summer vacations to Canada and New York City as well as to local spots like Holiday Sands and Geneva-on-the-Lake.
He liked to garden, golf, fish, have breakfast at Perkins, do the crossword puzzle in The Vindicator, and travel with his wife, Terri, to visit various casinos in the United States. He especially enjoyed spending time and sharing his years of wisdom with his grandchildren.
"We remember our dad as someone who was always there to lend a hand or to give advice any time we asked. His happiest moments were having the family together sharing good food and telling stories. He will be deeply missed."
Richard was a loving husband, to his late wife, Terri (Timko), for 69 years.
He is survived by his four children, Richard Jeren II of Poland, Dr. Bradley (Barb) Jeren of Boardman, Todd Jeren of Nashport, and Janice (Bob) Wirtz of Westerville; six grandchildren, Dr. Robert (Ali) Wirtz III of Westerville, Dr. Bryan (Julie) Wirtz of Cincinnati, Rebecca Jeren and Christopher Jeren of Boardman, and Amanda and Sydney Jeren; three great-grandchildren, Clara and Jacob Wirtz of Cincinnati, and Daphne Wirtz of Westerville; and his nephew, Atty. John (Margie) Jeren of Poland.
He was preceded in death by his wife, Terri; brother John; and sisters Mildred and Margaret.
A special thank you to Rev. Marian Babjak for celebrating the memorial service Mass for both Richard and Terri.
The memorial for Richard will be held at 11 a.m. on April 2 at St. Charles Church in Boardman.
In lieu of flowers, donations can be made to a charity of your choice.
Guestbook Entries
With sincere sympathy
"To the Jeren Children: I was saddened today(April 2nd) to read about your Dad's death on the computer at my local library here in Florida. I truly respected the man, and consider myself fortunate to have known him. He was my principal when I taught at Volney Rogers, my neighbor across the street from me for decades, and my friend. Boss, Neighbor, Friend. Rest In Peace."
» Charles Glinatsis on April 2, 2019
Thoughts and prayers
"Thoughts and prayers at this time. This is the time for family and friends to remember the good times. and celebrate a full, well lived life."
» Roger on April 2, 2019
"Uncle Richard"
"To Cousin Rick , Brad and the Jeren Family, Sorry to hear about your Dad. Brad had told me he wasn't doing very well on my last visit. I just saw the news in the paper and I just wanted you to know I was thinking about your family. Your Dad taught me so much when we worked together at Dial Soap. I always appreciated his guidance in my early professional career and the fun times together. I always laugh at the stories he told me when he was a principal in the Youngstown school system. He will be missed. Best to you and your family! Mike Sopko"
» Michael Sopko on March 25, 2019
To the family...
"Our deepest sympathy and prayers for the entire family. He was a good man. "
» Deacon Ron and Nancy Layko on March 24, 2019
Great Guy
"To Brad your dad was a great guy and I know he is in heaven ! May he RIP "
» Robert Sopko on March 24, 2019
Sign the Guestbook
---