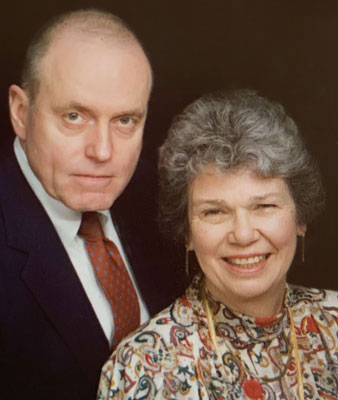 ARTHUR D. WOLFCALE JR
"Together Again"
CANFIELD - Arthur D. Wolfcale Jr., died on March 20, 2019, after a short Illness. 
Arthur was born on July 12, 1929, in Youngstown, the son of Arthur Sr. and Linnea Wolfcale.
Arthur was the seventh generation of the Wolfcale family to live in the Youngstown area. His ancestor, John Wolfcale, settled in Mahoning County in 1804, after serving in the 8th Virginia Regiment in the Revolutionary War.
He grew up in Youngstown, graduating from Chaney High School in 1947, and earning a bachelor's degree from Youngstown College in 1950.
After serving in the U.S. Army and earning his law degree at Case Western Reserve Law School, he returned to Youngstown to practice law, first in private practice and then as General Counsel at the Edward J. DeBartolo Corporation for more than 40 years. 
He married the love of his life, Helen (Davies) in 1960, and for nearly 50 years, they enjoyed travel, the arts, and dancing on Friday nights.
Arthur was an accomplished musician who loved classical music and was an avid supporter of WYSU, Youngstown's classical radio station.
He was a lifelong Democrat, passionate about politics and a strong supporter of civil rights and environmental protection legal causes.
He loved animals, especially his many Great Danes, and supported wildlife conservation efforts globally and Noah's Lost Ark Animal Sanctuary in Berlin Center.
He is survived by his sister and brother-in-law, Alice and Robert Weekley of Tucson; his nephew, Randy Weekley, also of Tucson; his daughter, Amy (August) of Long Beach, N.Y.; his son, Nils (Aza) of Canfield; and his granddaughter, Gianna-Helen, whom he absolutely adored. 
Arthur was preceded in death by Helen, his wife of 48 years, who passed away on Aug. 5, 2008. 
There are no immediate plans for a funeral service.
Art left strict instructions that his passing should be marked with a party, later this spring, for family and friends, where everyone could just "have a great time!" 
In lieu of flowers, contributions can be made to the Southern Poverty Law Center, the Friends of Fido or the Mahoning County Dog Pound.
Guestbook Entries
Deepest sympathies
"RIP ART 😔🙏 Working for you at DeBartolo's was an honor. My sympathies to Amy & Nils and your entire family. "
» Nancy Esparra on March 24, 2019
My Sympathy
"Thoughts and prayers are with your family. Art was a mentor and friend to my Greg when we lived in the Youngstown area. We often enjoyed the hospitality, friendship, and some traveling wine adventures with Art and Helen. Wonderful memories of genuinely caring people."
» Joan M Williams on March 24, 2019
with deepest sympathy
"with our prayers and heartfelt sympathy to a dear, dear friend for so many years and to his wonderful family--may god bless you always---"
» candy and eddie debartolo on March 24, 2019
Sign the Guestbook
---