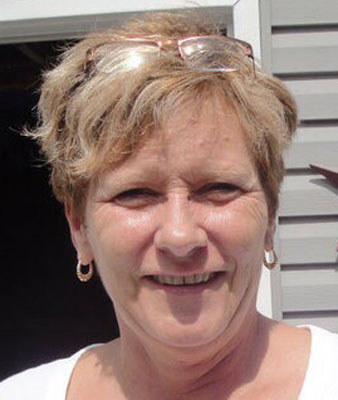 DRUANN 'DRU' BUZZACCO
YOUNGSTOWN - Druann "Dru" Buzzacco, 65, died early Thursday morning at Hospice House after a short battle with cancer. 
 Dru was born on July 26, 1953,  in San Antonio, Texas to Mary Jo Walton. She moved to Youngstown in 1954, and graduated from Chaney High School in 1971.
 She married Ralph Buzzacco, the love of her life, on Oct. 10, 1973. Dru was a loving and supportive mother to her two children, Jenna and Sam. 
 Dru loved the beach and spending time with her loved ones. She will be remembered for her wit, humor and ability to get sand everywhere. 
 Dru is survived by her husband, children and two grandchildren.
A memorial service will be held Sunday at 10:30 a.m. at the Higgins-Reardon Funeral Homes, Austintown Chapel. Family and friends may call for one hour prior to the service. 
 In lieu of flowers, the family asks that donations in her memory be made to Hospice of the Valley, 5190 Market St., Youngstown, OH 44512.
Visit www.higgins-reardon.com to send condolences to the family. 
Guestbook Entries
neighbor from S. Whitney
"Buzzy, I'm truly sorry to hear about my friend and past neighbor Dru. We lived as neighbors for quite a few years. Always remembered Dru laying in the sun and making Sun iced tea every year. I'm so sorry I learned of her death after the services. I would have been there for you and your family for support. I know what you're going thru. Love and prayers."
» Patty Dickey on March 10, 2019
Dru Bazzoco
"Ralph my sympathy to you and family on the passing of your wife. May GOD continue to bless and comfort you at this time January 31 2019"
» Sharon wallace on January 31, 2019
God Speed
"Ralph, so saddened to read of the passing of your beloved wife Dru. Please know my thoughts and prayers have been with you and your family during this tome of grief. Jimmy Hay"
» Jimmy Hay on January 28, 2019
OUR PRAYERS ARE WITH YOU
"SO SORRY TO HEAR THIS,SHE WAS AN AMAZING WOMAN,MANY GREAT MEMORIES"
» BOB AMENDOLEA on January 28, 2019
For A Wonderful Lady
"My deepest sympathies to such a wonderful family I have had the privilege of knowing. I will never forget all the wonderful memories I had with Dru. She was such a special woman. Always smiling, laughing and helping in any way she could. Sending all my love."
» Kimmy Gilbey on January 28, 2019
Condolences
"Ralph I'm so sorry for your loss Dru was a great person & the perfect person for you "
» Joe Lenefonte on January 27, 2019
A Wonderful Neighbor
"I'm Grateful to have had Ralph & Dru as Neighbors and Friends the past seven years. Tons of Laughter, Jokes & Stories shared across the lawn. Her presence will definitely be missed for summers to come. Praying for Strength, Peace, Wisdom and God's presence upon Ralph & Family as they navigate this next leg of the journey without her."
» Jere B on January 27, 2019
My condolences
"So sorry for your lost Ralph.You and your family are in my thoughts and prayers"
» Sharon Bowers on January 26, 2019
My condolences
"So sorry for your lost Ralph.You and your family are in my thoughts and prayers"
» Sharon Bowers on January 26, 2019
My condolences Ralph
"Sorry for your loss. "
» Mike Kukura on January 26, 2019
Sympathy
"So very sorry to hear about Dru. Praying for strength during this difficult time! 🙏"
» Karen FRENCH on January 26, 2019
My Condolences
"My deepest condolences and prayers to you and your family. May God See you and your family through this difficult time. God Bless you all "
» Brenda Blazo on January 26, 2019
Sending my sincere sympathies
"Phil and I want to send our deepest sympathies to all of you for the loss of Dru. We had the pleasure of knowing Dru and have such wonderful memories of her. She was a wonderful lady and will be truly missed."
» Sally Cully on January 26, 2019
Our prayers are with you.
"Sorry to hear that a childhood friend and neighbor has passed. Dru's grandmother and mine were sisters. Our mothers were first cousins. My prayers are with you."
» Rev. Richard Lambert on January 26, 2019
Sign the Guestbook
---