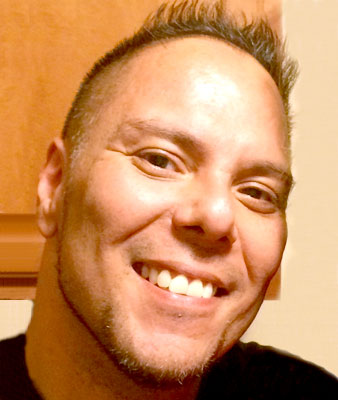 SEAN CHRISTOPHER PAGAN
SALEM – Sean Christopher Pagan, 47, was called home early on the morning of Jan. 8, 2019. Sean bravely fought an aggressive cancer for nearly four years.
He is survived by his wife, Shannon (Reardon) Pagan ; his adoring youngest daughter, Aleeya, as well as his two adult children, Christopher and Samantha; his mother, Marie Torres; his sisters, Danille Torres and DeAnna Matzye (Mark); his brother, Michael (Sheri); as well as multiple nieces and nephews; and one grandchild, Gianna.
Sean was preceded by his father, Louis Pagan.
Sean graduated from Austintown Fitch High School in 1989.
He served in the U.S. Navy from 1989 to 1993, where he earned the National Defense Service Medal, Armed Forces Expeditionary Medal and the Navy and Marine Corps Overseas Service Ribbon. Sean attended the Pittsburgh Culinary School in 1993 and loved to cook. He also loved the Dallas Cowboys, listening to music and spending time with his family. Sean will be greatly missed by those who knew and loved him. May he rest in eternal peace.
A memorial service will be officiated by his Pastor Michael Hileman of the Connecting Life Church. The service will be held at Crossroad Ministries Church, 1909 North Ellsworth Ave. in Salem, at 4:30 p.m. on Sunday, Jan. 13, 2019.
Military Honors will be conducted prior to the memorial service.
Please feel free to visit www.oakmeadowcremation.com to leave any remarks or wishes.
Guestbook Entries
My deepest condolences
"Now is Sean's time to rest...may Jehovah God the God of all comfort...comfort his family and friends in this time of need...2 Corinthians 1:3,4"
» KMB on January 30, 2019
Peace be with you!
"We never know His plan. But we love and trust in Him all the same. I heard so many beautiful things about Sean and his deep love for his family. I watched and listened through this looking glass we call Facebook. He fought a courageous battle but when God wants an Angel in Heaven He calls to them and they must go. God Bless you and your daughter and anyone else feeling the pain of loss. May knowing that he is with Our Lord and Savior give you strength and comfort to go on until we see him again. So long for now Sean and save me a seat in The Kingdom!"
» Jerry Arnal on January 15, 2019
Sorry for your loss
"Shan I am so sorry for your loss. I can't even imagine what you are going through. Prayers for you to stay strong and if you ever want to talk give me a call. 💕"
» Marcie & Manny on January 13, 2019
Prayers
"Our deepest sympathies and prayers for you and your family "
» Richard and Christina Buxton on January 13, 2019
My Sympathy
"Sincere sympathy to your family at this difficult time."
» Norma Remias on January 11, 2019
Sympathies
"Shannon I'm so sorry for your loss...Rick"
» Rick Pack on January 11, 2019
Sign the Guestbook
---