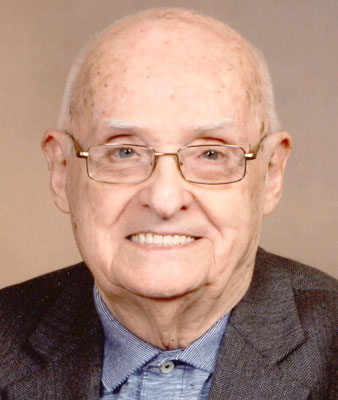 MALVERN HERBERT CULP
AUSTINTOWN TOWNSHIP – A devoted Christian man who loved the Lord with all his heart, mind, soul and strength is today singing with the choir of angels in his new heavenly home. A loving husband, father, grandfather and great-grandfather, Malvern Herbert Culp passed away on Saturday, March 30, 2019, at the age of 90 years young.
The son of Lawrence and Edna (Kornbau) Culp, he lost the love of his life, Dorothy Lucille, on May 25, 2014.
He is survived by three sons and one daughter, Malvern (Janice) Culp of Gilbert, Ariz., Kevin (Debbie) Culp of Canfield, Raymond (Barbara) Culp of Lino Lakes, Minn., and Zana (Dave) Short of Canfield; 10 grandchildren, Dr. Jeffrey Culp, James Culp, Kristie Gross, Kevin Culp, Bethany Culp, Rebecca Springman, Dr. Megan Culp, Raymond Culp, Bruce Shaffer and Jacob Short; and 11 great-grandchildren.
Mr. Culp was a member of the West Austintown United Methodist Church. As a dedicated United Methodist, Mal served in a variety of positions within the church, as a Sunday school teacher, Sunday school Superintendent, Choir Director and Council member at Lakeside. He loved to sing, and when not leading the choir was always an active member. He sang for several years with the Youngstown Chapter of SPEBSQSA (Barber Shop Singing).
After graduating from Canfield High School in 1947, Mal worked for U.S. Steel for 24 years, completing his apprenticeship as a Boilermaker in 1954. After the mill closures in the 70s, he was employed by Packard Electric in Warren for 19 years as a Millwright, retiring 1991.
Mal is also survived by brothers Kenneth (Virginia) Culp, Charles (Louise) Culp, and Larry (Joan) Culp.
Besides his wife, Mal was preceded in death by his parents; sisters Eloise Culp, Evelyn Cavanaugh, Martha Shepherd, and Glendora Senvisky; as well as brother Wayne Culp.
Family will receive friends from 4 to 6 p.m. on Tuesday, April 2, 2019, at the West Austintown United Methodist Church, where services will be held at 6 p.m.
In lieu of flowers, the family requests donations be made to Hospice House, 9803 Sharrott Road Youngstown, OH 44514, in Mal's name.
Family and friends may visit www.lanefuneralhomes.com to view this obituary and send condolences.
Guestbook Entries
In sympathy
"My most sincere condolences to you, Kevin and Debbie, and to the entire family for the loss of this great man. "
» Jim Dyer on April 2, 2019
Condolences
"We want to wish your family our deepest condolences and sympathy in the loss of your father. We believe that he is now in the presence of OUR LORD AND SAVIOR JESUS CHRIST AMEN 🙏🏼 MAY GOD BLESS YOU and Console you all in this period of mourning 🙏🏼"
» Frank & Karen Romandetti on April 2, 2019
Condolences
"Our most sincere sympathy is extended to the entire Culp family. "
» Patty and Frank Sachire on April 2, 2019
CONDOLENCES
"MY HEARTFELT SYMPATHY GOES OUT TO MAL , JAN AND FRIENDS AND FAMILY. MAY HE BE AT PEACE WITH HIS HEAVENLY FAMILY"
» Karen MacIntyre on April 1, 2019
Sign the Guestbook
---