BoneShakers' feel complements Timberlanes Complex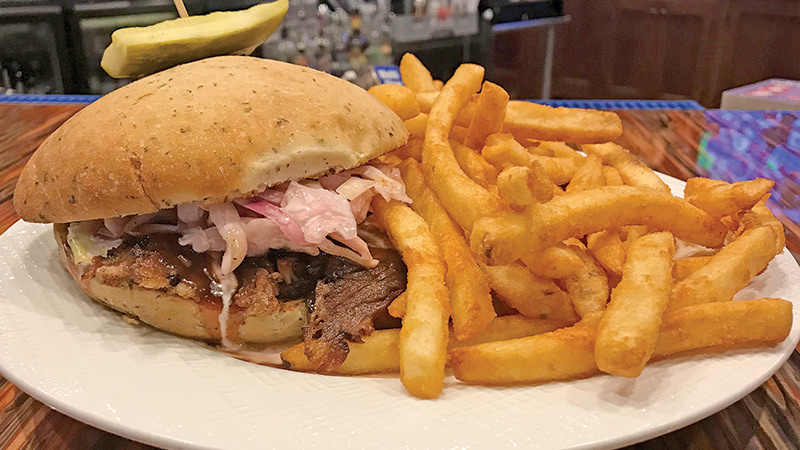 ---
Valley Deals 365 - BoneShakers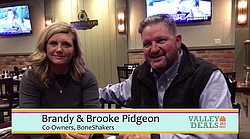 Video
An interview with Brandy & Brooke Pidgeon, Co-Owners of BoneShakers. This video feature is from Valley Deals 365, a partnership between The Vindicator and 21 WFMJ-TV. Visit Valleydeals365.com to view this and other deals.
$20 voucher for $10
BONESHAKERS AT THE TIMBERLANES COMPLEX
Address: 544 East Pershing Ave., Salem
Hours: Open daily at 11 a.m., Sundays at 9 a.m.
Info: Smoked barbecue, steak, prime rib
The Deal: ValleyDeals365.com
Video: Watch our interview with BoneShakers co-owners Brooke and Brandy Pidgeon on vindy.com/valleyfood
ValleyDeals365 Deal #2
By Corey Crisan
In Partnership with 21 WFMJ-TV
SALEM – The historic Timberlanes Complex in Salem is a hotbed for events and, in turn, activity. A consistent flow of travelers year-round congregates for weddings, graduation parties, anniversary dinners and other monumental events alike. Tucked away on the ground floor of the complex is BoneShakers – a restaurant that complements traffic at Timberlanes with homemade barbecue.
"When the banquet facility is full, the bar's usually full," said BoneShakers co-owner Brooke Pidgeon, who owns the restaurant with his wife, Brandy. "When the bar's full, the hotel's full. ... The history of people who tell us, 'We were here for this event,' since we've had it has been unbelievable."
In addition to BoneShakers, The Timberlanes Complex houses The Stables Inn & Suites and The Grand Ballroom – a venue that seats up to 350 people. To play off the environments from the ballroom and hotel, BoneShakers employs a "polished casual" feel to it.
"From the '50s through the '90s, this property was a white tablecloth, suit-and-tie, special occasion place," Brooke said. "When we first opened, we decided to not continue [that], but we didn't want it to be where you're throwing peanut shells on the ground, either."
BoneShakers is set to open its revamped patio for the summer. The covered area in front of the restaurant's entrance is spacious enough for tables, a mobile bar station and live entertainment.
"We're going to start with drinks and appetizer features [for patio guests]," Brandy said. "It's a place where you can come hang out on a nice summer day and not have to be inside."
The first item that customers should notice after walking into BoneShakers is the massive dessert case in front of the host's table. It is akin to a chain restaurant such as Perkins with its pies, or Texas Roadhouse with its steak cuts.
BoneShakers has a similar idea to it, but they fill it with all sorts of treats created by its full-time staff of pastry chefs: cake slices, cookies, brownies, protein bars and much more.
"I'm not a fan of having something shipped in frozen and served," Brandy said. "Our food quality is excellent, so I wanted the desserts to be, too. We try to have a baker on staff at all times that can handle desserts, cookies, cakes and treats for everybody."
The customer is then ushered into a seating area by its wood-finished bourbon bar, or on one of the two levels of its spacious dining room. To couple with the polished casual feel, BoneShakers features a menu of comfort food. Namely, barbecue that is smoked in-house.
"We just re-did our menu, and we're doing really well with our brisket," Brandy said. "Our steaks are to die for, and our prime rib is unbelievable."
Brooke added, "Anybody that comes down here and looks at our menu will be pleasantly surprised with the quality of food at the price that it's coming out at. We've strategically put together this menu."
BoneShakers is open at 11 a.m. daily, and at 9 a.m. Sundays. For the full menu, information on catering and the banquet hall, and reference for the rest of The Timberlanes Complex, visit timberlanescomplex.com.
More like this from vindy.com