Curbstone Coaches: Induction reunion adds to Snowden memories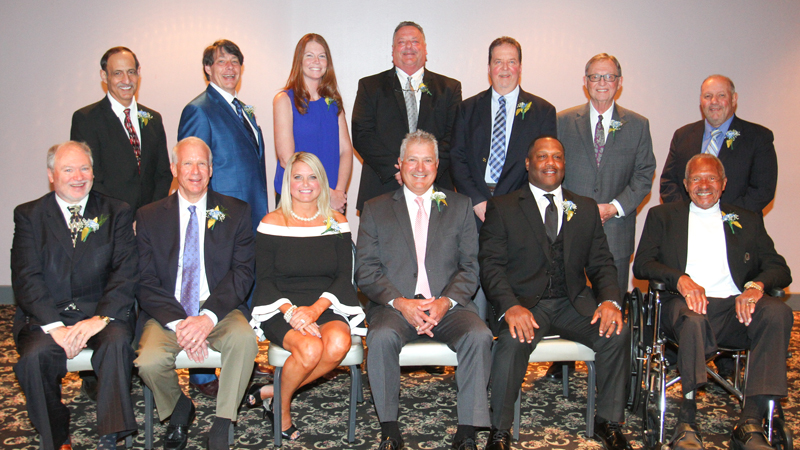 ---
By Greg Gulas
sports@vindy.com
BOARDMAN
Jim Snowden, the former East High football standout, had a well-rounded playing career.
After starring in three sports for the Golden Bears, he helped restore the University of Notre Dame to national prominence in Ara Parseghian's first season at the helm. He later helped the Washington Redskins get to Super Bowl VII to cap off a noted eight-year professional career.
Returning to the Mahoning Valley to accept his plaque for induction into the Curbstone Coaches Hall of Fame Sunday evening was another shining moment in his accomplished career,
"I was a defensive end in high school and my coach was Ed DiGregorio," Snowden said. "He always gave me words of inspiration. He always put together a great gameplan and if we carried it out, we won.
"This whole weekend has been absolutely fantastic," Snowden said. "I've gotten to see so many friends and wonderful people in my life. My classmates that I grew up with remain so very special to me and for them to think enough to nominate me is humbling.

"From the bottom of my heart, this is a wonderful day because it has brought back so many wonderful memories."
The 52nd class included Kirk Baker (football), Teri Haefke (bowling), Leo Hawkins (football), Len Holman (special award), Joe Jeswald (football), Rick King (contribution to sports), Roger Kreps (track and field/cross country), Patrick Lorelli (contribution to sports), Sam Naples (martial arts), Dianne Rappach-Kosco (basketball) and Atty. Lou Schiavoni (boxing).
John Hirschbeck, former Major League Baseball umpire for 34 seasons and Mahoning Valley resident, was guest speaker.
"You can learn from anyone in life, as long as you have an open mind and attitude," Hirschbeck said. "I haven't been applauded too many times over the course of my career and it's a little strange when I come to an event like this and you clap when I am introduced. To make me feel at home, on the count of three, please boo me.
"We all can't get into the hall of fame nor can we all make the big leagues, but we can live our lives like big league people."
Kreps earned 11 letters while running track-cross country and playing basketball for Boardman. He defeated 1972 Olympic gold medalist Dave Wottle during their scholastic battles.
Holman, an official who will head into his 47th football season this fall, thanked his family for sacrificing so much so he could pursue his avocation.
Baker, a standout football player at Jackson-Milton who also is an official, said he has the best seat in the house every time he works a game.
Rappach-Kosco also thanked DiGregorio for the opportunity to both play for and coach under him, noting that her former Youngstown State University basketball coach also taught her about life.
With 65 perfect games, Haefke called herself fortunate to be able to excel in the sport that she loved.
King, Hawkins and Jeswald singled out the many coaches and teammates that helped them.
"Boxing has been very good to me and my family and the late Art Mayorga helped make me the man that I am today," Schiavoni said.
More like this from vindy.com