Many remember Annarella as coach, mentor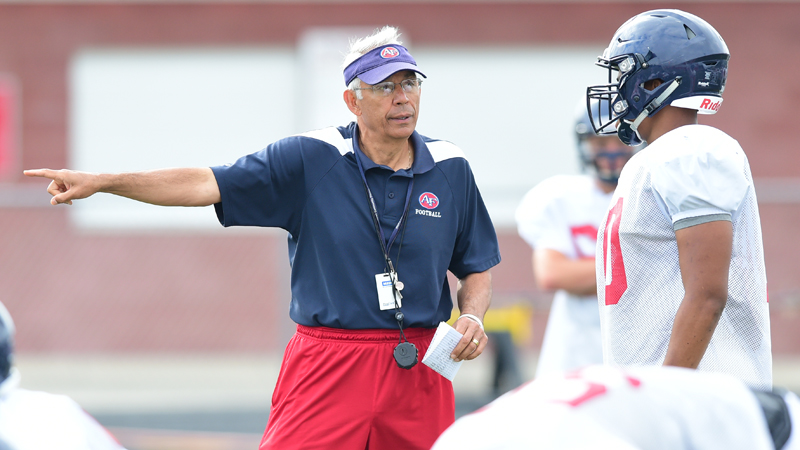 ---
By MIKE McLAIN
sports@vindy.com
NILES
Retirement was never a thought that crossed Phil Annarella's mind.
"What am I going to do?" Annarella once said when asked if retirement was in the near future. "I don't play golf."
Coaching football was Annarella's fairway, and he rarely found the rough in more than four decades striding sidelines from East Liverpool to his final stop at Austintown Fitch. His love of coaching and developing young men could only be stopped by his sudden death at age 70 last week.
A career record of 246-146-3 is impressive at first glance, but you have to look beneath the surface to see Annarella's true value as one of the area's legendary coaches. The numbers were important no doubt, but Annarella seemed most at ease when he could sit and talk about one of the players he coached.
His deep voice and direct manner in dealing with people had a fatherly way of impacting young men. In some cases, he was a paternal figure that was needed at critical times in their adolescence.
"Just wait and see what his ex-players say about him," former coach Bill Bohren said. "All the kids he has done things for. Phil didn't bend. He did exactly what was right for the kid. Maybe mom and dad didn't like it. He did what the kid needed, and the kid became a much better person because Phil didn't bend."
Darrin Hall, a recent running back at Fitch and the University of Pittsburgh, was still coming to grips with the stunning news Saturday. Hall had a tryout at the Cleveland Browns rookie camp in late April, and no one was pulling for him more than Annarella, who spoke like a proud dad of Hall's collegiate success.
Like many ex-Fitch players, Hall hasn't strayed too far from the school. He can't imagine life without Annarella's guiding words. In fact, he listened to a voice message he received from Annarella not long ago, just to hear his coach's voice again.
"He never let me be that big-headed guy who showed off and put himself in front of the team and not carry it over to life and who I am off the field," Hall said. "He'll always go down as a football coach, but he was more so my life coach. There are so many players that looked up to him and saw him as a father figure,"
Annarella had an authoritative manner that caught the attention of all who came into contact with him. He delivered speeches better than most politicians. When a heart-felt message was added to the delivery, as he eloquently did when eulogizing former Warren Harding, Ohio State and Minnesota Viking Korey Stringer in 2001, he commanded the congregation.
"There's going to be a special place in our memory for where Phil sits," said Billy Price, former Fitch and Ohio State offensive lineman and current Cincinnati Bengal. "The community is going to see it as well by his absence. There are special men in this world, and Phil was one of them from what he could do with young men that parents couldn't do. I would have been at Ursuline if not for him."
Although Annarella retired from teaching before coaching at Fitch, he never took his pulse off how each player was performing in the classroom. When a problem surfaced, it consumed his interest.
Pat Guliano, a long-time school administrator in the Warren and Niles School systems, among others, remembers meeting Annarella in a hallway at Fitch while supervising teachers as an employee of Notre Dame College.
"I run into Phil, and he had his game face on," Guliano said. "He glances at his clipboard and there were grade cards. He wasn't teaching, but he was monitoring grades, which he always did. He kept up with that. Educational integrity was always important to him and making sure these kids did what they had to do."
Annarella's early coaching career included a stop as an assistant on Don Charlton's staff at East Liverpool in the 1970s. His first job as a head coach was in 1976 at The Rayen School in Youngstown. He joined Charlton at Warren Western Reserve as defensive coordinator in 1977 and went on to serve as head coach at Reserve, Harding, Hickory (Pa.), Niles and Fitch from 2007-18.
The highlight of that lengthy career was directing Harding to the Division I state championship in 1990. Annarella had great talent to mold on a roster that included Stringer, but he also had to deal with a potential perfect storm in the mixing of the east and west sides of town in the first season after the consolidation of Reserve and Harding.
The Harding-Reserve rivalry was as intense and respected as any outside of the Massillon-Canton area. It was a short-lived rivalry (1968-89), but it packed enough passion and football excellence in 22 seasons to still be talked about today.
What that meant for Annarella was dealing with a collision of east-west factions that saw conspiracies under every rock. Somehow, Annarella made it work to the tune of a 14-0 record and a 28-21 win over Cincinnati Princeton in the state title game at the Akron Rubber Bowl.
"There was a lot of tension while this was going," recalled Tom Reed, who covered Harding football that season for The Tribune Chronicle. "How was it going to work? People were upset about the colors and what coaches got which jobs. That team kind of rallied behind that and was so good. It really started Warren into the healing process after some acrimonious years between the west and east sides."
Annarella's no-nonsense approach proved to be exactly what was needed. He had a west-side connection as Reserve's coach, but he could be trusted to make calls that weren't influenced by which side of the Mahoning River a player lived.
"We knew if we were going to get anything accomplished, something immediate like football would be paramount in making things work," recalled Guliano, director of athletics for Warren Schools at the time. "There were good and bad days; tough times we had to go through. It wasn't easy, but we got through it. We didn't have time to think about subliminal messages. We had to work and get things going."
Annarella didn't talk much about his personal triumphs, but there had to be a deep fondness for what transpired in 1990 and, in particular, the win over Princeton.
"We had one heck of a reunion in his locker room after the game," recalled Charlton, who was coaching Hiram College at the time. "I'll never forget that."
One reason for Annarella's success on the field was his willingness to adapt to the times. There weren't many sophisticated passing attacks when he coached defense at East Liverpool in the 1970s. That changed over the years, which was witnessed on the 1990 Harding team, when he took advantage of receiver Omar Provitt's incredible athleticism. Later he saw worth in the spread offensive alignments that are prevalent these days.
"He's progressed," Guliano said. "He made changes to the way they played, throwing the football. Back then, everyone ran the ball. The 1990 team with the people he had, from then on he opened things up. When he went to Fitch he ran the hurry up. When I saw that, I said, 'Oh boy, he's embracing some of that stuff.'"
Charlton was among the first that saw the potential Annarella brought to coaching. In the succeeding years, Annarella's list of admirers grew, not just because of his longevity, but because of his stature as one of the area's fine gentlemen/coaches.
"He did it well every place he went," said former Ursuline and Howland coach Dick Angle. "He won, and his kids played hard and clean on the field. Some of his kids went on to have college careers. He had a passion for the game, and he always wanted to give to it."
That helping spirit led Annarella to donate equipment to the Niles football program after Fitch had purchased new equipment.
"I think he loved his time at Niles," Niles coach Jim Parry stated in a Facebook post. "He wasn't there for the longest period of time, but we talked about his time and I think it was a special place in his heart there. For him to reach out to us, it means more now, today, sadly with his passing."
When Parry was an assistant at Harding, Annarella asked to meet him at a McDonald's to talk strategy. It was a classic case of the teacher asking the pupil for advice.
"This is a guy who's trying to learn from me," Parry said. "I spent my life trying to learn from people like him. He was constantly trying to gain an edge. He was always into the details."
The 2019 football season won't seem the same without Annarella standing on the sideline, his arms neatly folded while watching another group of young men play the game to which he was so dedicated. On countless personal levels, Annarella's absence can't be calculated.
Bohren will miss the 4:30 p.m. late lunch he and Annarella shared at Leo's Ristorante in Howland every Wednesday. Bohren can still see Annarella sneaking away from the table to look at a TV in the bar area to see how his beloved Pittsburgh Pirates were doing.
"They talk about (Niles legendary coach Tony) Mason and (Mooney legend Don) Bucci," Bohren said. "He (Annarella) didn't take a back seat to anybody. He was an outstanding football coach and you had better buckle up when you came in to play him."
Hall, like a son's relationship to a father, will miss hearing his voice.
"I was heartbroken," Hall said. "I was shocked. I didn't see it coming. I'm really sad. I want to have another conversation with him."
Doesn't everybody who ever knew Phil Annarella.
More like this from vindy.com