Geddy Lee is all about bass at Rock Hall fan event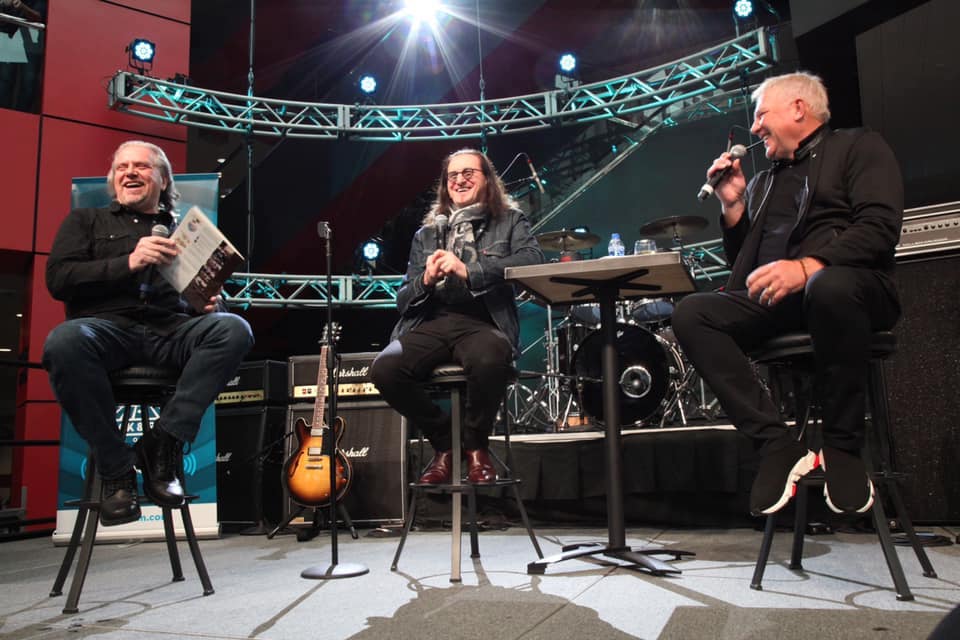 ---
Editor's note: Asif Khan, M.D., is a Liberty-based allergist, a member of the Youngstown rock band Spy Convention and a Rush fan.
By Asif Khan
CLEVELAND
Nearly six years after prog-rock legends Rush was inducted in the Rock and Roll Hall of Fame and after the retirement of Rush drummer Neil Peart, Geddy Lee (vocalist, bassist and keys) and Alex Lifeson (guitars) made their first visit to the Cleveland landmark Saturday.
It wasn't just to see some of the memorabilia the band has donated to the Hall over the years. This was a special occasion marking the celebration and book signing tour for Lee's first publication in book format, entitled "Geddy Lee's Big Beautiful Book of Bass."
Not only was this the first visit for the band to the Hall, but fans were treated with another special first: Lifeson himself conducting an interview of Lee.
The band emerged to a throng of 600 fans, the most ever by Rock Hall standards for an event such as this. Lifeson's questions showed that he was also an admirer of the breadth and depth of the book, highlighting the interviews Lee conducted for the book.
Legends such as Adam Clayton of U2, Bill Wyman of The Rolling Stones and John Paul Jones of Led Zeppelin were willing participants, providing amazing stories to Lee of their childhood dreams of becoming pop stars while showing off their personal bass collections.
Jason Hanley, education director of the Rock Hall, provided more insightful fan-submitted questions about Lee's two-year odyssey.
Published by Harper Collins, the hardback book is indeed big, very beautiful and filled with pictures of basses spanning nearly 70 years, and nearly all owned by Lee. Weighing in around nine pounds, this 440-odd page "doorstop," as Lee lovingly described it, is an amazing journey of this oft-overlooked instrument.
Not as flashy as the guitars and guitarists at the forefront of bands, Lee states that the bass guitar is "the glue that holds the sound of the band together," but is still just "a tool to get the job done."
Over the years however, his view of the instrument grew from utilitarian to admiration. He wanted to learn more about his chosen instrument but lamented that when searching for historical information about his own collection of 250 basses, there was not much to be found. He wanted to change that and once the bug bit Lee, he dove "down the proverbial rabbit hole into the world of vintage bass guitars."
The afternoon ended with a book signing for all 650 attendees, whose joy was not dampened by the day's blizzard. An enjoyable read, the book is on sale through various online sources, at the Rock and Roll Hall of Fame and bookstores.
More like this from vindy.com