South Range wins Leonard Invitational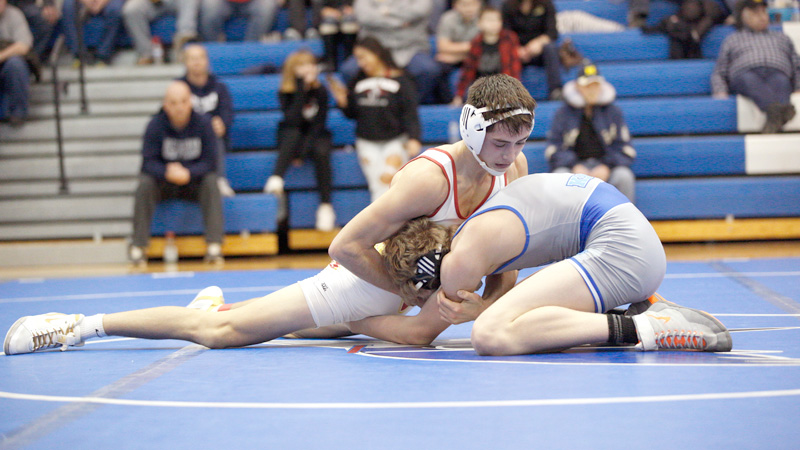 ---
By BOB ETTINGER
NORTH JACKSON
Kyle Keenan hasn't had many teammates in his time with the South Range wrestling program. Then a large group of freshmen infiltrated the training room. Now, the Raiders are attempting to prove to everyone paying attention they are a team to be reckoned with.
They took a major step toward that end in claiming Saturday's team championship at the Leonard Track and Trailer Invitational at Jackson-Milton High School.
"It's the first time I've really been part of a team," Keenan said. "This is the first time we've had kids who actually win.
"It's fun."
South Range out-pointed long-time power Rootstown, 171-160, to claim the title.
"It wasn't out of our mind [that we could win], but we knew it wouldn't be easy if we were going to do it," South Range coach Levi Hively said. "We've only had a full team for one dual match in the 18 years we've had a program.
"We're a smaller school and this is a newer sport for us. We did what we came here to do. We're young and we're showing everyone we're here and we're not going away."
Girard was third with 151 points.
"We did all right," Girard coach Jim Cardiero said. "I don't come into a tournament to take third. I come to win. We won a lot of matches in the consolations.
"It was a tight tournament with a lot of good teams. Everyone was knocking each other off. We had a lot of pins in the finals and those bonus points helped."
South Range didn't enter the tournament thinking it would leave with a team victory.
"I don't think anyone came in and thought we'd win the tournament," Hively said. "We knew we'd have to wrestle one of the best tournaments we've ever wrestled. We did that.
"We had four freshmen place. We had four upper classmen place and we had three champions. The kids wrestled as hard as I've ever seen them wrestle."
Keenan took the championship at 126 pounds and Anthony Czap, who pinned his way all the through the tournament, won the championship at 220.
"Czap got the max points he could get," said Trey Pancake, South Range's 152-pounderd. "I saw Czap wrestled the No. 9 wrestler in the state and that gave me a boost. Wrestling a senior, that gave me confidence."
Pancake's title clinched the victory.
"Trey winning that finals match was big for us," Czap said.
Michael Markulin took second at 120 while Gavin Pahanish (106), Nasseem Maali (132) and Logan Cormell (160) all placed third for the Raiders. Clayton Massek was fourth at 113.
"A lot of our team wrestled [well]," Markulin said. "Our team is basically full of freshmen and they stepped up today. The team captains [Keenan and Czap] came through when we needed them."
Jack Delgarbino was the lone champion for the Indians claiming the heavyweight title over teammate Conner Moore. Alex Delgarbino (132) and Mike Johnson (152) were both second.
More like this from vindy.com