TOP DOGS: D.D. & Velma Davis YMCA hosts 13th annual Pooch Pentathlon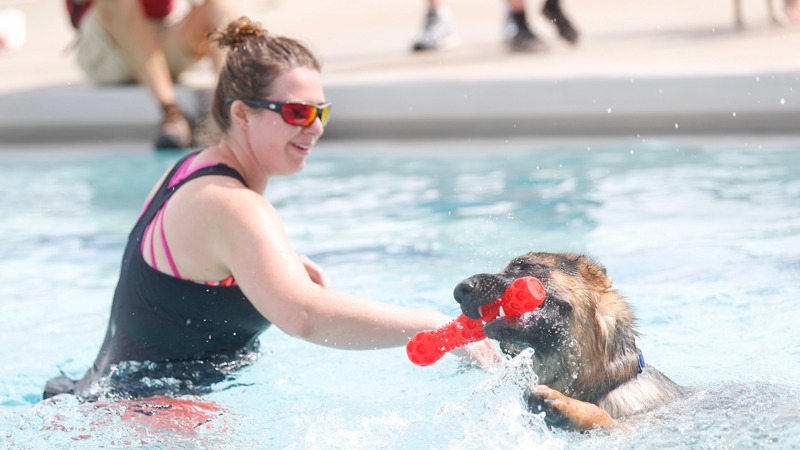 ---
By Sean Barron
BOARDMAN
For Sela, being overly excited was the biggest obstacle, but she still did her best to stay on course.
"She's a little wound up," Michele Hoard of Boardman said about her 21-month-old Belgian sheepdog. "She's in agility training, but she's so fired up now about everything going on."
Overstimulation appeared to present a bit of a challenge for Sela to navigate through a small obstacle course, one of five events that made up Sunday afternoon's 13th annual Pooch Pentathlon at the D.D. & Velma Davis Family YMCA on McClurg Road.
An estimated 40 dogs grouped by size took part in the two-hour family fun-filled outdoor competition. Main sponsors were the Mahoning Shenango Kennel Club, a Place for Paws, Invisible Fence of Eastern Ohio and Pet Lodge USA of Boardman, noted Chris Hughes, the YMCA's senior aquatic director.
Participants were first required to show proof their dogs had been vaccinated for rabies.
The other four timed events were fetch, in which the dogs were challenged to retrieve toys tossed in the swimming pool; leap dog, which measured the animals' farthest jumps into the pool; doggie paddle, where the dogs swam from one end to the other; and treasure dive, which tasked the animals with jumping into a shallow area to gather objects on the bottom of the pool, Hughes explained.
Hoard and other participants used tennis balls or treats as an added incentive to motivate their pets on the obstacle course to run through several rings and walk across a few boards and in between four poles, then jump three hurdles.
By contrast, Nico, a 17-month-old German shepherd, seemed to need little prodding to do some running or swimming.
"He's very fun. He loves kayaking, agility and walking on the trails [through Mill Creek Park] every weekend almost, or a few times a week," said Rachelle Fair of Canfield, Nico's companion.
Nico was poised to take part in all five competitions, added Fair, a former 4-H member who was readying her beloved pet for the fetch event with a long red squeaky toy.
"Anything that makes a noise, he loves," Fair continued, adding she got Nico when he was about 7 months old.
Jessica Driscoll-Owens, a veteran of the annual competition, brought Josie, her gregarious 4-year-old Australian cattle dog, to be the centerpiece of a Frisbee demonstration they helped conduct.
"These dogs always have to play," she said, referring to Josie's breed. "She always has to be busy."
Tossing objects to her dog and having it retrieve them is nothing new to the Austintown woman, who also belongs to the Youngstown Disc Dogs Toss and Fetch Team, an affiliation of the Ohio Disc Dogs League. The league organizes canine Frisbee competitions, play dates and training seminars for dogs of all skill levels and ages.
Prizes for the top finishers in the five categories included everything from a three-night weekend getaway at Pet Lodge USA to $25 gift cards to raw treats, Hughes said.
More like this from vindy.com