What does the future hold for soon-to-be vacant Boardman commercial property?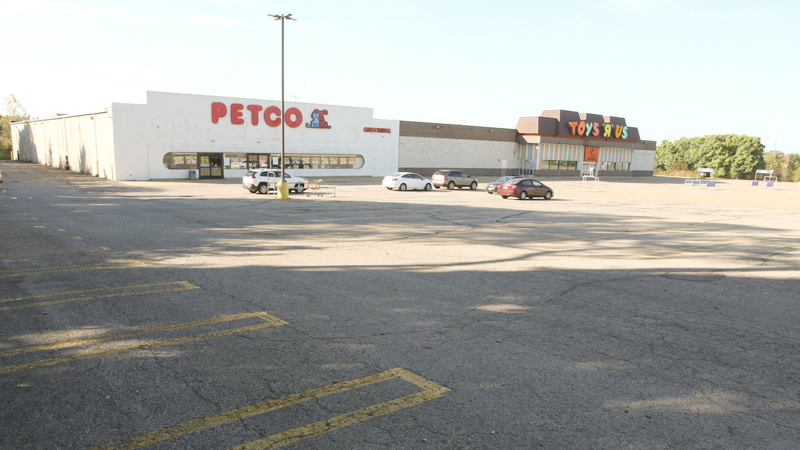 ---
BOARDMAN
The news that Petco plans to close its store on U.S. Route 224 follows the shuttering earlier this year of the strip plaza's other occupant, Toys "R" Us.
If the animal store closes as planned next month, the plaza at 317 Boardman-Poland Road – built in 1987 on nearly 6 acres – will be vacant. Mahoning County Auditor records indicate the property ownership transferred last month, at no cost, from Toys "R" Us to an LLC titled Tru Trust 2016.
So what are the prospects for the large commercial space?
That question has been asked across the country as Toys "R" Us vacated hundreds of stores, totaling an estimated 28.6 million square feet of retail space, earlier this year after its bankruptcy filing last September.
Coresight Research, a global retail think tank, reported the Toys "R" Us closures represented 21 percent of total store closures in the U.S. year to date as of June 29.
Looking at vacant Toys "R" Us spaces generally, Deborah Weinswig, Coresight founder and CEO, said there are a number of possible development paths for the buildings.
"The vacant Toys 'R' Us stores look set to be filled by a diverse array of tenants such as discount stores, health and wellness, specialty grocers, home improvement, furniture, arts and crafts and entertainment," Weinswig said. "Brands including Dollar General are likely to take on parts of vacant stores, since they tend to operate smaller store formats and are unable to fill an average Toys 'R' Us store."
Citing Kimco Realty, a real-estate investment firm and owner of several former Toys "R" Us stores, Weinswig noted prospective tenants include retailers such as Dollar General, TJ Maxx and Burlington, and food-service retailers such as KFC and Chipotle.
Looking at the Boardman space, Krista Beniston, township director of zoning and development, said her office has not received any plans related to future development.
"We haven't had anybody approach us regarding what would be allowed to go there, or had anything submitted," she said.
Of the plaza's vacancy, she said, "I think figuring out how to get businesses into any of the vacant plazas is definitely a priority. It's a great location. Since both [businesses] will be closed, there might be a better opportunity because somebody could look at that site as a whole rather than just part of the building."
Beniston is hopeful an ongoing rewrite of the township's zoning code will open up new opportunities for such commercial spaces.
Currently, she said, the township's zoning code is written to encourage and accommodate the type of big-box retail stores and strip plazas that proliferate in the township and have been the preferred retail model in the past.
She believes the new zoning code will allow greater flexibility for different development models.
"Right now, our old code isn't flexible and doesn't allow for newer types of trends. So by the spring or early summer, we'll have a new code that completely transforms what types of businesses [can be developed] and will give a lot more flexibility to the form [they take]," she said.
Of the former Toys "R" Us site, Beniston said current zoning likely would preclude anything except a more traditional big-box store from locating there, rather than a mixed-use retail space. Perhaps another big-box retailer will want to move in there, but the new code will at least allow the possibility of creative uses of such spaces.
"Going forward, businesses and retail and housing are going to continue to evolve, and right now we're promoting what's been popular the last 50 years," Beniston said. "I think having that update is going to be a huge step forward in looking at the future of the township, especially regarding what commercial will look like."
More like this from vindy.com