Regionals are next for Valley teams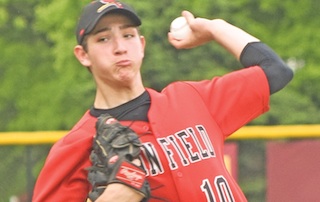 ---
By Dan Hiner
dhiner@vindy.com
beaver township
The Canfield and South Range baseball teams scheduled a warm-up game Tuesday night, but the game was cancelled due to rain and lightning.
The district winners were trying to sneak in another game at South Range High School before their regional semifinal games on Thursday.
Canfield will play Chardon at The Ball Park at Hudson in a Division II semifinal. South Range will play Waynedale at Massillon Washington High School in a Division III semifinal.
Springfield also advanced to the regional semifinals, claiming its first Division IV district title since 2013. Springfield moved up to Division III the following season but never got back to a district title game.
Division II
The Cardinals (19-8) are familiar with The Ball Park at Hudson. Canfield lost to Tallmadge 3-2 in last season's regional final.
This time around, Canfield coach Matt Koenig wants his players to be more relaxed heading into their game with Chardon (20-8).
"We had a nice practice [Monday]. We cooked out after practice, had some burgers and dogs just so everything's relaxed," Koenig said. "We'll get back at it [today]. We'll put our game plan and everything in for Chardon and off we'll be."
Koenig expects more from his team because the players know the crowds, the pressure and the mind set the Cardinals will need to win in the regional round.
Senior pitcher Jack Rafoth is expected to start, but the lineup hasn't been set.
"Jack, he's been our No. 1 guy — our Monday guy every conference game," Koenig said. "I'm not moving away from that unless we see something that's gonna change."
division iii
South Range (14-15) is playing in the first regional semifinal in program history. But Hanek isn't letting the team become complacent with a district title.
"We let the kids have Friday off and got back [to work] Saturday morning," Hanek said. "I told the kids, 'Districts are over, we won the district championship — that's great — but we're pressing on and looking forward to our opponent on Thursday.'"
The Raiders beat Mogadore 11-1 in a district final, and Hanek will stick to the same formula that produced the title. He will pitch Jake Gehring in the regional semifinals.
The freshman pitched a complete-game, four-hitter against Crestview in the district semifinals.
"Jake's been our horse all year," Hanek said. "I feel confident in him to hand him the baseball."
The Raiders expect a close game with Waynedale (20-6). The South Range coaching staff knows every game is going to be a challenge since the rest of the bracket is full of district winners.
"We traveled down to play Steubenville [Monday]," Hanek said. "We played very well ... very, very pleased with the way we played. We're ready to go."
Division IV
Springfield (19-4) is making its return to the Division IV regional semifinals. The Tigers will play Garfield Heights Trinity (20-3) at Pipe Yard Stadium on Thursday.
Brandon Walters led the Tigers past Sebastian Lay and Jackson-Milton in the district semifinals. Walters came through with a walk-off RBI single off Lay in the eighth inning.
Springfield beat Lowellville 5-1 in the district title game, scoring all five runs in the first two innings. Shane Eynon pitched a complete-game , three-hitter to help clinch the district.
The Tigers advanced to three straight regional semifinals from 2011-13. Springfield advanced to the state finals in 2011 and 2013, but came up short in both appearances.
The winners of the regional bracket will play in the state semifinals. The Division III and IV state semis begin on May 31, and the Division II begins on June 1.
More like this from vindy.com