Special needs students gather for 21st prom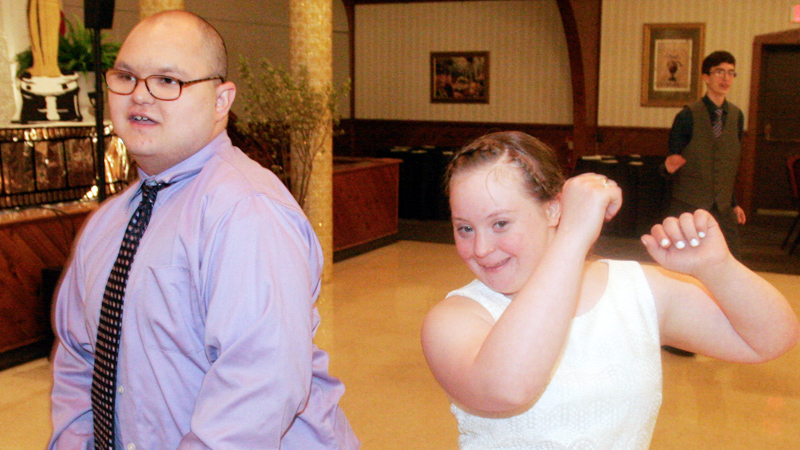 ---
YOUNGSTOWN
Students with special needs from across Mahoning, Trumbull and Columbiana counties celebrated the end of the school year dressed up and dancing during the Special Needs Prom at St. Mary's Assumption Social Center on Friday night.
The dance, now in its 21st year, brings students with special needs from more than 30 schools across three counties together for a prom experience.
Students who attend dress up, are treated to catered meals and some arrive in limos, not unlike school-specific prom dances.
Alicia Muzina, an intervention specialist at Canfield and the lead organizer of the dance for the past 10 years, said the event has become a highlight of the students' year.
"I start getting calls about this dance in December every year," Muzina said.
Christin Murcko and Jarod Drokin were student attendees at the dance. Murcko said she enjoyed singing to Katy Perry songs, while Drokin said he was looking forward to reuniting with one of his former classmates who changed schools but was still attending the dance.
The prom is hosted every year by Canfield High School and draws between 170 to 200 students.
Though parents aren't allowed to attend the prom – as parents wouldn't be in attendance during a school-specific prom, either – teachers and student volunteers spend the evening with the students to help where they can and to enjoy their company outside of a school setting.
Fiona Lally, 17, is a junior at Canfield High School and volunteered at the dance for her second year in a row.
"I first got started with this as part of our Helping Hands class at school, but after I finished the class, I still wanted to help out," Lally said. "So I signed up to volunteer this year, too."
Lally said the dance provided a space for the students to have a good time without the added pressures of high school weighing on them.
"They get to have a prom like we do, but there's no weird social dynamic they have to worry about here," she said. "They can come and hang out with their friends from other schools."
The teachers and volunteers who attend do so on their own time and without pay.
Terry Dively, an intervention specialist from Boardman High School, was in attendance with eight of his students.
"The climate here is great for the kids to meet and make new friends," Dively said. "Plus it's nice for both the students and the teachers to spend time together when it's not a competition. Usually we only see each other like this when it's for a sporting event, but here everyone is together. It's a nice change."
In past years the prom has been free, though the last two events have required Muzina to charge $15 per ticket due to the event's sponsors dropping out.
"It's unfortunate, but luckily St. Mary's has given us a very good deal on this space and they've been great to us," Muzina said. "Hopefully in the future we'll find someone to act as a sponsor again so we can make this event free to the students."
More like this from vindy.com