Sweet music heralds Canfield romp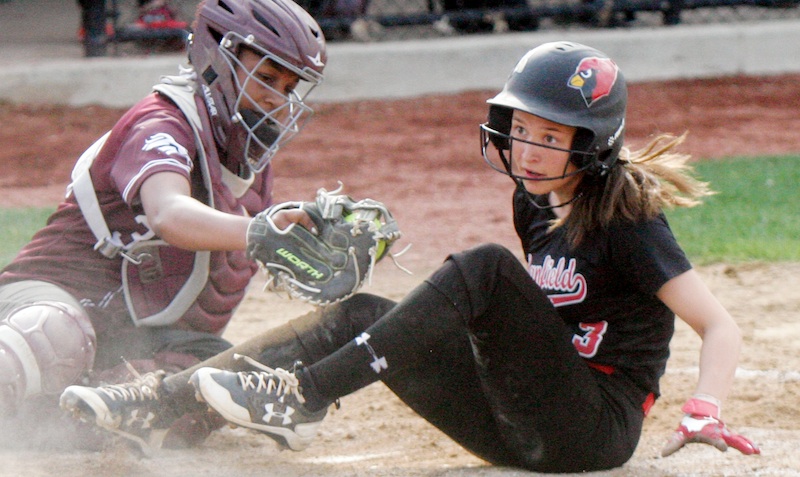 ---
By TOM WILLIAMS
williams@vindy.com
CANFIELD
As the third hitter in Canfield High School softball lineup, senior Jill Baker is accustomed to facing the Mahoning Valley's fastest, trickiest pitchers.
So standing in against a pitcher struggling with speed and control can be a challenge. Baker has a secret weapon to help keep her calm at the plate — music.
"It's pretty hard to adjust to a slower pitcher," Baker said after Thursday's 14-0 victory over Maple Heights in the Division I sectional final. "For me, it's extremely hard.
"I personally try to sing a song [while] timing her up as best as I can," Baker said.
A former teammate taught her the relaxation method. Asked for her playlist, Baker smiled.
"It's [just] humming, something to slow down your hands a little bit," Baker said. "It takes [my] mind off of it."
Baker's two-run double was one of five hits the Cardinals (16-8) had against the Mustangs' Kerryn Malkowski, Walks, stolen bases and wild pitches outnumbered the hits.
"It's just hard to time it up," senior outfielder Sydney Fabry said. "You have to go further [back] in the box and it's just [harder] to make contact."
Sophomore ace KaiLi Gross had two of the Cards' hits including an RBI triple in the first inning. She also drove in a run with a second inning sacrifice fly. Kalin Kovach and Taylor Lampe had the other hits.
Gross and Lauren Fitzgerald combined to toss a five-inning one-hitter. The only baserunner Gross allowed in three innings was when Mustangs leadoff batter Calia Steel led off with a 10-pitch walk. Gross struck out seven of the next nine batters.
"KaiLi is awesome, she hits her spots," senior catcher Chloe Cruz said. "She doesn't make me work too hard.
"She knows what she is doing, she commands the plate."
Baker, who plays third base, says the defenders have to be prepared for when the ball is put into play.
"You have to be ready for anything, but I know with Kaili on the mound, she's going to take charge," Baker said. "I have a lot of confidence in KaiLi."
The Cards scored four runs in the first inning, five in the second and four in the third. That cushion enabled Canfield coach Ray Melewski to empty his bench filled with junior varsity call-ups.
"Everybody's happy," Melewski said. "Girls are happy, parents are happy."
The Cards advance to play All-American Conference Red rival Fitch (13-9) in a district semifinals that will be played Wednesday in Solon. The Cards, 8-1 in league play, swept the Falcons in their two regular-season games.
Canfield will tune up for the next tournament game by playing at the Federal League's Lake on Saturday and then against Boardman on Monday with a chance to clinch the league crown outright.
"I would love to go out with a league title," Cruz said. "We just need to keep the energy up, to keep pushing.
"We have a lot of momentum now."
Fabry agreed.
"I think it would be pretty awesome to get that win," Fabry said.
Kamron Williams' fourth-inning single was the only hit for the Mustangs (10-5).
More like this from vindy.com