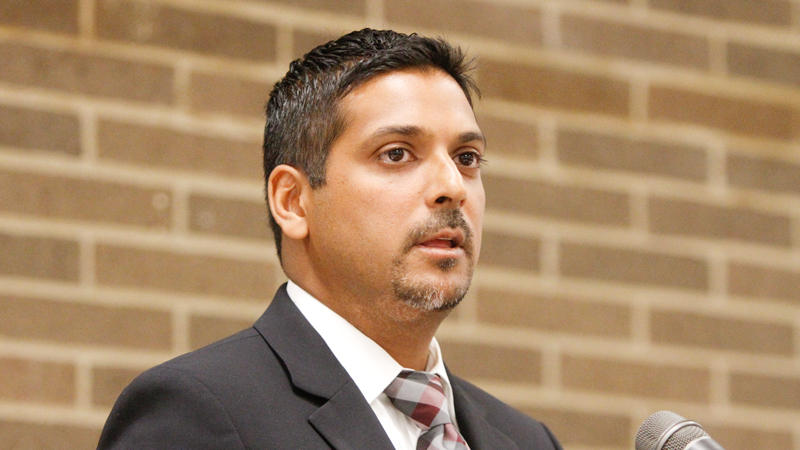 ---
YOUNGSTOWN
Youngstown City Schools CEO Krish Mohip is now a candidate in one less superintendent search.
Mohip, who was a superintendent candidate in three searches, was not selected for the post in Boulder (Colo.) Valley School District.
Candidate Rob Anderson was selected by the BVSD Board of Education Tuesday night.
But Mohip is still one of six finalists for the superintendent's job in the Osseo Area Schools in Minnesota and one of four finalists in the Fargo (N.D.) School District.
Brandi Aune, Fargo school board member, said although Mohip's interview was Monday, the board still has to interview the remaining three candidates.
"We should come to a decision sometime Saturday or early next week," she said.
In Osseo, the first round of interviews begin April 2.
A representative from Ray and Associates, a superintendent searching firm for both Fargo and Osseo, said information about the candidates is confidential at this time.
Despite his candidacies in other districts, Mohip said: "I'm still committed to this district," during a March 12 interview with The Vindicator. "We are doubling down more than anything. ... The focus is on our children – it doesn't matter what happens to me."
But Mohip canceled a CEO Citizens Coalition meeting Tuesday evening, the same night as the BVSD board chose its superintendent.
Mohip was also in North Dakota Monday for his Fargo schools interview. And he will be in Minnesota for his Osseo schools interview in early April.
An Ohio Department of Education spokesperson said if Mohip decides to leave the district, a new Academic Distress Commission – made up of five members – will be charged with choosing a new CEO.
Mohip was put in place here by House Bill 70, commonly referred to as the Youngstown Plan, which was signed into law by Gov. John Kasich in July 2015.
It enabled a state-appointed distress commission to hire a CEO to lead the district.
The bill gives Mohip complete operational, managerial and instructional control.
Mohip was selected by the ADC in May 2016 for a three-year contract that began June 7, 2016, and ends July 31, 2019.
He is paid by the Ohio Department of Education at an annual salary of $160,000 for his first year, $165,000 for his second and $170,000 for his third.
Last August, the ADC requested an ODE-approved, one-time $8,000 bonus for Mohip.
In other education business, Ron Iarussi, Mahoning County Educational Service Center superintendent, will resign at Thursday's board meeting.
"I am blessed and grateful for the opportunity I had here at the ESC and [Mahoning County] Career [and Technical] Center and I've just really enjoyed what I do," he said. "I'm hoping to move the needle of academic achievement [in Marion City schools] ... I'm looking forward to the opportunity moving forward."
Iarussi is taking a position in the Marion School District on a five-year contract at $159,000 annually.
Iarussi was in the first year of a five-year contract at MCESC at $135,000 annual salary.
More like this from vindy.com