Second shift at GM Lordstown plant ends today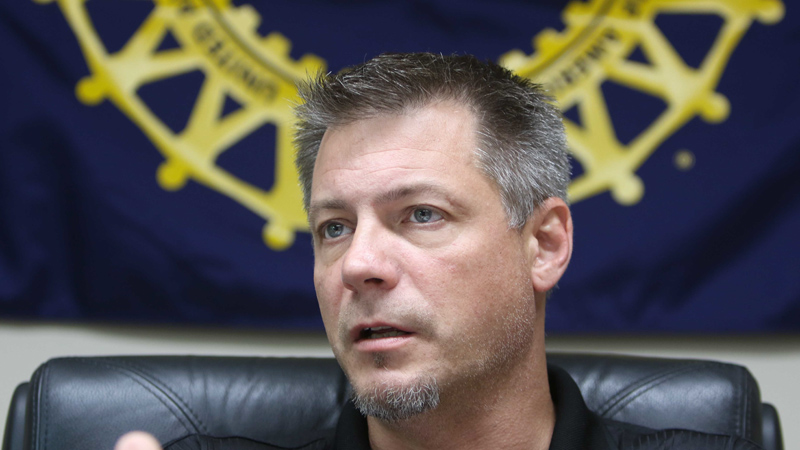 ---
LORDSTOWN
David Green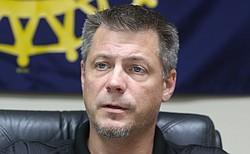 Video
As the second shift at the General Motors Lordstown Assembly plant ends today, inevitably raising questions about the future of the plant, United Auto Workers Local 1112 President Dave Green's mantra to himself and his members is, "One day at a time."
As the second shift at the General Motors Lordstown Assembly Complex ends today, inevitably raising questions about the future of the plant, United Auto Workers Local 1112 President Dave Green's mantra to himself and his members is, "One day at a time."
"It's scary times right now, but we've been here before and got through it," he said.
The plant lost its third shift last year. On Monday, the plant will begin operating on one shift, which no doubt will be difficult for the remaining workers.
"It's going to be sad, because there are a lot of people you'd see at work every day who just aren't going to be there. Going through that is not going to be a great situation for our members," Green said. "It's like your family and friends that got laid off."
An exact number was not immediately available, but about 1,200 GM Lordstown workers are expected to be impacted by the layoffs. Earlier this month, nearly 600 workers accepted early retirement or a buyout.
The cutbacks at the GM plant impacts its local suppliers, as well. Jamestown Industries in Austintown produces the Cruze's bumpers. Magna-Lordstown Seating Systems in Lordstown makes seats. Source Providers in Austintown does warehousing and logistics for the plant. Twenty-five layoffs are expected at Jamestown, and 86 at Magna, Green said. In a notice to the state, Lordstown Seating estimated 83 jobs would be affected. An estimated 150 Source Providers jobs will be impacted.
The cutbacks are due to lagging sales of the Lordstown-built Chevrolet Cruze.
"This is something that had to be done to align our production with demand," said Tom Mock, communications manager for GM Lordstown and Parma Metal Center. "We continue to build a great car at Lordstown. We're working hard to solidify additional business opportunities for the complex."
THE CRUZE
In 2010, the Lordstown plant began building the first-generation Chevy Cruze, which sold well when it hit the market.
But, as Green noted, "Times have changed. ... It's amazing what just a few years can do to ... [a] very fluctuating type of market."
The Vindicator reported in April that the Cruze sedan had posted 11 consecutive months of declining sales. April marked the last month GM reported monthly sales before switching to quarterly reports.
The Cruze's sales slump is at least in part due to an industry-wide trend. Auto-industry analysts have long noted that shifting consumer preferences have played a role in declining sales for compact and midsize cars.
"People aren't buying the product right now like they were a couple years ago," Green said. "As more people move toward crossovers and SUVs, trucks, things of that nature, there's just less people buying our product. As long as consumer demand wanes, our workforce is going to suffer."
LOOKING TO THE FUTURE
That is why securing another product for Lordstown workers to build will be crucial for ensuring the future viability of the plant.
Green is hopeful about doing that. He has spoken with UAW officials at the international and regional levels about what can be done to secure a new product for Lordstown. That process likely will play out during contract negotiations between GM and UAW next year.
"The message that I've received from the international union is that they are going to work to make sure we are viable in the future," he said. "I expect the 2019 contract to be a pivotal point for us, that in those negotiations next year Lordstown is going to be at the big table."
In the shorter term, Green believes the plant will be making the Cruze for the next few years to come. In August, the plant will begin making the 2019 Cruze.
"I think the 2019 Cruze is going to do well," he said. "It's a little different design and they have some different option packages which may make it more reasonable for consumers to get into."
Down the road, he would like to see the plant get more than one product.
"We've got the space, so I'd love to see them fill it up and get as many products into the plant as we can," he said. "The more versatile we can be with product allocation, as consumer demand shifts, if we have something like a small crossover, that would give us the opportunity to build and just switch units from one product to the other."
Whether that will happen remains to be seen. In the meantime, Green said he will do his part to advocate for the plant, and hopes the community will show support, as well.
"We're doing all these things that the company says they need to become profitable," he said, noting concessions the union has made, such as the two locals merging earlier this year.
"Where's the carrot? We want the carrot. We can only chase it so long."
More like this from vindy.com