Will GM close Lordstown auto plant?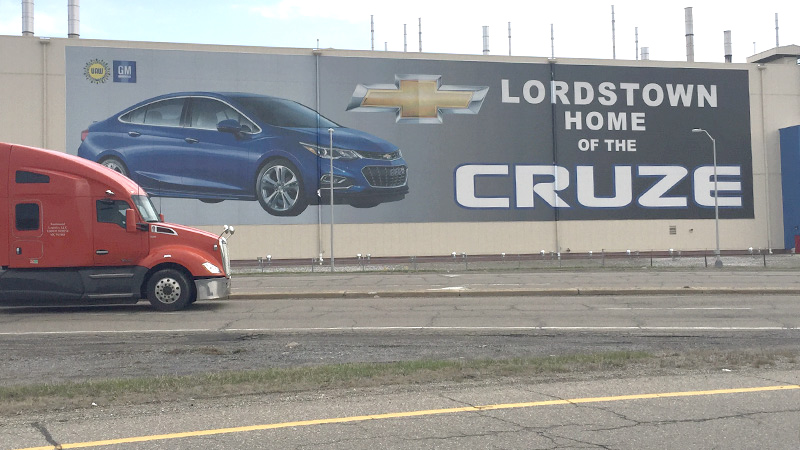 ---
Staff and wire report
LORDSTOWN
With too many factories making slow-selling cars, General Motors can't afford to keep them all operating without making some tough decisions.
But the political atmosphere might be limiting its options.
A possible scenario, analysts say, is to close its sprawling Lordstown plant because the hatchback version of the Chevy Cruze is already built in Mexico.
The once-bustling factory already has lost two of its three shifts and 3,000 union jobs since the beginning of last year.
Chevrolet Cruze sales dropped 26.2 percent year-over-year in the second quarter of this year, according to sales figured released July 3. According to GM, 37,836 Cruzes were sold in the second quarter, compared with 51,265 in second quarter of 2017.
But moving the Cruze south of the border brings the risk of provoking a backlash from President Donald Trump.
And GM isn't sure whether he'll make good on threats to impose 25 percent tariffs on vehicles imported from Canada and Mexico.
Also the Cruze plant is in a Democratic and labor stronghold, where Trump won over a surprising number of voters two years ago by reaching out to what he called America's "forgotten men and women."
At a Youngstown rally last summer, Trump talked about passing by big factories whose jobs "have left Ohio," then told people not to sell their homes because the jobs are "coming back. They're all coming back."
TOO MANY PLANTS?
GM has five car factories with plenty of unused capacity in Lordstown; Kansas City, Kan.; and Detroit-Hamtramck, Lansing and Orion Township, Mich.
Three are running on one shift per day, which is inefficient and costs GM money. Automakers like to run plants on at least two daily shifts.
To deal with overcapacity, GM will either have to eat the added costs, close one or more plants, or retool them to build trucks and SUVs that now are favored by U.S. buyers.
GM's closest competitors, Fiat Chrysler and Ford, plan to scrap most car models and convert car plants to manufacture trucks and SUVs. GM, however, recently revamped much of its car lineup and banked on sales stabilizing. But last month, trucks and SUVs reached a record 68 percent of U.S. new-vehicle sales.
In the U.S., automakers have enough factory capacity to build about 14 million vehicles per year, but last year they manufactured only 11 million. More than one-third of that idle capacity – 1.3 million vehicles – is in the five GM car plants that are operating at 37 percent capacity, said Kristin Dziczek, a vice president at the Center for Automotive Research, an industry think tank.
Many truck and SUV plants, however, are at 105 percent capacity with three shifts.
So that leaves the automaker with three choices: Run plants under capacity and risk reduced profits, close at least one plant and move its product to another, or move products to the U.S. from other countries, mainly Mexico, to fill the underused factories.
CONVERSION EXPECTED
Dziczek thinks GM will take the final choice, converting car plants to trucks and SUVs, especially if the Trump administration slaps 25 percent tariffs on imported vehicles.
GM, which imports some of its profit-rich pickup trucks from Silao, Mexico, and SUVs from China, would be hard-pressed to absorb the tariff cost. So in order to stay competitive, it would move, Dziczek said.
"They'd look to convert as much as they can to build what everyone is buying," she said.
Moving products back to the U.S. could keep the car factories open and save existing jobs. If enough vehicles came back from other countries, the companies could add jobs. Currently, the five GM plants have about 7,400 hourly workers.
While all this plays out, there's plenty of angst in
Lordstown, where the GM plant is one of the region's few remaining industrial anchors.
FRUSTRATION AT HOME
Dave Green, UAW Local 1112 president, said he's not sure what Trump's threat of tariffs will mean for the plant's future.
"I don't necessarily have a lot of faith that our president knows what he's doing," Green said. "I'm a little concerned he may be just shooting from the hip."
While the UAW nationally endorsed Hillary Clinton for president in 2016, many
Lordstown workers, including Eric Vasko, voted for Trump.
"He said he would bring work back to the United States to keep it from going to Mexico," said Vasko, who has worked at Lordstown for the past 18 years. "I'm sure a lot of people voted for him because of that."
Two of Ohio's most prominent Democrats – U.S. Sen. Sherrod Brown, D-Cleveland and U.S. Rep. Tim Ryan of Howland – both said they have talked with GM CEO Mary Barra but came away without any commitment to keeping the Lordstown plant running.
What really angered Ryan and the plant's workers was that on the day Lordstown's second shift ended in June, GM announced plans to build its new Chevrolet Blazer in Mexico.
"The American taxpayers were there for the auto industry (for the federal bailout in 2008). There needs to be some loyalty," Ryan said Friday during a ribbon-cutting for an $8.5 million firing range at the Youngstown Air Reserve Station. Ryan also blamed "chaos" caused by Trump's tariffs.
"He (Trump) made a lot of promises to workers ... and now we need some help," he said.
U.S. Sen. Rob Portman, also at the event, agreed that "tariffs have hurt the industry and prices have gone up ... $1,800 higher for an SUV."
U.S. Rep. Bill Johnson, a four-term incumbent Republican from Marietta, said of the tariffs: "I think there are near-term consequences, and I've explained those to the administration. [They] also have to consider the costs of steel and aluminum."
"This is not a partisan issue," he added. "It's frustrating ... not to have them working and not to be sensitive to this place."
A SEASON OF WHAT-IFS
What if Lordstown were to close?
Not surprisingly, the rumor mill has been more productive in some cases than actual Cruze production.
Lordstown Mayor Arno Hill said the ramifications of the plant closing would be felt far beyond the village.
"It would be bad for the whole Valley," he said. "People say GM will never leave. I've tried to make some phone calls, but GM is playing its cards close to the chest."
That what-if scenario has infected everything from a debate on zoning residential land to industrial for construction of a TJX Companies Inc. HomeGoods distribution center in the village to spill-off impact on so-called
feeder companies that supply parts used to produce the Cruze.
Local plants that support GM Lordstown include
Jamestown Industries in Austintown where the Cruze's rear bumpers are made; Magna-Lordstown Seating Systems in Lordstown where its seats are made; and Source Providers in Austintown, which does warehousing and logistics for the plant.
So if GM decides to cease small-vehicle production, the local impact would be broad.
But it may be inevitable.
"If GM closes Lordstown, it will be further evidence of the fundamental shift away from traditional cars to crossovers as the mass market vehicles of choice among American consumers," said Matt DeLorenzo, senior managing editor at Kelley Blue Book. "While compact cars will continue to be a viable segment, there just isn't enough demand to sustain a factory of the scale of Lordstown in producing that family of models."
Despite that stark view, Hill said he's willing to do what he can to help the plant survive.
"We've granted them tax abatements in the past. If they need abatements now, hey, they know my number. My door is always open," he said.
CORPORATE RESPONSE
GM spokeswoman Kim Carpenter would say only that the company is continually looking at global operations "for greater efficiency and capacity utilization."
Although GM could convert some car plants and add new SUVs, that won't be enough to utilize all of its excess car-building capacity, said Navigant Research analyst Sam Abuelsamid. "In all likelihood we'll almost certainly see one, maybe two plants closing," he said.
Further complicating GM's factory dilemma is the United Auto Workers, which has a contract that expires next year. Closing a plant before negotiations could bring a national strike or could provoke a strike during the contract talks.
Already the UAW's leadership has taken a harder line than in the past, blasting GM's decision to build a new version of the Chevrolet Blazer SUV in Mexico when U.S. workers at car plants are unemployed.
"GM employs over 15,000 production workers in Mexico, pays the workers less than $3 per hour and exports over 80 percent of the vehicles to the U.S. to sell here," Terry Dittes, the union's new vice president for GM, said in a statement. "This is all happening while UAW-GM workers here in the U.S are laid off."
More like this from vindy.com