Ohio State Highway Patrol honors local troopers for saving boy from choking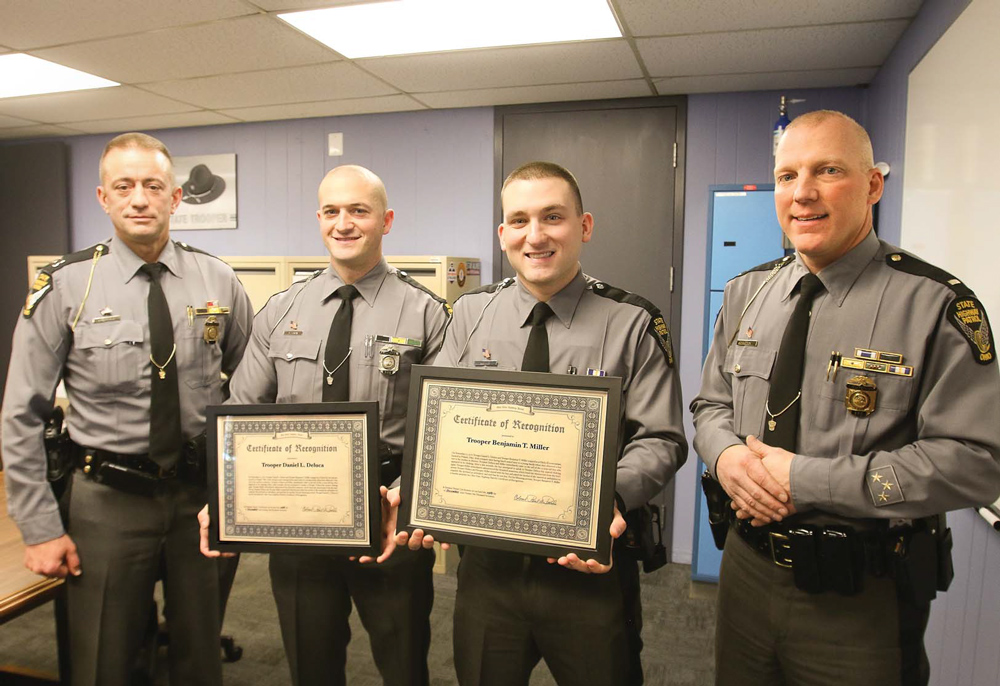 ---
Staff report
CANFIELD
The evening of Nov. 10 started out ordinarily enough for Ohio State Troopers Daniel Deluca and Benjamin Miller.
The pair, who work at the Ohio State Highway Patrol's Canfield post, stopped to get food at Chick-fil-A in Boardman.
They sat down, and a woman and her son sat down nearby.
As they ate, Deluca noticed something – the boy was gesturing frantically to his mother.
"As a parent, you notice things about kids even if they're not yours," Deluca, a father of three, said.
The boy appeared to be choking, so Deluca told his partner something was wrong and the two sprang into action.
At first the boy indicated he was OK, but then continued to choke – so Miller performed the Heimlich maneuver on him, successfully removing the obstruction from the boy's airway.
At the time, Miller was in training and had been working at the post only about a month.
Miller and Deluca were recognized Wednesday for the act that likely saved the 11-year-old boy's life.
"Both of these gentleman are the epitome of what we expect of our troops," said Capt. Eric Sheppard. "Because of their actions, that young man is alive today."
Deluca and Miller received certificates of recognition from the OSHP superintendent.
Both troopers said they are just happy they were able to serve the community.
"We're just honored to be able to serve the community, however we can do it," Deluca said. "At the end of the day, that's all that matters."
"It's good to be able to help someone out," Miller added.
More like this from vindy.com