UPDATE | Youngstown gets $10.8 million grant to improve central business district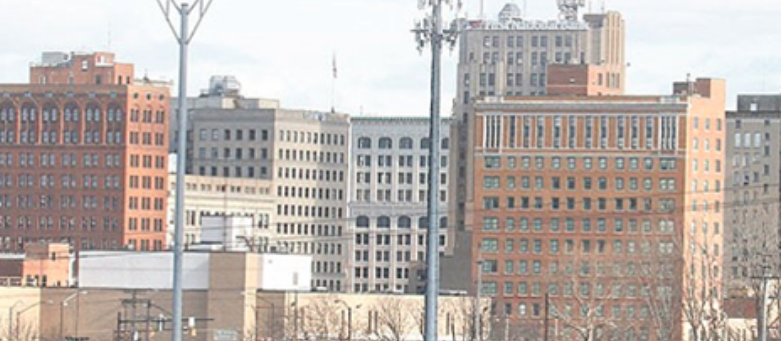 ---
YOUNGSTOWN
Youngstown has been awarded a $10.8 million BUILD (Better Utilizing Investments to Leverage Developments) federal grant by the U.S. Department of Transportation. The BUILD grant will be used to make improvements to the Central Business District in Youngstown that includes Fifth Avenue, Park Avenue, Rayen Avenue, Commercial Street, Federal Street, Phelps Street, and Front Street.
BUILD grant application 2018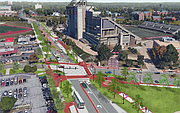 Document
BUILD grant application 2018
U.S. Rep. Tim Ryan of Howland, D-13th, and U.S. Sen. Sherrod Brown, D-Ohio, today announced the $10,853,192 million BUILD grant. It was simultaneously announced by U.S. Sen. Rob Portman, R-Ohio, who had sent a letter of support to Transportation Secretary Elaine Chao for the Youngstown BUILD Grant application in June of this year.
These funds are to support a critical infrastructure project that will provide autonomous transit shuttles, transit waiting environments, pedestrian and bicycle facilities, green infrastructure such as permeable surfaces and LED lighting, streetscaping, and wayfinding to connect anchor institutions such as Youngstown State University, Mercy Health, Youngstown Business Incubator, and Eastern Gateway Community College. These funds are a part of the Better Utilizing Investment to Leverage Development (BUILD) Grants Program, formerly known as the Transportation Investing Generating Economic Recovery (TIGER) program.
Test ride the EZ10 driverless robot shuttle bus in New Orleans
Autonomous Las Vegas Downtown Bus First Day driverless
"This $10.8 million federal investment will prove to be truly transformative for the City of Youngstown and the entire region. According to projections made by Youngstown State University, the project will support more than $250 million in economic development over the next decade by connecting all of the major downtown economic players with a central transportation hub. This announcement was the culmination of the most robust public-private partnership in the Youngstown area in decades. I want to thank Mayor Brown and the teams at YSU, Mercy Health, The Chamber of Commerce, and the Eastgate Regional Council of Governments for their steadfast belief in this project. That dedication is what got this over the finish line. I'm thrilled to have been in the trenches with them fighting for this critical funding," said Ryan.

Portman met with Youngstown leaders in January and September of this year to discuss the BUILD Grant. He also discussed the merits of the BUILD Grant application with Secretary Chao in November.
"This is great news for Youngstown," said Portman. "This enhancement of the Central Business District and nearby manufacturing plants will provide great multimodal access between key employersin the Mahoning Valley. I'm excited that this grant will invest in job creation through transportation improvements, which is vital to strengthening the economy in Northeast Ohio. I also commend the Youngstown leaders for how they came together to raise an impressive non-federal match, which is now at $10.9 million, over 50 percent."
"Youngstown and the Mahoning Valley are an innovative hub of higher education, healthcare, entertainment and advanced manufacturing. This project will invest in the transportation infrastructure needed to reinvigorate downtown Youngstown and beyond," said Sen. Brown. "I'm proud to support the local and regional partners who have brought this transformative project together. I look forward to seeing the SMART2 Corridor serve the region's residents, visitors, and businesses."
"This funding from the BUILD Grant will be a true impact on Youngstown and the Mahoning Valley. This is an economic catalyst for our community and for future investment. This is an example of what happens when we work together and put our differences aside and build true partnership for a common goal," said Jamael Tito Brown, mayor of Youngstown.

Trump administration snubs urban projects in TIGER grants
Partnership misses out on $10M infrastructure grant
Feds nix city's bid for $10M - again
Youngstown officials lobby in Washington, D.C., for a $10.2 million federal grant
"For the past three years a dedicated team of economic development and community planning professionals from Youngstown's anchor institutions have worked tirelessly for this award. Youngstown State University is honored to have worked alongside our partners from Eastgate Regional Council of Governments, Mercy Health, Youngstown Business Incubator, Western Reserve Transit Authority, and the Diocese of Youngstown to prepare a winning proposal that will transform Youngstown's transportation infrastructure for the 21sr century," said Jim Tressel, president of Youngstown State University.
"Eastgate is excited to be the recipient of the $10.85 million USDOT BUILD Grant for the SMART2 Network. This grant will allow us to capitalize on the synergy in our urban core and expand the connectivity to the entire Mahoning Valley. This would not be possible without the hard work and resiliency of our partners, Youngstown State University, City of Youngstown, Western Reserve Transit Authority and Mercy Health and the strong support from our legislators, Senator Rob Portman, Senator Sherrod Brown, Congressman Tim Ryan, and Congressman Bill Johnson," said Jim Kinnick, director of the Eastgate Regional Council of Governments.
More like this from vindy.com