Robotic surgeries continue to evolve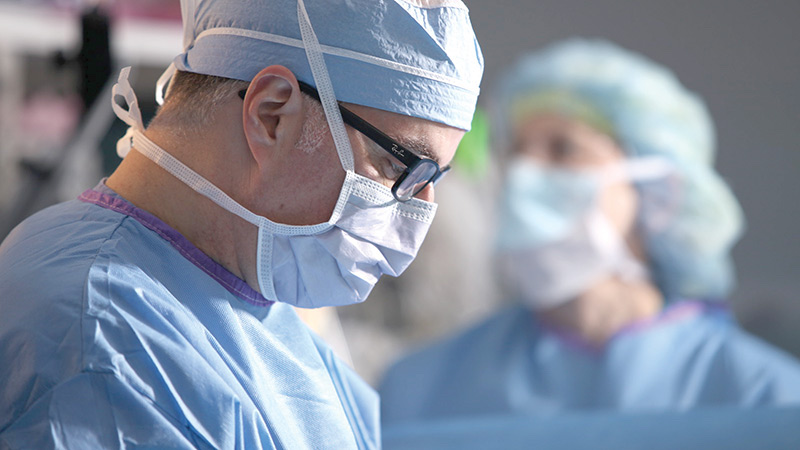 ---
The mission of Mercy Health has remained steadfast since the Sisters of the Humility of Mary began providing health care services more than 100 years ago. Mercy Health's core values of compassion, excellence, human dignity, justice, sacredness of life and service are upheld at all of our care locations, blending pioneering technology and innovative equipment to provide the best care possible.
Visit mercy.com for more information or to find a doctor, location or specialty.
This particular lineup of robots is all "science" and no "fiction."
It's been 10 years now since Mercy Health introduced the first robot-assisted surgical procedures in the Mahoning Valley. The technology, number of surgeons trained to use it and the variety of surgical procedures available have only expanded.
"It is so technologically advanced, it can sound and look extremely intimidating," said Kera Simmons, regional director of surgical business and financial management, Mercy Health Youngstown. "This is one of the most advanced instruments in the OR. It gives surgeons capabilities beyond laparoscopy and allows them to provide the best surgical outcome possible."
The fact is robot-assisted surgeries are just that – robot-assisted. It's the surgeon operating the instruments from inside the operating room while viewing the patient through a 3-D monitor. Each movement the surgeon makes is directly translated into movements of the robotic-controlled instruments inside the patient's body.
Instead of more invasive, traditional open or laparoscopic surgery, the robot-assisted surgical system allows surgeons to skillfully perform procedures for a wide range of complex conditions through 1- to 2-centimeter incisions. The robot, Simmons says, eliminates the natural tremors of the human hand, making it safer for patients than laparoscopic procedures.
The patient-centric benefits don't stop there. The robot provides greater surgical precision, enhanced visualization, increased range of motion, improved dexterity and better access to surgical areas. This translates to minimally invasive procedures, less blood loss, less need for pain medication, quicker recovery, shorter hospital stays, smaller incisions; and ultimately better clinical outcomes and patient satisfaction.
Mercy Health Youngstown has helped lead the adoption of this technology throughout the Valley since 2007, with the first DaVinci robot placed at St. Elizabeth Youngstown Hospital. Then, surgeons used it to perform urologic procedures called prostatectomies. Shortly thereafter, robotics were introduced into general surgery and gynecology.
Mercy's robotics program expanded in 2012 with the implementation of the da Vinci SI model, also at St. Elizabeth. This investment added advanced 3-D HD visualization and EndoWrist Æ instrumentation that extended dexterity and range of motion far greater than the human hand. In 2017, St. Elizabeth upgraded the technology to a da Vinci XI model. Patients in Youngstown can now have complex liver and pancreatic surgery as well as cardiothoracic, general and colon and rectal surgery.
St. Joseph Hospital in Warren was the first Trumbull County facility to offer da Vinci robotic procedures. It added robot-assisted gynecological and general surgical services, including bariatrics, in 2013. This year St. Joseph added a da Vinci XI model to its program. Patients in Trumbull County can now have complex abdominal wall hernia repair as well as additional procedures.
St. Elizabeth Boardman Hospital's robotics program began in 2017 and offers general surgical and gynecological procedures.
As this wave of robotic technology continues to grow, so should patient knowledge about these services. Many times, patients are given the choice between robotic and laparoscopic procedures. Patients should take the time and opportunity to research and ask questions of their surgeons to make the most informed decisions.
Today, more than 20 surgeons affiliated with Mercy Health have undergone rigorous training and completed a specialized curriculum in robotic surgery.
If you would like to learn more about robotic surgical services offered by Mercy Health, please visit www.mercy.com.
More like this from vindy.com