New programs, faces for Valley students this year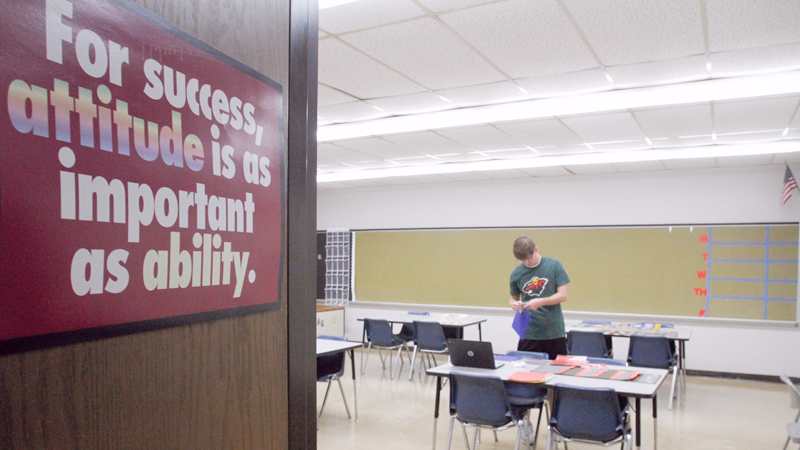 ---
Staff report
Mahoning Valley school districts are gearing up for what they hope will be a successful 2018-19 academic year — some with many changes.
Liberty students and staff are experiencing the reconfiguration of the schools, realignment of grade levels, addition of preschool, before- and after-school daycare and more.
"We listened to the community, these are things the community wanted," said Joe Nohra, superintendent. "We listened to their needs. This is all about us being a future-ready school district and doing what's best for the community."
Poland also underwent a reconfiguration that leaves the district with two vacant buildings, plans for which the school board is considering, Superintendent David Janofa said. He estimated the cost savings from closing Dobbins school to be about $1 million.
Youngstown City Schools are seeing a shift in administrators with new positions and salaries.
"We're excited for the start of another school year," said city schools CEO Krish Mohip. "We're building on the foundation that we've installed during the last two years, following the strategic plan. Now we're fine tuning and strengthening that framework to provide the best education" for students."
Boardman, Girard, Lowellville, Poland, Sebring, Ursuline and Western Reserve schools have several programming additions to offer more for students.
"We want to continue to focus on innovative, forward- thinking programming," said Girard High School Principal William Ryser.
And Boardman, Canfield, Choffin, Poland, Sebring, Springfield and Ursuline have several building and security upgrades to promote the safety and well-being of students.
Boardman schools have 94 new security cameras and updated its older cameras.
BACK TO SCHOOL | Changes by district
About 80,000 students head back to more than 200 schools in the Mahoning Valley in coming days and weeks. Many of them will notice changes and new faces in their district. Here is a listing of some of them, as provided to The Vindicator:
AUSTINTOWN
Brian Racz and Zachary Barson are Austintown Fitch High School assistant principals for grades 11 and 9 at annual salaries of $72,456 and $73,688.
Tim Pappagallo and Sandra Thorndike are the Austintown Intermediate School assistant principal and assistant principal of instruction and continuous improvement at annual salaries of $67,384.
BOARDMAN
Boardman is expanding its social-service programs.
A partnership with Alta Care Group and Meridian HealthCare will grow, with the organizations doubling the time social workers and counselors spend in the schools, district officials said. The district used an increase in its federal funding allocation to cover the cost of expanding those services.
Additionally, the district is expanding its Early Warning System, funded by the juvenile court, from four buildings to all seven.
Both programs are efforts to address students' growing mental, social and emotional needs.
The district also is stepping up its services for English-language learners. Director of Instruction Jared Cardillo said the district has worked to put the pieces of those services in place for some time, and now has "a strong framework in place to meet the needs of those students."
There is now a full-time ELL teacher in each building, and 40 teachers trained recently on skills they can use with ELL students.
As part of a security master plan from 2013, the district will continue making safety improvements, with plans this year to redesign the entrance at West Boulevard.
BROOKFIELD
Brookfield added eight new Chromebook carts for use in classrooms. The district will begin using STEAM education modules K-12 with Inventor Cloud curriculum.
In addition, the middle school is creating a food pantry for students in fifth through 12th grade in partnership with the Brookfield United Methodist Church.
All staff will be trained on Illuminate, a data warehousing program that will put student growth, attendance and discipline data in one easy-to-use site. This will help to better monitor student achievement and growth toward learning goals.
Brookfield athletics will be inaugurating the varsity soccer program for boys and girls following three years of growing the program playing junior varsity schedules.
CAMPBELL
Regardless of income, all students will receive free breakfast and lunch.
In addition, Campbell schools will now provide after school STEM programs for all grade levels with transportation provided.
Transportation will also be provided for all high-school students outside of a 1.2-mile radius.
Students will also have additional access to the Success After Six offered through the United Way.
CANFIELD
Canfield has new social-emotional learning programming for kindergarten through 12th-grade students and an enhanced high-school internship program.
New is a student section at Cardinal Stadium, an alarm system on doors without key fob access, energy efficient lighting, a walk-up ticket window for the athletic department to reduce access into the school, a privately funded baseball scoreboard, concrete work at the high school and backflow valves district-wide to reduce contamination to the water source.
Michael Cochran is the Canfield High School assistant principal/associate athletic director, at an annual salary of $80,000.
Richard Shields is the Canfield High School assistant principal, at an annual salary of $84,000.
CHOFFIN CAREER AND TECHNICAL CENTER
Choffin has six additions to the team at including new instructors in auto technology, engineering, information technology and job training.
There is also a new career services adviser who will work with the program advisory boards and community partners, in addition to working with students to help ready them for jobs in their chosen career fields.
The kitchen is updated with new, state-of-the-art equipment to better prepare students for the industry.
GIRARD
Students will be in their fourth year of learning sign language. There are more than 130 students in that program, for the first time that program will be offered for high- school credit and dual enrollment credit with Kent State University.
There will also be a new aerial cinematography program, which is being replicated from KSU's aerial cinematography program.
The high-school counseling office will also offer reformed services with an added director of pupil services. The director of pupil services will help keep students on the right academic path and guide students as they select courses and get ready for graduation, academic advising.
HUBBARD
Two new administrators join the administrative staff. David Reel is the high school's new assistant principal and William Collins is transportation supervisor, at annual salaries of $72,175 and $43,656.
This school year, the district purchased an additional 150 devices to be used by students in the classroom.
The cost of all 150 Chromebooks was $36,300, but federal grants ended up covering approximately 90 percent of cost.
In addition to the purchase of Chromebooks, Hubbard invested in supplemental instructional material that will increase hands-on learning for students.
At the elementary school level in STEM, students will have access to a number of Makerspace activities thanks to a donation from the Hubbard Elementary School Parent Association.

At the high-school level, Hubbard will offer student access to a computer numeric control machine that will allow students to produce products on wood, glass and metal.
JACKSON-MILTON
Jackson-Milton schools will welcome six new teachers.
LIBERTY
Within the district's configuration there will be a preschool unit for ages 3 and 4, as well as day care.
"We were a K-4 at E.J. Blott, a fifth- through eighth-grade at W.S. Guy and ninth- through 12th-grade at Liberty High School," Nohra explained. "Now, we have a preschool through sixth-grade [at E.J. Blott] ... The seventh- and eighth-grade [that] used to be at W.S. Guy will be moved to the second floor of the high school, which will be exclusively be for those grades and ninth- through 12th-grade will be on the first floor of the high school."
At E.J. Blott students will have a STEAM program (Stem, Technology, Engineering, Arts and Math) that will also partner with SMARTS in downtown Youngstown, to create arts infused programs from music to photography.
In addition, the Fine and Performing Arts teacher is now full-time.
There is also new education furniture including movable chairs and walls, flat screens and more. Students also won't be housed in traditional row settings, but in collaborative settings.
The district also has a new partnership between the Liberty Police Department and the schools with one full-time resource officer.
There will be a self-contained seventh- and eighth-grade STEM curriculum.
At the high school, the Liberty Scholars program is back as well as increased advanced placement opportunities.
The district is also home to new special education enhancements.
"The Trumbull County Education Service Center has regional centers housed all over the district and I believe we will be one of the largest special educational centers in the area," Superintendent Joseph Nohra said. "There's some special units at Blott for students that need more specific instruction, more intensive needs."
Liberty also now has 1:1 technology. Every student will have access to a Chromebook, and seventh- through 12th-grade students can take them home.
There will also be a Leopard Cyber Academy, career-based intervention program, an engineering teacher joining staff and a new drone technology class.
Liberty received a 21st century grant for $850,000 for after school programming for Success After 6 that will give it a comprehensive k-6 after school program.
Also returning is the Liberty girls' soccer team.
LOWELLVILLE
The elementary at Lowellville K-12 school is implementing the Bridges Math Program which is new for the students and staff. Superintendent Geno Thomas said the program is research-based and used by many "high performing" districts.

The district also has several new staff members beginning this school year: technology coordinator Fred Schriner, third-grade teacher Alina Angelilli, bus driver Denise Hartzell, math tutor Megan Boosinger and intervention specialist Sarah Drysdale.
LORDSTOWN
Lordstown will add College Credit Plus program courses in psychology, sociology and Spanish.
The district is also building upon signature programs including annual theater and music programs.
There are new teachers in music, science and social studies, as well as a new counselor. A school psychologist is now part of a partnership with Newton Falls schools – the shared service will save Lordstown schools more than $10,000.
Lordstown Athletic Boosters provided funds to purchase the new record boards located outside of the high school gym and donated a new senior scholar athlete wall. There are also replaced bleachers in the gym and a new grant-funded water fountain.
The schools will be in the process of constructing safety vestibules at each building's entry.
Thirty additional Chromebooks will also be added at the high school and 45 at the elementary which cost $19,800.
POLAND
Dobbins Elementary is now closed, and McKinley is reopening. Kindergarten through second grade will be at Union Elementary; third, fourth, and fifth grades will be at McKinley; and sixth, seventh and eighth grades will be at Poland Middle School. Preschool will move from the North building to Union.
The district is adding eighth-grade Spanish for high-school credit and a fifth-eighth grade technology class; expanding its algebra classes for eighth- graders; expanding its Bridges math program through the fifth-grade level; adopting a new college preparatory math program for sixth-eighth grade; adding Advanced Placement computer science at the high school; and adding art classes for third and fourth grades.
The district recently constructed a bus turnaround near the McKinley/PMS campus to improve safety and alleviate traffic on the streets near the schools. Buses will no longer park in the streets, and parent pickup will be in front of the building.
The district will have police officers stationed at all three campuses for the first full year this year; installed landline phones in every classroom; and installed the Raptor security system at every building that requires visitors to check in with an ID and runs them through a background check.
Due to Dobbins closing, the former principal there, Michael Daley, is moving to an assistant principal position at the high school. The board had hired an interim employee for that position, Edward Ashcroft, and this year is giving him a one-year contract, for $58,000, at the McKinley-PMS campus to help with the transition there.
SEBRING
Sebring schools will now have LED lights in all buildings, a new sound system at the football stadium, new STEM and robotics courses, motivational statements on the walls, a refinished gym floor, upgraded security with additional cameras and a school resource officer.
There will also be additional college credit plus classes in which students can earn up to 42 college credit hours.
SPRINGFIELD
Springfield schools will complete two major projects, resurfacing an eight-lane track and converting to all LED lighting. The track cost $287,100, and the cost for the lights has yet to be finalized.
STRUTHERS
Fran Burrell is the new transportation supervisor at an annual salary of $32,645.
URSULINE
Ursuline High School will implement the "1:1 Program" for the freshman class. The program will provide each freshman a Chromebook. The total cost is $50,000 and has been funded by alumni support and an anonymous donor.

The Advanced Placement Capstone Seminar course has been added to the curriculum, comprised of two AP courses – AP Seminar and AP Research. Sociology has also been added as a new course.
Classrooms and the gymnasium ceiling received fresh coats of paint. New exterior doors with enhanced security features were also installed.
WESTERN RESERVE
Mike Sauner is the new middle-school principal and athletic administrator, at an annual salary of $80,061.
The high school's global logistics class will be expanded and physics will now be included in the school's AP program.
YOUNGSTOWN
Youngstown Early College's location has changed from Fedor Hall at Youngstown State University to the Ward Building, 20 W. Wood St.
102 teachers were also hired for the upcoming school year.
Sonya Gordon, former East principal, is chief of secondary education, a new position this school year at an annual salary of $117,810.
Jeremy Batchelor is the new East principal at an annual salary of $114,750.
Rob Kearns is the new Chaney principal at an annual salary of $111,750.
Teri Coward, who was the assistant principal at Harding last year, is that school's new principal, replacing Kearns, making an annual $97,200.
Aadrian Thomas, an assistant principal at Volney last year, is the new principal at Kirkmere, at an annual salary of $93,100.
Juanita Rogers, who was principal last year at Kirkmere, is moving to be the pre-kindergarten through third-grade principal at McGuffey, at an annual salary of $91,700.
Cathy Dorbish will be principal for fourth through eighth grades at McGuffey, at an annual salary of $109,600. That school has high enrollment so a second principal was added.
Rick Gurski moved in the middle of last year from East to Taft to assist there, at an annual salary of $107,250. He becomes Taft principal this year.
A.J. Ginnitti, deputy chief of finance, at an annual salary of $107,250, started late last school year.
More like this from vindy.com