Steel Valley Cluster show attracts thousands of 'best friends'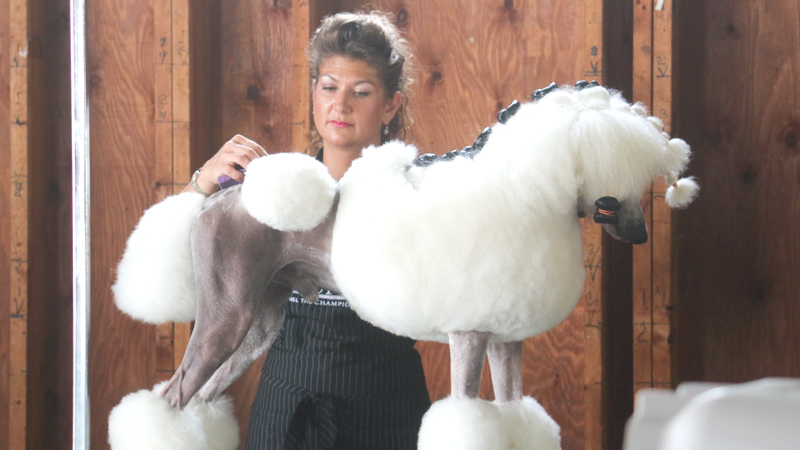 ---
By WILLIAM K. ALCORN
alcorn@vindy.com
CANFIELD
Dog Show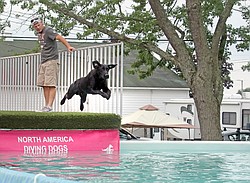 Gallery
People came from as far as Australia and Mexico and many of the United States, and as near as Lordstown to show their canines Thursday, the first of the four-day Steel Valley Cluster dog show at Canfield Fairgrounds.
The Steel Valley Cluster consists of Fort Steuben Kennel Association, sponsor of Thursday's event; Columbiana Kennel Club, sponsor of today's show; Beaver County, Pa., Kennel Club, sponsor of Saturday's competition, and Mahoning-Shenango Kennel Club, sponsor of the final show on Sunday.

Gael Damron of Wintersville, a member of the Fort Steuben Kennel Association and chairwoman of Thursday's show, said 1,241 dogs were registered to compete that day; 1,461 are entered today; 1,668 on Saturday, and 1,562 on Sunday.
However, generally dogs are shown every day of the event, which features 166 different breeds, said Damron, who started showing dogs at 8 and retired four years ago. Now, she and her husband, Bob, are pursuing a judging career.
Judging begins at 8 a.m. and best-of-show judging ends between 5 and 6 p.m. each day. Admission is $5 per car.
One of the nearby owner/handlers who competed Thursday is Dr. Dianne Eddie of Lordstown, owner of Lordstown Veterinarian Clinic, who showed her Gordon setter, Quincy, in the Sporting Group.
"It's exciting, fun and nerve-wracking all at the same time," said Eddie, who grew up in the Newton Falls/North Jackson area and graduated from Jackson-Milton High School and Ohio State University College of Veterinary Medicine.
She and her friend, Debbie Scardina of Austintown, who sold Quincy to Dr. Eddie, spent a lot of time brushing Vince before entering the ring.
"Brushing the dog helps calm the nerves," Scardina said.
While Quincy did not win or even come in among the top four in her group, she said she enjoyed herself, despite being nervous.
However, for the people who travel from show-to-show virtually every weekend and pay trainers and handlers, winning is a very serious goal.
"Winning is always good," said Jeff Mauk of Columbus, who with his wife, Vickie, take their Grand Bassett Griffon Vendeento many shows all over the country. Their dog, a breed recently recognized by the American Kennel Club, won the Hound Group Thursday. Their dog's handler is Clint Livingston of Denver, Colo.
The Mauks, who have shown dogs for about 30 years, said their Grand Bassett is "doing very well."
Also doing very well is Christine Peterson, who as owner/handler of her Portuguese water dog, Vinny, took first in the Working Group.
A giant schnauzer took best-in-show.
In addition to the show ring events, the Steel Valley Cluster features each day several specialty (one breed) shows. And, for the fourth year, the North American Diving Dogs dock-diving events are scheduled from 9 a.m. to 5 p.m. today and Saturday and from 9 a.m. to 3 p.m. Sunday. Also, there is a health fair from 9 a.m. to 3 p.m. today and Saturday.
For information about the dog show, including judging schedules, visit www.steelvalleycluster.org.
More like this from vindy.com