Canfield speech and debate team wrapped up the season

Photo
Neighbors | Submitted.Jennifer Smith and Dominic DuPonty were the state runners up in Public Forum Debate and Ashley Reynold took fifth in the state in Declemation at the State Speech and Debate tournament March 2-3.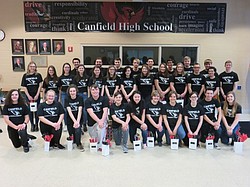 Photo
Neighbors | Submitted .Pictured are the Canfield Speech and Debate team members that went to state competition, (front) Ashton Gingerich, Kaleigh Ceci, Alex Sanders, Jared Cross, Vincent Machuga, Jessica Lee, Anna Sinclair, Smaranda Solomon, Eva Lamberson, Ben Lawson, Alanna Holden; (back) Taryn Rothbauer, Audra Pesko, Jennifer Smith, Dominic DuPonty, Bridget Fekety, Claire Berlin, Michael Factor, Ashley Reynolds, Drake Safranic, Sophie Hodge, Andrew Kern, Sophia Campos, Angelo Cestone, Marina Campos, Anthony Biondillo, Abi Hursh, Robert Faix, Dominic DeRamo, Brandon Stratton, Lillijanna Tomko and Gregory Halley.
The Canfield speech and debate team competed at the Ohio Speech and Debate Association's State Tournament, hosted by Sylvania Schools near Toledo, on March 2-3.
A total of 1,135 students representing 89 teams participated. At the conclusion of the competition, Canfield finished in 16th place.
Students from Canfield earning recognition at the State Tournament Awards Ceremony were Jennifer Smith and Dominic DuPonty as the state runners-up in Public Forum Debate and Ashley Reynolds placed fifth in Ohio in Declamation.
Overall, a total of 32 Canfield students qualified to the State Tournament. The qualifiers were Drake Safranic (top 18), Robert Faix (top 48), Brandon Stratton (top 96), Ben Lawson in Congressional Debate; Ashley Reynolds (fifth in Ohio), Claire Berlin and Sophie Hodge in Declamation; Alanna Holden (top 24) in Drama: Kaleigh Ceci, Jared Cross, Ashton Gingerich and Alex Sanders in Humor; Gregory Halley (top 24), Sophia Campos and Bridget Fekety in Informative Speaking; Smaranda Solomon in International Extemp; Eva Lamberson (Top 32) and Jessica Lee in Lincoln-Douglas Debate; Vincent Machuga and Lillijanna Tomko in Original Oratory; Abi Hursh and Andrew Kern in Program Oral Interpretation; Jennifer Smith and Dominic DuPointy (second in Ohio), Anthony Biondillo and Angelo Cestone (top 32 in Ohio), Taryn Rothbauer and Michael Factor, Marina Campos and Audra Pesko in Public Forum Debate; Dominic DeRamo (top 24) and Anna Sinclair in United States Extemp.
More like this from vindy.com