Learning about Valley figures at Oak Hill Cemetery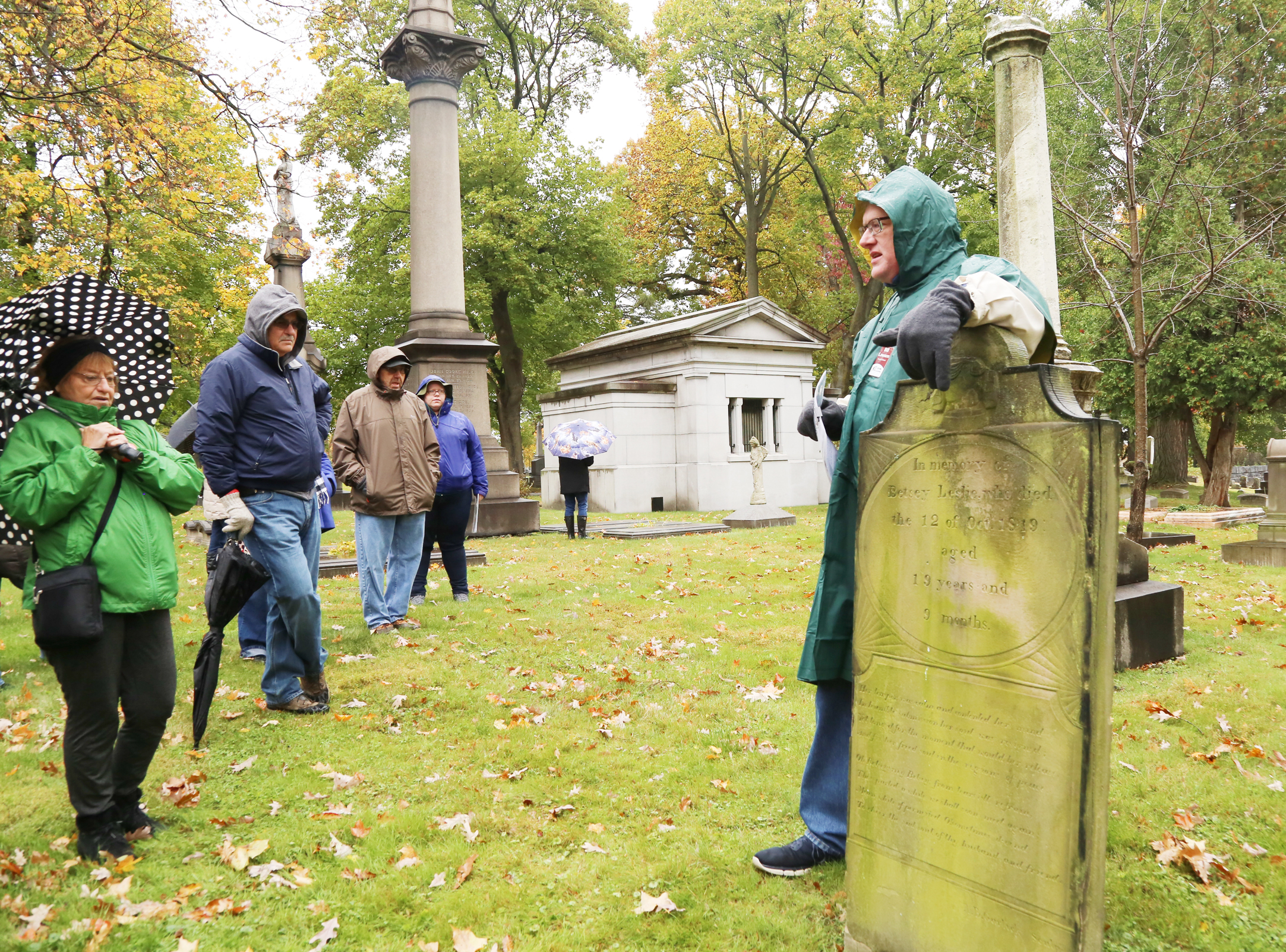 ---
By Sean Barron
YOUNGSTOWN
Those who visit Oak Hill Cemetery could easily notice that David Tod is buried at the top of a hill – a symbolic gesture of his prominent standing in the Mahoning Valley.
"He helped unify the extreme views on slavery. He took a centrist position on the [Civil] war," during a time when Ohio was split on those issues, Frank Rulli said about Tod, who also served as Ohio's governor from 1862 to 1864.
Tod was among the area's early movers and shakers who were discussed during a Saturday afternoon tour of the cemetery, 344 Oak Hill Ave., on the South Side.
Rulli, a Mahoning Valley Historical Society board member and volunteer, conducted one of several 90-minute tours through the vast graveyard. About 40 people joined him, despite a chilly, persistent drizzle, to hear about the lives of some of the Valley's best-known industrialists, settlers and developers.
Politics and business were intertwined for Tod, who set up a law practice in Warren and had vested interests in the railroad, coal and oil industries. Before becoming Ohio's 25th governor, Tod had served one term as a state senator, then was appointed by President James Polk as U.S. minister to Brazil, a position he held for four years until 1851.
"Politically and culturally, it was the center of the [Connecticut] Western Reserve, which is why he probably studied law in Warren and not in Youngstown," Rulli explained.
In addition, Tod, who had a family farm and homestead in the city's Brier Hill area, was among the successful businessmen who contributed to Youngstown's growth, Rulli continued, noting that the city's population grew "exponentially" during the 1860s and 1870s, as the number of steel mills grew.
John Young, a surveyor and Whitestown, N.Y., native who was perhaps best known as Youngstown's founder, surveyed the region in the mid-1790s. On Feb. 9, 1797, he bought the 15,000-acre township from the Western Reserve Land Co. for about $16,000, several years before the establishment of Youngstown was officially recorded in 1802, Rulli noted.
One of the men with Young was Daniel Shehy, a farmer who came to the area with him. Another who associated with Young was Col. James Hillman, who joined the Revolutionary Army and may have fought in the Battle of Yorktown in 1781, Rulli added.
After the three-week battle, Hillman and his father became tradesmen who settled in the Pittsburgh area and traveled along the Mahoning River to Lake Erie, he noted.
"Hillman met John Young, who convinced him to settle here with the promise of six acres," said Rulli, adding that Hillman also was the Trumbull County sheriff, a state legislature and a tax collector.
Attendees also visited the grave sites and memorial markings bearing the names of many Wick and Arms family members, including George D. Wick, a leading industrialist who co-founded Republic Steel Corp. and was founding president of Youngstown Sheet & Tube Co. Wick also was highly revered, so when he died April 15, 1912, at age 57 while aboard the Titanic that sank in the North Atlantic Ocean, many people were devastated, Rulli said.
"They had an entire moment of silence in Youngstown to memorialize George Dennick Wick's passing," he added.
Another stop on the tour was in front of a mausoleum honoring Henry M. Garlick, who led the Mahoning Cemetery Association and began a campaign to form an endowment for Oak Hill Cemetery, which, by the early 1920s, had fallen into disrepair and was being vandalized, said Rulli, adding that more than $500,000 was raised around 1922. Much of the revenue was used for improvements such as road extensions, installation of fences and various aesthetic projects, he explained.
The group also visited James L. Wick Jr.'s burial site and were told that Wick spearheaded initiatives on behalf of the YMCA's associate college and was among the developers of Youngstown State University. He also helped oversee the development of the Arms Family Museum on Wick Avenue, served as president of the Mahoning Valley Historical Society and bought land from the federal government that is now the James L. Wick Jr. Recreation Area in Mill Creek Park, Rulli noted.
James Wick, who attended The Rayen School and the Massachusetts Institute of Technology, was "pretty much a renaissance man" who also delved into arts and sports, he continued.
Other prominent figures buried in Oak Hill Cemetery include:
William F. Maag Jr., editor and general manager of The Vindicator.
P. Ross Berry, a developer who built The Rayen School and a number of area churches.
Reuben McMillan, who served several terms as superintendent of Youngstown schools and established the Youngstown Library Association in 1880. The main branch of the Public Library of Youngstown and Mahoning County was named after him.
More like this from vindy.com