Canfield tops Niles to end district drought
Canfield vs Niles Baseball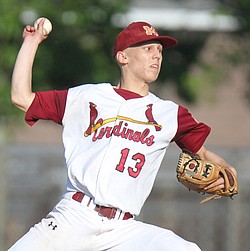 Gallery
Canfield vs Niles Baseball
By DAN HINER
STRUTHERS
It's been five years since the Canfield baseball team won a district title. But that drought came to an end after the Cardinals beat Niles 9-2 on Tuesday night.
It took a six-run fifth inning and solid pitching for the Cardinals to pull away. Canfield took advantage of three hits and three wild pitches in the inning.
The Cardinals jumped out to a 2-0 lead in the top of the first. Canfield picture Ian McGraw said the early lead help him calm down before he took the mound.
Photo Gallery: Canfield vs Niles Baseball
"It calmed me down because I was nervous," McGraw said. "Obviously the district championships, but to know the team had my back, it helped me calm down."
McGraw worked five innings and allowed two runs on three hits and three walks. Anthony Longo came in to relieve McGraw in the sixth inning. Longo pitched two innings and allowed no runs, two hits and struck out three.
"To start, I knew I needed to get ahead in the count because Niles is a good team and they do everything possible to get on base — bunts and hits, like my coaches told me," McGraw said. "We practice these situations all the time and I knew all I had to do was throw strikes because my defense was fantastic behind me."
Canfield third baseman Ricky Havrilla helped put the nail in the coffin in the fifth inning. Havrilla hit a two-run single to drive home Kyle Wills and Mark Wittmann. Havrilla's single was a key moment as the Cardinals extended their lead to 9-1.
The Red Dragons never had a chance to come back.
Havrilla, a sophomore, went 1 for 3 with a walk and two RBIs. He said the team has a "next man up mentality" and he needed to take advantage of opportunities in the game.
Havrilla is the backup third baseman for the Cardinals. He usually sits behind Longo, but got the start on Tuesday.
"I've never played in a district championship like this, the atmosphere is just completely different from anything I've ever played in before," said. "It's awesome. That's the beauty of being a baseball player — you get to play every day and that's why I love it."
Canfield head caoch Matt Koeing gave credit to his team, but specifically pointed out the performances by McGraw and Havrilla.
"I think this team has a pretty solid mix of guys with speed, that can swing the bat 1-9 and guys who can come off the bench and swing it too," Koeing said. "Ricky Havrilla is one of those guys. He didn't play at all yesterday, but when he gets his opportunity, he takes advantage of it.
"I got to give him credit for a lot of things. He's got a guy in front of him, Anthony Longo — who finished the game here tonight — and Ricky didn't bat an eye. He was on base two or three times tonight with key RBIs. That's a great player right there for you."
Niles designated hitter Joe Gallo went 2 for 3 with a run scored. Tre Martin and Marco DeFalco drove in the Red Dragons' runs.
Niles head coach T.C. Guarnieri said his team played well but some things didn't go the Red Dragons' way. He said he's proud of the way his team performed in a quest for Niles' first district title since 1962.
Canfield will meet Euclid district champion Chagrin Falls at 5 p.m. on May 25 at The Ball Park at Hudson.
More like this from vindy.com