Boardman High School places 10th in Speech League state tournament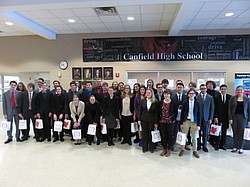 Photo
Neighbors | Submitted.Pictured are all BHS Speech and Debate State Qualifiers.
There's nothing humorous about being a State Champion – or is there?
For Canfield High School senior Zachery Bernat it's all about the laughs.
He is the state champion in the Humorous Interpretation category.
There were more than 1,000 students from 84 teams competing at the 2017 Ohio High School Speech League State Tournament hosted by Olmsted Falls and Berea-Midpark on March 3-4. Canfield finished in tenth place overall.
"Canfield has finished in the Top 10 in Ohio eight times in the past nine years," Head Coach Jeremy Hamilton said.
Additionally, senior Carson Markley was also a state finalist, finishing in seventh place in International Extemporaneous Speaking.
Students from Canfield earning recognition are Zachery Bernat, Carson Markley, Jack Cross, Michael Stefanick, Taryn Rothbauer, Dominic DeRamo, Eva Lamberson, Gregory Halley, Smaranda Solomon, Anna Sinclair, Jen Smith, Dominic DuPonty, Ben Lawson and Drake Safranic.
More like this from vindy.com