The NAACP gives the nod of approval for CEO Mohip to move forward
NAACP Six Month Review of Mohip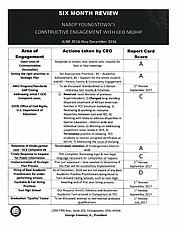 Document
NAACP Youngstown's constructive engagement with Youngstown School CEO Mohip, June 2016 thru December 2016
YOUNGSTOWN
Youngstown City Schools CEO Krish Mohip's one D grade, of six grades in total, in the NAACP Youngstown Branch's first six-month review is an encouragement, said branch President George Freeman Jr.
"The D looks like it's something bad, but it says, 'Here is a priority for [the NAACP] and it is the priority [for you]," Freeman said.
That grade was based on Mohip's lack of hiring to help fix ongoing problems at East High School. The problems include violence and failing grades.
"We're just letting [Mohip] know at this six month period there are some things that are going very well and there are some things he needs to work toward," said Jimma McWilson, NAACP vice president.
Despite one D grade, Mohip received three A's in open lines of communication, setting the priorities right in the strategic plan and retention of kindergarteners; and two C's in timely response to request for public information and addressing seven civil rights complaint cases.
Freeman said a similar review of the board of education would be of no use.
"The board of education is the reason why the CEO is here," McWilson agreed. "We saw he has power to get things done and our job is to engage the power that's in power that can make decisions to move the agenda for our children."
Because a great majority of African-American students in the district have been at a "collective F" for more than 10 years, the NAACP Youngstown Branch has little desire to engage the board.
"It wouldn't help us to grade them at this point," McWilson said. "I would just give you a copy of the [failing state] report card and that would be it."
Jackie Adair, board of education member, took offense.
While she accepted partial responsibility, Adair cast blame to interim Superintendent Stephen Stohla, the Academic Distress Commission and House Bill 70.
"The ADC has been in this district since December 2010, and it's basically had control over academic outcomes of the students in this city," she said. "Everybody also should know the board, since July, has been stripped of any control over the operations – academic and fiscal – over the district."
She added that she doesn't want anyone to think the board had complete control over what was going on in the district.
"Don't slam the board," Adair said.
Freeman responded that although he agreed the board does not bear the entire weight of the district's prolonged failure, it is responsible for the time before the ADC's takeover.
"The 11 years before the ADC took over, the local board was in control and that's the reason at this point in time we don't feel like it's really worth our time to go to the board and ask them anything," he said.
"When you have a 51/2-hour meeting to elect a president – that's the board – we don't feel like our time is best used by reviewing that particular organization."
Adair instructed Freeman to "not go there."
Although he is thankful for the NAACP's acknowledgment of his accomplishments in the district, Mohip said he still has a ways to go with the schools.
Some plans in progress he referenced include the installation of 128 surveillance cameras at East, expanding educational opportunities available to special education students, developing a data-collection system to identify students in need of intervention, embedding technology deeper into the district both as a tool for data generation and to ensure students' skills are up to date, and providing intensive professional development for district staff.
More like this from vindy.com