Cardinal Chili Cook-off brings community together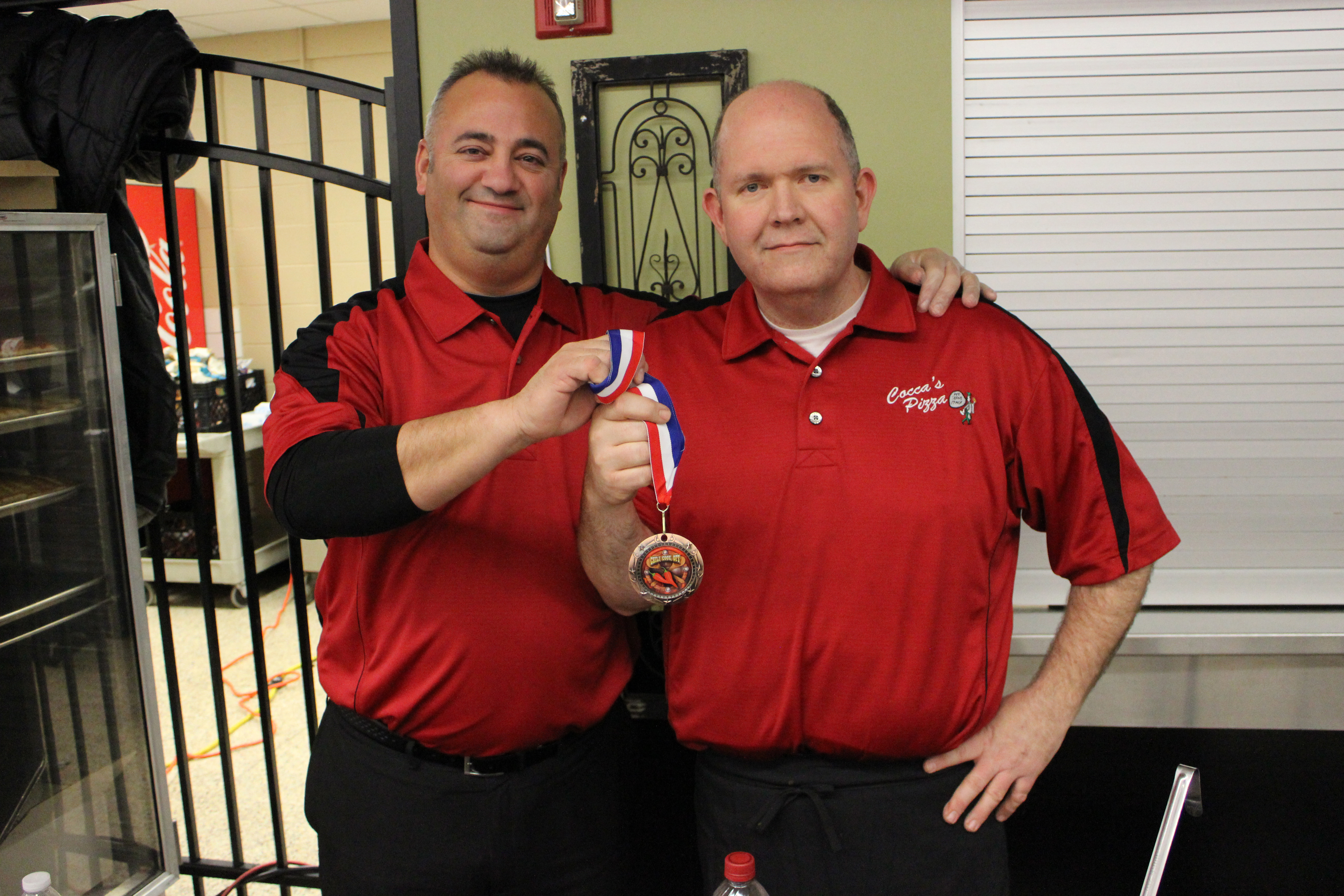 ---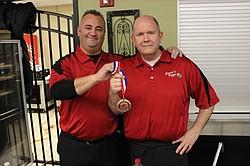 Photo
Neighbors | Abby Slanker.Steve Cocca (left) and Rich Keehner (right) of Cocca's Pizza celebrated being named the winner of the Thick and Hearty category at the Inaugural Cardinal Chili Cook-off on Jan. 6. Keehner works at the Cocca's Canfield location and used his recipe to make the award-winning chili.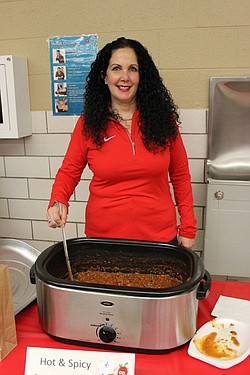 Photo
Neighbors | Submitted.Dana Zarlenga-Buist, fourth-grade teacher at C.H. Campbell Elementary School, served up her hot and spicy chili at the Inaugural Cardinal Chili Cook-off on Jan. 6.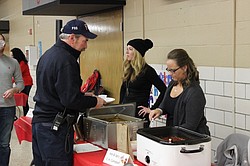 Photo
Neighbors | Abby Slanker.Participants in the Inaugural Cardinal Chili Cook-off served attendees their best chili recipe on Jan. 6.
By ABBY SLANKER
The Inaugural Cardinal Chili Cook-off took place in the Canfield High School cafeteria on Jan. 6. Twenty-two local restaurants, businesses, clubs and individuals and groups participated and entered their chili in the contest. There were three categories for judging: hot and spicy, thick and hearty and unconventional. A people's choice award was also voted on by all attendees. A cash prize of $20 and medals were awarded to the winner of each category.
Chili Cook-off entrants included John Ihnat, Cardinal Joint Fire District, C.H. Campbell staff, Cocca's Pizza, Dana Zarlenga-Buist, Dave Wilkeson and family, Hilltop Elementary Staff, Alex Geordan, Lisa Resnick, Mrs. A's Healthy Foods Class, The Village Pump, Lions Club/Phil Bova, Camuso/Reynolds/Rubin, CHS Cafteria ladies, Colleen Rakers, Dave Mullane, Zion Christian, Joanna Hartley, Barry Tancer, Michelle Piver, The Phoenix and Whitefire Grill.
Serving as judges were Amanda Tonoli of the Youngstown Vindicator, Julie Bercik and Jess Briganti of WFMJ. The judges named Cocca's Pizza as the winner of the Thick and Hearty category, Alex Geordan as winner of the Hot and Spicy category and the CHS cafeteria ladies as winner of the Unconventional category.
Attendees voted Lions Club/Phil Bova the People's Choice winner.
The menu included all-you-can-eat chili, bread, dessert and beverage. Cocca's Pizza donated bread sticks, Kim's Confections donated desserts, Canfield PTO donated bottled water and the CHS cafeteria provided corn bread.
Canfield Local School Superintendent Alex Geordan brought the idea of a chili cook-off from a former school district and said it was meant to serve as a community event.
"I first experienced this event when I worked in the Ashtabula School District. I thought it was a great idea and wanted to bring it to Canfield. With the help of the Communications Committee, we decided this was the year to do it. We wanted the community to come in, sit down, enjoy some chili and see friends. It is all about community engagement. We have our school families here, and we wanted community members who usually don't come into our schools to come out and have a good time," Geordan said.
The event was planned to coincide with the CHS boys basketball game versus Lakeside.
"We wanted to tie the chili cook-off to an event already going on at the school, so we planned it to be held prior to the varsity basketball game. We wanted to give the community the opportunity to come out to enjoy some chili and then go to the basketball game," Geordan said.
Geordan said several community members attending the chili cook-off requested tours of the high school.
"Several community members asked for tours of the high school so they could see what it looks like now as compared to when they attended the school or last visited the school. We hadn't thought of that, but we will make a point of offering tours during future events," Geordan said.
According to Geordan, the school district will make this an annual event.
"We want to make this a Canfield tradition. We plan on expanding it and making this an annual event," Geordan said.
Several student groups were also involved, with the students helping to set up, serving chili to the judges and helping with clean up.
"The best thing about this event is the school system, the community, local businesses and students were all involved. You can't beat that," Geordan said.
More like this from vindy.com