Fitch-Harding rivalry huge for both programs, good for football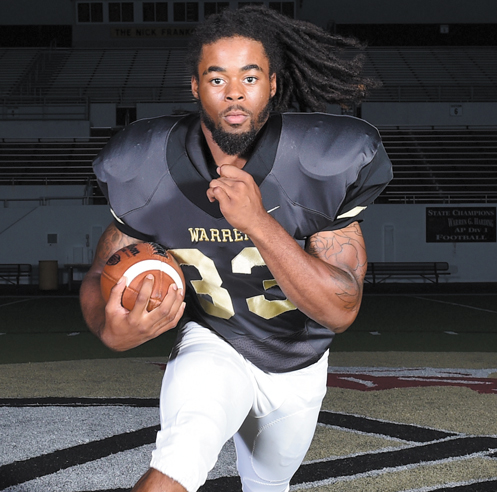 ---
By Steve Ruman
If high school football fans are to believe the opposing coaches, tonight's showdown between Austintown Fitch and Warren Harding is just another game on the schedule.
Seriously, it's one contest of a 10-game slate, no more or no less important than the rest.
According to Fitch coach Phil Annarella; "We have always believed in taking things one game at a time, one week at a time. This week is no different. If you believe one game or one opponent is bigger or more important than the others on your schedule, you're setting yourself up for disaster."
Harding coach Steve Arnold's take: "Not to sound clich , but they're all big games. Regardless of what happens after [tonight], we have six games left, and each game becomes bigger as the season moves on. We treat every opponent with equal respect."
Coach-speak aside, and with just a little prodding, Annarella acknowledges that the Harding-Fitch rivalry "is absolutely big for both programs, and is good for area football." Arnold contends that it's something that the Warren community looks forward to, and playing Fitch "provides a great measuring stick for our own program."
Plenty is on the line tonight — computer points and otherwise — when Fitch and Harding meet at Warren's Mollenkopf Stadium.
Harding (3-0) enters the game with wins against Shaw, Cleveland Heights and Massillon. It marks the first time since 2008 the Raiders have started a season with three consecutive wins. Fitch (2-1) opened its season with a loss to Hudson, but has rallied to log back-to-back victories against Brunswick and Louisville.
Tonight marks the 26th meeting between what are now the two biggest schools in the Mahoning Valley. Thanks to a current four-game winning streak in the series, the Falcons own a 13-12 edge over the Raiders.
Since the two teams renewed their rivalry in 2011, Fitch has outscored Harding 149-31.
Annarella is 4-0 against Harding — the school he coached to a state title in 1990. Arnold is seeking his first win in four tries against Fitch.
"Simply put, Phil has his program where we want to be," Arnold said. "They have set the bar high. They have set the standard that many other programs in the area, ours included, want to reach. So in that regard, this is a big game in that it gives us an opportunity to see where we measure up."
Harding has certainly measured up to its competition. After going 2-8 a year ago, the Raiders are unbeaten, thanks in large part to a high-octane offense which is averaging 39.3 points per game.
"We're not surprised," Arnold said. "Last year we played a whole lot of sophomores who had the talent and drive, but who were just not physically and mentally ready. It's tough to ask that large of a group of underclassmen to perform at the highest level week in and week out.
"We watched them during the offseason. We saw a strong drive and a work ethic that suggested that these young men were growing up."
The one-two punch of senior Keemari Murry and junior Lynn Bowden is leading the charge. In last week's win against Massillon, Murry scored a pair of touchdowns — his fifth and sixth of the season. Bowden rushed for 214 yards and three touchdowns on just 13 carries. He also threw for a touchdown and returned a kickoff 90 yards.
Bowden, who transferred to Liberty earlier this year, has six rushing touchdowns and three passing touchdowns.
"There's good, and then there is special, and Lynn is a special talent," Arnold said. "People wondered what he could do at this level. Well, he can play with the best."
While stopping Bowden will be a key ingredient in Fitch's game plan, it won't be the sole focus, according to Annarella.
"That young man is as good as advertised, probably even better," Annarella said. "But Murry is a tremendous talent, and if you forget about him it will prove costly.
"Those two young men get a lot of attention and rightfully so, but the fact is Harding has a great deal of quality skilled players and their offensive line very solid. They are a tremendous all-around team."
A relatively young Fitch squad has relied on what Annarella describes as "a complete team effort" in logging back-to-back wins. Annarella noted that at numerous times the Falcons have played with as many as six sophomores on the field at the same time.
"We came into the season with a boatload of questions, and quite frankly we're still seeking a lot of answers," Annarella said. "We knew there would be growing pains.
"This is a work in progress. Some young men are showing signs of maturing, but this week we'll definitely learn a bit more about where we're at."
As has been the case throughout Annarella's tenure at Fitch, the Falcons have leaned on their defense. In last week's 37-19 win over Lousville, the Falcons returned three interceptions for touchdowns.
Defensive backs Carlos Herriott and J.C. Mikovich, along with linebacker Damien Gray, each returned picks for scores while Darrell Jackson recorded a fourth interception.
"Our defense knows it has to get us over the hump, and it did an outstanding job last week," Annarella said. "Damien [Gray] is our leader. He's been a stalwart both on and off the field."
Tonight's game will also feature pregame and halftime festivities which will recognize the 25th anniversary of Harding's 1990 state championship. Coached by Annarella, the Raiders went 14-0, defeating Cincinnati Princeton 28-21 in the Division I title game.
Harding defeated Fitch twice during the '90 season. The Raiders beat the Falcons 20-14 in the regular season. Then in a second-round playoff game at the Akron Rubber Bowl, the Raiders prevailed 31-6.
"It's a well-deserved honor for the men who were part of that team, and the honor is long overdue," Annarella said. "They were a great group of individuals who gave their heart and soul to the football program and more importantly to the community."
"I was blessed to be a part of what they accomplished. I was blessed and I was honored that they were a part of my life."
As for Annarella's part in tonight's festivities?
"I have a game to coach — a big game to coach. That's my only focus," Annarella said.
More like this from vindy.com