Canfield Speech and Debate earns first place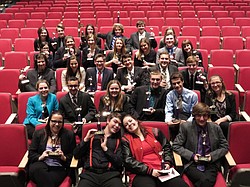 Photo
Neighbors | Submitted.Pictured are all of the students who earned recognition, from left and back to front, Taryn Rothbauer, Nick Palermo, Jackson Horvat, Zachery Bernat, Michael Stefanick, Maddy Urig, Eva Lamberson, Alexis Heldreth, Abby Sigler, Samantha Morris, Lindsay Davis, Jack Cross, Rosie Bresson, Isaiah McInnis-Colon, Samantha Fritz, Jacob Tomory, Dominic DuPonty, Michael Factor, Jonathan Grant, Smaranda Solomon, Dominic DeRamo, Anna Sinclair, Carson markley, Alec Kan, Abi Hursh, Monica Bone, Jared Cross, Madison Deiley and Jordan Audia.
On Nov. 7, the Canfield Speech and Debate team earned first place honors at the 2015 T. Craig Bond Memorial Speech and Debate Tournament hosted by Niles McKinley High School.
Approximately 400 students from 18 schools competed. At the end of competition, the top six teams were recognized, and Canfield came in first with 85 points. With the first place finish, Canfield has won tournaments on its first three regular-season weekends.
Additionally, Canfield sophomore Jackson Horvat earned the Brian Peteritis Memorial Award, given to the tournament's top speaker. Jackson competes in Original Oratory.
Other Canfield students earning recognition for their performances were: in Drama - second place Jack Cross, third place Michael Stefanick, fourth place Rosie Bresson, fifth place Isaiah McInnis-Colon; in Duo - fourth place Madison Deiley and Jared Cross; in Humor - first place Zachery Bernat; in Informative - first place Jordan Audia, third place Nick Palermo, fifth place Maddy Urig; in International Extemp - first place Alec Kan, third place Smaranda Solomon; in Lincoln-Douglas Debate - third place Lindsay Davis, sixth place Eva Lamberson; in Original Oratory - first place Taryn Rothbauer, sixth place Alexis Heldreth; in Program Oral Interpretation - fourth place Abby Sigler, fifth place Monica Bone, sixth place Abi Hursh; in Public Forum Debate - second place Jacob Tomory and Samantha Fritz, fourth place Jonathan Gant and Michael Factor, sixth place Dominic DuPonty and Samantha Morris; and in United States Extemp - second place Carson Markley, third place Anna Sinclair and fourth place Dominic DeRamo.
More like this from vindy.com