---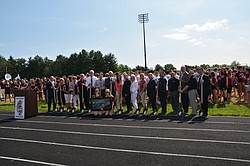 Photo
Neighbors | Submitted.Boardman school officials and students lined up during the groundbreaking ceremony for the new sports stadium. The facility will include field turf and an all-weather track.

Photo
Neighbors | Submitted.The Boardman High School band played as part of the groundbreaking ceremony for the school's new sports stadium. In front is a picture of what the new stadium will look like.
By TIM CLEVELAND
The first step in constructing the new $4 million sports stadium at Boardman High School took place on June 20 with the groundbreaking ceremony.
The facility will replace the old stadium on Market Street, which is next to Center Middle School. The new stadium will be on the Boardman High School grounds and will be used for football, soccer and track and field.
The turf is scheduled to be ready Sept. 1, and the goal is to have the stadium completed in the fall of 2015.
"The process is exciting for this district and community," said first-year director of operations Tim Saxton, who spent the previous 11 years as BHS principal. "By breaking ground, we are providing credibility and momentum for this much needed renovation to our district."
The stadium will have state of the art field turf, locker rooms for both home and visiting teams and permanent restrooms.
The original stadium was built in the 1930s as part of a Works Progress Administration project and with a seating capacity of 6,000 – the new one will have a capacity of 7,000 with the possibility of further expansion.
Currently, the boosters are about halfway to the $4 million needed for the project. They hope to have the field turf installed this summer.
To help defray some of the $4 million cost, Boardman Boosters hope to sell naming rights to the new stadium for $1.5 million and to the field for $1 million.
Saxton said the new stadium will not only be state of the art, it will also be more convenient for the athletes who will be using it.
"Our current facility is in very poor shape," he said. "We spend thousands of dollars to bus our own athletes, cheerleaders, and band members to a home game. There will be a substantial cost savings in transportation and in field maintenance by completing this project. Our soccer and football teams will have a field to compete on that is not impacted by the Northeast Ohio weather. Our physical education classes and band will be able to use it during the day. Softball and baseball will be able to practice and scrimmage on the field in the spring instead of being on our parking lots or in the gymnasium. Boardman Schools have a tradition of excellence, it is time that our sports complex is held to that same standard."