Jeremy Batchelor named assistant superintendent at Austintown schools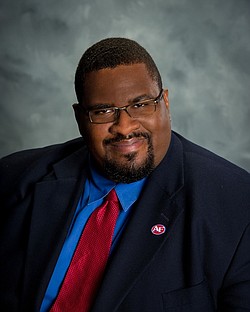 Photo
Neighbors | Submitted.Jeremy Batchelor was named assistant superintendent of Austintown Local Schools during a board meeting on Aug. 6.
By TIM CLEVELAND
After spending the last six years working at schools in North Carolina, Jeremy Batchelor decided it was time to come home. He applied for the position of assistant superintendent of Austintown Local School District and was named to the position at a board meeting on Aug. 6, earning a three-year contract.
"I was honored and excited," Batchelor said of his reaction to getting the job. "There is no place like home. The Mahoning Valley is home and Austintown was good to my family during our time there before."
Batchelor said his experience made him an ideal candidate for the job.
"I believe my leadership journey has been preparing me for this work," he said. "I have been fortunate to have some great mentors and gain valuable experience in all dancers of school administration. Thus, this position I believed fit my skills set and professional goals."
The position of assistant superintendent entails being involved in every aspect of the district's daily operations and with duties leading the curriculum and instruction department and district improvement efforts.
"I will be involved in many things, which excited me to have the opportunity to impact every component of the districts's work on behalf of students," he said.
Batchelor is a native of Youngstown and graduated from Cardinal Mooney High School in 1992, where he played football and was named All-Steel Valley Conference. He was inducted into the Mooney Hall of Fame in 2013. He earned his Bachelor of Arts degree from John Carroll University in 1996 and received a Master of Science in Educational Administration from Youngstown State in 2006. He is a Doctoral Candidate at YSU and is currently working on his dissertation.
Batchelor spent some time as a juvenile probation officer in Cleveland before going into teaching. He was previously a teacher in Bladen County, N.C., and Roanoke, Va. He began his administrative career at Life Skills Centers of Ohio before serving as assistant principal at Austintown from 2006-08. From 2008-12 he served as principal at East Bladen High School in North Carolina. His most recent position was in the central office as Administrator for Student Services with the Charlotte Mecklenburg Schools.
"While settling into that role, I was asked to take on a high needs middle school within the district to help turn around that school," he said. "We actually got that school off of the state's persistently dangerous watch list within one year and increased state test scores by almost 20 percent in that same time," he said.
Batchelor said helping improve Austintown schools will be no different than any other school.
"Austintown Local Schools are no different than most school districts across the Ohio and even across the country," he said. "We are facing a landscape where education is evolving and we must evolve with it. I think Austintown is evolving nicely. The increased technology utilization to enhance instruction that is taking place cannot be understated.
"Let me be clear that there is absolutely no replacement for a great teacher. No computer or device can do that, but the technology of today and tomorrow can enhance our instruction and give teachers and students experiences that can catapult student achievement as well and college and career readiness."
Batchelor detailed some of his goals are for his new job.
"I want to help [Austintown Local Schools superintendent] Mr. [Vince] Colaluca and the entire Austintown educational community fulfill the tenets of the mission statement by ensuring we have a strong teaching and learning framework they prepares students for their futures," he said. "I also want to build a strong collaborative work environment for all Austintown stakeholders."
More like this from vindy.com