Local festivals and fairs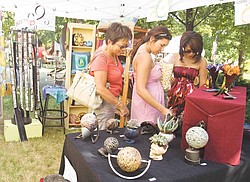 The Vindicator

Photo
From left, Kim Powell, with Anna and Lydia, look at artwork by Tony Armeni at the Youngstown State University Summer Festival of the Arts 2010.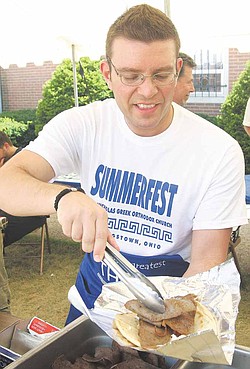 The Vindicator

Photo
Ted Karabatsos of Canfield makes a Gyro at the St. Nicholas Greek Summerfest.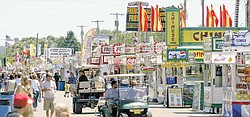 The Vindicator

Photo
Midway concessions and fairgoers at the Trumbull County Fair.
Here are some fun events happening in the region from May to September. The Vindicator will update events weekly throughout the summer. Email your events to us at entertainment@vindy.com.
Summer Fun Festivals & Fairs
May 27-29
Dulci-More Festival, BSA Camp McKinley, Lisbon. Evening concerts, mini concerts, over 50 workshops, open stages, name that tune contests, non-denominational worship service; campfires, vendors, food, primitive camping. Group rates available, children welcome. 330-332-4420.
May 28
River Walk arts festival, noon-9, downtown New Castle. Music: Dante DiThomas Swing Band, Michael Austin Project, Allies, New Castle Playhouse Mini Stars and Sweaty Betty Blues Band. Free parking.
June 2-5
St. Joseph The Provider Parish Festival, 633 Porter Ave., Campbell. Homemade ethnic specialties, auction, raffle, games, polka bands. The Naples Sisters, 7-10, June 2; Vasko & Company, 7-10 June 3; Eddie Vallus Band II, 7-10 June 4; Polka Mass at 11 a.m. with Del Rezek, noon-3; Al Hreno, 4-7 and Del Sinchak, 7:30-10:30. All entertainment is free. 330-755-0266.
June 8-12
Immaculate Heart Parish Festival, 4490 Norquest Blvd., Austintown. DJ June 8 and 9; Kenny's Band, July 10; Gary's Band, June 12; raffle, polka mass with Eddie Vallus, 5 p.m. Aug. 11; drawings, rummage sale, auction and ends with fireworks at 10:30 p.m. Sunday.
June 9-12
St. Pius X Parish Festival, 1401 Moncrest NW, Warren. Entertainment and casino nightly; ethnic specialty foods; grand prize raffle: $1000, $500, $250; Texas Hold'em tournament, auction.
June 18
Music by Jim Golen, food and fireworks, 5:30- dusk, Mastropietro Winery, 14558 Ellsworth Road, Berlin Center. 330-547-2151.
Simply Slavic, noon-8 p.m., Slavic organizations across the Valley unite for this festival in downtown Youngstown.
Cortland Lions Street Fair "The Pirates and Princess Jamboree," opens at 6 p.m. Thursday. Music Thursday by Natalina and Karlina Valley; Friday, Magma; Sat., Huckin' Fillbillys. Parade at 6 p.m. Sat. Rides, games, food and more. 330-638-7649.
June 24-25
Celebrate Poland, at the Gazebo at Village Hall. Parade and fireworks Friday; Idol singing contest Saturday.
June 24-26
Steel Valley Super Nationals, 9 a.m.-10 p.m. June 24 and 25; 9 a.m.-5 p.m. June 26, Quaker City Motorsports Park, Salem. Admission: $12, kids 12 and under free. Drag racing is $30. Motorcycle day is June 25, $10 gets the driver, passenger in for unlimited runs down the track. 800-245-8118 or www.steelvalleysupernationals.com.
June 26-27
St. Ambrose Parish Festival, 10692 Freedom St., Garrettsville. Chicken dinner festival, auction, bingo, raffles: tractor and quilt.
June 29-July 4
Trumbull County Fair, featuring auto races, truck pulls, demolition derby and fireworks.
July 1-3
Ellwood City annual Festival, 11 a.m.-10 p.m., Ewing Park, Ellwood city. Free admission. Parking is $3 per car. Arts and crafts, food, children's area, Juried art show, fireworks finale. 724-758-3115 or www.Ellwood-City-Festival.net
July 1
Small Ships Revue prelaunch party, 3 p.m., The Lube, downtown Sharon, Pa. Pre-launch parade, 6 p.m.; small ships launch, 7 p.m.; Graphic Pink on main stage, 8 p.m.; Pipe Dreams at the Sugar Shack, 8 p.m.; 10:15 p.m. fireworks.
July 2
Quaker Fake Fest with AC/DC tribute band Thunderstruck, 7 p.m., Quaker Steak & Lube, Sharon. Mini Kiss, 9 p.m. Free admission.
July 3
Quaker Family Fun Day, noon-4, Quaker Steak & Lube, Sharon. Games, bouncers, slides, obstacle course, face painting, magician. Free admission.
July 4
Community celebration and fireworks, 9 a.m.-11 p.m., Firestone Park, Columbiana. Games, family activities, music, pet parade, canoe races and more. Fireworks at 10. 330-482-3822.
July 8-10
Slovenefest XXX, SNPJ Recreation Center, Enon Valley, Pa. Ethnic food, music, dance and culture of Slovenia. Miss SNPJ Pageant, food and jam tent. www.snpjrec.com.
Greek Festival, 11-9 Fri.; 4-9 Sat.; noon-10 Sun., St. Nicholas Greek Orthodox Church, 220 N. Walnut Ave., Youngstown.
July 9
Ninth annual Summer Sizzler, 1-6, Hubbard Community Pool, 250 Hall Ave. Free swimming, crafts for children to take home. Auction, food. Fundraiser to make improvements to pool.
July 9-10
Peddler Days, 9-5, Downtown Hanoverton. Vendors, live entertainment, Civil War re-enactiment battles and camps, food and displays. Event and parking are free.
YSU Summer Festival of the Arts, 10-7 July 9; 11-5 July 10, At and around YSU. Art for sale from more than 70 artists; music, theater and dance performances; children's activities; ethnic festival; cultural and arts group participation.
July 9-12
St. Christine Parish Festival, 3165 S. Schenley Ave., Youngstown. Dinner in parish center Fri.- Sun.
July 13-17
Our Lady of Mount Carmel Parish Festival, 381 Robbins Ave., Niles. Lunch, 11-2 and dinner 5-11 Wed.-Fri. Hours: 3-11 Sat. and Sun. Bands: John Gabriele, Rocky Monaco, Rex Taneri, Frank Gallo, Jim Frank Trio, and Tonelli Band. Procession after 5 p.m. Mass Sat. Basket and money raffles, bingo, games, beer. Fireworks, 10:30 p.m. Sunday.
July 15-17
St. Joseph Parish Festival, 11045 St. Joseph Blvd., Mantua. Ox Roast, air conditioned dining hall, casino, Friday fireworks, Ox Idol karaoke, live entertainment nightly, instant bingo, tractor/truck pulls, trade booths.
July 16
Rib Festival, 2-9, Mastropietro Winery, 114558 Ellsworth Road, Berlin Center. Six local chefs serving BBQ ribs and chicken with music. 330-547-2151.
July 21-23
Greater Youngstown Wingfest, opens 5 p.m. July 21, Covelli Centre, new annual three day event will feature wing vendors from the tri-state area, live entertainment with Michael Stanley and the Resonators July 23. Other bands from national recording artists will perform; wing eating contests featuring local celebrities. Admission is $5 July 21; $10 July 22 and 23. www.covellicentre.com
July 21-24
Our Lady of Mount Carmel Parish Italian Festival, Mt. Carmel Hall, 343 Via Mt. Carmel, Youngstown. John Gabriele will entertain during breakfast. Entertainers and local bands. Little Prince and Princess pageant applications due by June 15. Homemade wine tasting contest. Free shuttle service and parking. Daily admission $4 or book of 4 passes for $6. Tickets must be purchased in advance at Rulli Bros., Jimmy's Italian Foods in Liberty or Trolio's in Poland. 330-757-2779.
St. Rose Parish Festival, 48 E. Main St., Girard. Hours: 6-11 Thu. and Fri., Polka mass with Del Rezek 4 p.m. Sat., until 11 p.m.; Sun. 3-10 p.m. Raffle, $5,000 drawing, fireworks Sunday night. 330-545-4351.
July 29-31
Greater Youngstown Italian Fest, 11 a.m.-midnight, Downtown Youngstown, Central Square. More than 70 food and craft vendors, 2 entertainment tents with Franco Corso, Pat Capuzzi, Oro Puro, Del Sinchak, HouseBand, Bustin' Loose, Graphic Pink, Frank Gallo and more. Amusement rides, raffles, king and queen contest. 330-793-9602.
July 31
Sunfest, all day, Mill Creek Wick Recreation Area.
Thunder in the Park (rain date Sept. 11), Woodland Park, McDonald. Plaques to the top 50 cars. Free admission. Pre-registration $6, $8 day of show. Registration, 2-5 p.m.; show, 4-8 p.m.; judging 5-7 p.m.; awards, 7:30 p.m.
Aug. 1-7
Columbiana County Fair, 8 a.m. to 10 p.m. daily, truck and tractor pulls, motorcyle dirt drag racing, demolition derby, motocross and more.
Aug. 4-7
St. Patrick Parish Festival, 315 N. Main St., Hubbard. Entertainment nightly, 2011 Dodge Challenger grand prize.
Aug. 6
Green Twp. Fireman's Festival, 4:30-11:30, Old South Range Middle School, 7600 W. South Range Road, Greenford. Homemade food, games, raffle.
Aug. 11-14
Warren Italian-American Heritage Festival, Courthouse Square, downtown Warren. Opens at 5 p.m. Aug. 11. Tiny King and Queen and Miss Italian pageants; bocce tournament Th.-Sun.; music by John Gabriele, Capri Band, Rex Taneri, Dana School of Music, Avanti band, Frank Gallo, Brotherhood, Natalie Pinto, Jim Frank Trio; comedian Marcoantonio and Tony Ieluzzi; Morra tournament; Mass on Sunday at 9:30 a.m.; grand parade. $3 per person. 330-550-7877 or 330-507-3567 or www.warrenitalianfestival.com
Aug. 13-14, 20-21, 27-28
Shaker Woods Festival, 10-5, Columbiana. 200 crafters and artisans, three stages of entertainment, 20 food booths and more.
Aug. 13-14
Gathering of the Irish Clans, Irish music, food and culture at St. Maron's pavilion, Meridian Road, Youngstown.
Aug. 14
St. Matthias Parish Festival, noon to 9 p.m., 915 Cornell St., Youngstown. Polka Mass, 11:30 a.m.; Eddie Vallus, 1-3; Del Sinchak, 4-8; dinners, noon-3; gas raffle.
Vexfest, noon-1:30 a.m., West Federal St., Youngstown. Headliners are Boombox and Via Sahara. More than 50 bands on multiple stages.
Annual Hungarian Day Fest, 1-6, Youngstown American Hungarian Federation, 2219 Donald Ave. Traditional Hungarian food and pastries. Program by Hungarian Dance group, music for listening and dancing by the Hungarians. Admission will be charged at the door. 330-270-3327 or 330-549-2935.
Aug. 18-21
Glendi Greek Festival, 5 to 10 p.m. Thu., noon to 10 Fri.-Sun., St. John Greek Orthodox Church, 4955 Glenwood Ave., Boardman. Greek food, music and dancing.
Aug. 20
Fourth annual Roxfest, noon, Buffalo Hollow, 51367 Dickson Road, Petersburg. 12 local and regional bands, food, beer, vendors, free tent camping. All ages. 330-792-7022.
Aug. 28
Hot Air Balloon Festival, 1-9, Mastropietro Winery, 14558 Ellsworth Road, Berlin Center. Music by John Reese Band, food by Rachel's Restaurant. Kid friendly snacks, clowns and bounce around, tethered rides. $5 cover charge over age 12. 330-547-2151.
Polish Day, Food, music and dance, at St. Anne's Church, 4310 Kirk Road, Austintown; polishyoungstown.com.
Aug. 31-Sept. 5
Canfield Fair, 8 a.m.-11 p.m. daily, cheering leading demos, band concerts, daily special activities. Grandstand: national country music acts, harness racing, truck and tractor pull, motocross, demolition derby and more.
Sept. 10
Pabstolutely, 2 p.m.-1 a.m., Free rock festival with numous bands and vendor at The Royal Oaks, 924 Oak St., Youngstown; 330-744-5501.
Sept. 11
Hungarian Heritage Festival, 1-6 p.m., Hungarian food, music and art. Youngstown American-Hungarian Club, 2219 Donald Ave., Youngstown; 330-799-6112.
Sept. 24
RuKus fest, 10 a.m.-2 a.m. Dozens of live bands on outdoor stages along Federal Street, Downtown Youngstown. Vendors, food, beer. Rukusradio.com.
More like this from vindy.com