Canfield native part of shuttle refueling device creation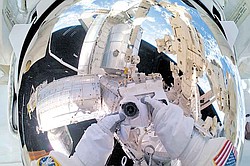 Photo
A panoramic view of the International Space Station, space shuttle Atlantis and Earth refl ected off of NASA astronaut Mike Fossum's helmet visor during a spacewalk July 12. The Robotic Refueling Mission can be seen just above Fossum's hands.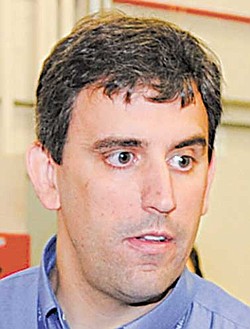 Photo
Brian Roberts, robotic demonstration and test manager for Goddard Space Flight Center in Maryland.
Staff Report
CANFIELD
A Canfield native anxiously watched his team's Robotic Refueling Mission payload make its way to the International Space Station as the Atlantis shuttle blasted off on its final mission from the Kennedy Space Center.
"It was emotional," said Brian Roberts, robotic demonstration and test manager for Goddard Space Flight Center in Maryland. "We were the last payload launched into space on the shuttle."
The 1988 Canfield High School graduate attended the July 8 shuttle launch with his wife, Nicole, and daughter, Michaela, and said weather almost caused the mission to be aborted during the pre-launch. Then, he said, with 31 seconds left in the countdown, a sensor indicated a clamp had not retracted. All he said he could think was "oh please, be a go."
Controllers were able to use binoculars to confirm the shuttle was safe to launch and within seconds it began its flight into space, he said.
"It was neat to be part of a historic moment," said Roberts. "Sharing it with my wife and daughter made it even more special."
After liftoff, hesitation set in.
"Did I do everything right?" Roberts said he wonders when it's time to test something he helped design. "Did I put the decimal in the right place?"
It wasn't until last Monday that he got to see the refueling module in space on his TV at home.
"I was looking to make sure everything was there, that nothing fell out," he said.
The Robotic Refueling Module is a washing machine sized box that houses tools on its front side and satellite fitting on the others. It was designed to refuel and repair satellites in orbit.
Roberts said hearing "kudos" from the astronauts who removed the RRM from the shuttle Tuesday and placed it outside the space station, was "great," but his work isn't over.
After the shuttle leaves, the experiment will be moved to an outer section of the station. In late August, images from the robot will be transmitted to Earth where Roberts' team will use a computer program to determine if the robot can find the satellite fittings on the module.
The team hopes to be able to use the robot to grab the tools in December. The experiment is expected to take two years. If it's successful, it could save money by refueling or repairing satellites rather than having to launch new ones.
More like this from vindy.com