Hodgkin's patient needs 3rd marrow transplant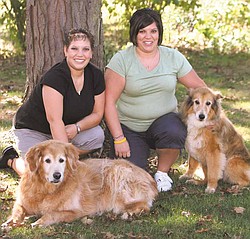 The Vindicator ( Youngstown)

Photo
ROBERT K. YOSAY | THE VINDICATOR..Stephanie and Tiffany ( sister ) with their dogs Bailey And Courtney.. Stephanie has had HodgkinÕs Lymphoma for the past five years. SheÕs in need of her third bone marrow transplant but needs to find a donor...-30-..
Youngstown native Stephanie Chimento needs a bone-marrow transplant — again.
Stephanie received two transplants after being diagnosed with Hodgkin's lymphoma in 2005. The first was a self-transplant, and the second came from her twin sister.
Now doctors say Chimento, 28, of Warren, will need a third transplant.
So a family friend has organized a fundraiser and bone-marrow drive from 9 a.m. to 5 p.m. Sunday at Our Lady of Mount Carmel Church social hall at 343 Via Mount Carmel Avenue. The drive is organized through the Be The Match Foundation and the National Marrow Donor Program, nonprofit organizations that maintain a national registry to facilitate bone-marrow and umbilical-cord blood transplants.
"We do realize the chances of finding a donor for Stephanie are a little on the slim side," said Mary Anne Chimento Gania, Stephanie's mother.
Hodgkin's lymphoma is a form of cancer that begins in white blood cells and moves to various lymph nodes throughout the body.
In a self-transplant, healthy bone-marrow cells are removed from the patient, treated for cancer and stored. Then a round of chemotherapy kills the cancerous cells remaining in the body before the healthy, stored cells are replaced. A self-transplant worked for Stephanie for about a year before she needed her second transplant.
Stephanie's family thought they found the perfect donor in Stephanie's twin sister, Tiffany.
After the transplant, doctors realized Stephanie and Tiffany were identical twins and not fraternal as previously thought. The transplant wouldn't work between them because their DNA is too similar.
"They were too perfect a match," Mary Anne said. "It was a shock to all of us."
Barbara Nolan, a recruitment supervisor with Be The Match, echoed that sentiment.
"We're looking for an exact twin DNA-wise, but from two separate parents somewhere in the world," Nolan said. "It's like winning the lottery."
Stephanie isn't worried.
"Right now, it's okay; it's under control," she said of her cancer. "It's not growing, and it's not moving. Later on down the road, if I don't find a match, I will be worried."
Nolan works with people looking to raise awareness about the registry in their communities through a drive. She's been working with Mary Jean Lowry McCaffrey, the family friend who put the drive on for Stephanie.
Nolan said the chances that Stephanie will find her own match through Sunday's drive are low, but drives like this happen every day all over the country, adding to the registry's 8 million donors.
"It becomes a numbers game," Nolan said. "The more people we have in the registry, the better chance we have."
Donors and recipients must wait one year before they can agree to meet each other. So even if Stephanie's match registers at the drive, she won't know for some time who that person is and where he or she registered.
Anyone can register to become a potential donor through Be The Match for $100, which goes toward the tests that assess each registrant.
No one will pay to register at Stephanie's drive Sunday. Part of the goal was to raise money to cover the cost of registration for donors, and as of Tuesday, Lowry McCaffrey said they have raised $7,600 to pay for registrants.
The Be The Match Foundation will cover $50 of every registration fee through a grant at Stephanie's drive.
Donations will still be accepted Sunday to help with registration fees for donors at other drives. There will be a 50/50 raffle as well.
Those who wish to join the registry Sunday will fill out consent forms and have a sample taken.
A cotton swab is used to gather cheek cells from inside the mouth, which are sent to a lab and then added to the registry. Registered donors who are identified as a match will be contacted by the registry.
More like this from vindy.com