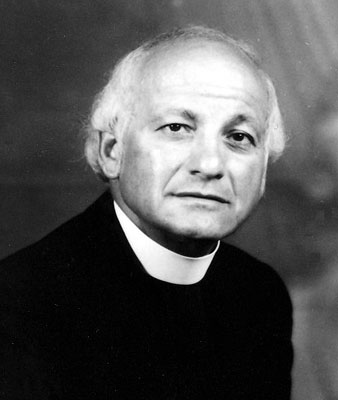 AUSTINTOWN - Sadly, Rev. Anthony Fasline, 87, died on Sunday, Oct. 16, 2016.
He was born on March 20, 1929, in Youngstown. He lived a good part of his life in Youngstown and many enjoyable months in Arizona after retirement.
He was a graduate of Youngstown College, now Youngstown State University, and later served in the U.S. Army. He loved learning and earned a Master of Divinity and an M.Ed. at Xavier University. He later also completed post graduate work in counseling at Arizona State University. All of this led to his studies for the priesthood at St. Gregory and Mount St. Mary's of the West Seminaries in Cincinnati. His parishioners and all who knew him reaped the rewards of the depth of his learning and his compassionate heart.
Father Fasline was ordained on May 26, 1962, in the Cathedral of St. Columba. Following his ordination, he served in several churches in the Youngstown area. His first pastorate was at St. Ambrose in Garrettsville, followed by Mother of Sorrows in Ashtabula. Later, he was appointed pastor of Our Lady of the Lakes Parish, St. James Church in North Jackson, where he served until his retirement in 1994.
He was preceded in death by his parents, Mary and Sabatino Fasline; his brother, Frank Fasline; and his sisters, Angeline Higel and Ann Daniels.
He is survived by his brother, Sam Fasline, and many nieces and nephews whom he loved and who dearly loved him and valued his wisdom.
He was rooted in the love of his family and found and gave a sustenance only found in such love.
Over the years, Father Fasline served on the Diocesan Priests' personnel board, as chaplain at the Vienna Air Force base, on the Knights of Columbus Struthers Council No. 4224, and for the Stark County Boy Scouts of America. He taught at St. Elizabeth School of Nursing and part-time at John Kennedy High School.
In addition to his dedication to the priesthood, Father Fasline always could be found helping in quiet ways those who needed support. He loved people and with great compassion, fought injustice, helped the homeless, especially at the Dorothy Day House, worked unassumingly in serving food at shelters such as the St. Vincent de Paul Society Soup Kitchen, and visited and brought solace and laughter to parishioners and friends. He loved to walk in nature, dig in the soil, cook and relish good food and, most importantly, share life's joy with others.
The celebration of Father Fasline's life will be held on Monday, Oct. 24, 2016, at 11 a.m. at Our Lady of the Lakes Parish, St. James Church, 50 Rosemont Road in North Jackson.
Friends may call on Sunday, Oct. 23, 2016, also at St. James Church from 3 to 6 p.m. and again on Monday, Oct. 24, 2016, from 10 to 10:45 a.m. at the church, prior to the Mass.
In lieu of flowers, the family requests donations be sent to the Dorothy Day House, P.O. Box 863, Youngstown, OH 44501.
Arrangements have been entrusted to the professional care of the Rossi Brothers & Lellio Funeral Home, 4442 South Ave. in Boardman.
Family and friends may visit the Book of Memories at www.rossifunerals.com to view this tribute and send condolences to Father Fasline's family.