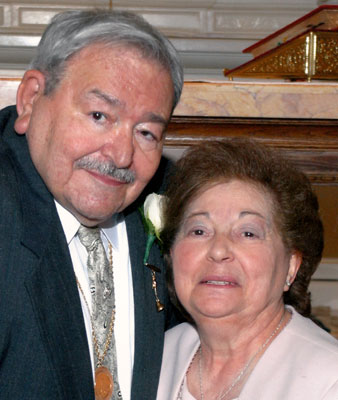 "Together Again"
LIBERTY - There will be funeral services at 9 a.m. on Saturday, Feb. 18, 2017, at the Rossi Brothers & Lellio Funeral Home in Boardman followed by a 10 a.m. Mass of Christian Burial at Our Lady of Mt. Carmel Basilica in Youngstown, with the Very Rev. Msgr. Michael J. Cariglio celebrating the Mass for James V. "Vincenzo" Pilolli, 88, who passed away Tuesday morning, Feb. 14.
James was born Dec. 9, 1928, in Kinsman, the son of Antonio and Luicia (Magnati) Pilolli.
James courageously served his country in the U.S. Army Air Corps during World War II.
He married Rachelé "Lina" (Ianiri) Pilolli on July 4, 1953, in San Paolo, Italy. After an audience with the venerable Pope Pius XII who personally blessed their marriage, James returned in 1954 to Youngstown with his new bride.
James was a member of Our Lady of Mt. Carmel Basilica, its Vestibule Club, and was a lifetime member of the American Numismatic Association.
He owned Pilolli Grocery Store in Smoky Hollow and owned and operated Pilolli Coin and Stamp Center since 1964.
Along with his wife, he shared a love of gardening and travel. He enjoyed making wine and sausage and playing bocce, morra, and scopa. James especially cherished his time with his family and preparing homemade dinner for them.
James will always be lovingly remembered by his five children, Antonio Luigi Pilolli of Youngstown, Americo Daniel (Jo Ann) of Akron, Anna Marie Pilolli of Youngstown, Vincent Anthony (Renee) Pilolli of Youngstown, and Roberto John (Sheri) Pilolli of Youngstown; 11 grandchildren, who he dearly loved and were the light of his life, Nicholas, Vincenzo Dominic (Jessica), Christina (Christopher) Stires, Juli Anna, Vincent II, Nicole, Natalie, Nina, Rocco, Marco and Gino; great-grandchildren Brenden, Scarlet, and Ariana Stires; a sister, Clementina Murar of Sarasota, Fla.; and many loving nieces, nephews, and cousins.
Besides his wife, Lina and parents, James was preceded in death by his sister, Patricia Jenkins; and five brothers, Michael, Americo, Patrick, Edmund, and Joseph Pilolli.
Friends may call today, Feb. 17, 2017, from 5 to 7 p.m. at the Rossi Brothers & Lellio Funeral Home, 4442 South Ave. in Boardman.
The family would like to extend a heartfelt thank you to the nurses and staff at Park Vista.
Family and friends may visit the Book of Memories at www.rossifunerals.com to view this tribute and send condolences to James' family.