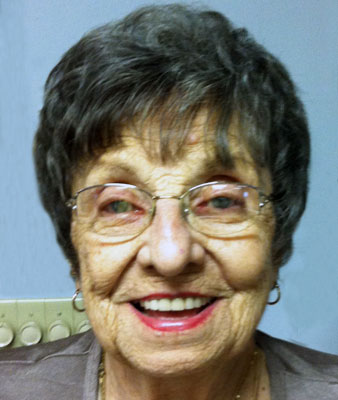 HUBBARD – There will be a funeral service held at 9 a.m. on Thursday, March 16, at the Rossi Brothers & Lellio Funeral Home in Boardman, followed by a 10 a.m. Mass of Christian Burial at Our Lady of Mt. Carmel Basilica in Youngstown, with the Very Rev. Msgr. Michael J. Cariglio Jr. celebrating the Mass for Ethel "Shelly" A. Capone, 90, who passed away peacefully on Friday, March 10, surrounded by her loving family.
Shelly was born July 19, 1926, in Chicago, the daughter of Andrew and Gizella (Sholtz) Sklenar.
She was a 1944 graduate of Ursuline High School.
She was "Rosie the Riveter" during World War II, and welded tank treads for the former Truscon Steel in Youngstown. She also worked at Mackenzie Muffler, Buffalo Press Steel, and G.E. Lamp Plant. She then worked at Youngstown State University Bookstore from 1978 to 1996.
Her husband, Eugene A. Capone, whom she married June 2, 1951, passed away Oct. 23, 1990.
She was a member of Our Lady of Mt. Carmel Basilica and former member of Holy Name, St. Joseph Church in Youngstown, and St. Edward.
Shelly was a charter member of the North Side Coalition, and was precinct committee woman 3rd Precinct B in Youngstown. She belonged to the fraternal organizations Jednota Lodge No. 308, First Catholic Slovak Union, Pennsylvania Slovak Catholic Union, and also the P.E.R.S. of Ohio.
In her spare time, Shelly enjoyed crocheting, especially baptismal gowns and angel ornaments which she loved to share with everyone. She also enjoyed sewing, cooking, especially Slovak and Italian specialty dishes, and baking, but her greatest joy was spending time with her family, especially her children, grandchildren, and great-grandchildren.
She will always be remembered lovingly by her six children, Gina (Raymond) Staron of Bainbridge, Gary (Lori) Capone of Austintown, Mary (Robert) Fry of Sandy, Utah, Karen (Stephen) Sheer of Hudson, Angela Lamb of Boardman, and Geno (Laura) Capone of Hubbard; 13 grandchildren; 11 great-grandchildren; and five nieces; and three nephews.
Besides her parents and husband, she was preceded in death by two brothers and sisters-in-law, Lad and Helen Sklenar, and Theodore and Lucille Sklenar; parents-in-law Angelo and Mary Massacci; and son-in-law Thomas J. Lamb.
Friends may call from 4 to 7 p.m. on Wednesday, March 15, at the Rossi Brothers & Lellio Funeral Home, 4442 South Ave. in Boardman.
Family and friends may visit the Book of Memories at www.rossifunerals.com to view this tribute and send condolences to Shelly's family.
Monetary contributions may be made to the family to be given to Shelly's favorite charities.