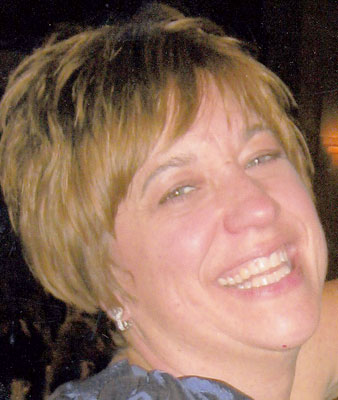 YOUNGSTOWN - There will be a funeral service at 9 a.m. on Tuesday, June 20, 2017, at the Rossi Brothers & Lellio Funeral Home in Boardman, followed by a 10 a.m. Mass of Christian Burial at Our Lady of Sorrows St. Matthias Church, 915 Cornell St. in Youngstown, with the Rev. John Jerek celebrating the Mass, for beloved Virginia "Ginny" L. Fabiny DeLuca who passed away Thursday, June 15, after a long and courageous battle with cancer.
Virginia was born on Oct. 19, 1961, in Youngstown, the daughter of Frank J. and Agatha (Hamrock) Fabiny.
Virginia was a graduate of St. Matthias School, Cardinal Mooney Class of 1979, Youngstown State University with an Associate Degree in Dietetics, and YSU School of Nursing with a BSN. She worked as a visiting nurse, a case manager at both Northside Hospital and most recently at Southwoods Surgical Hospital until her retirement due to health issues, shortly after purchasing her dream home in the North Carolina mountains.
She was a lifelong active member of Our Lady of Sorrows St. Matthias Church, where she taught religious education classes.
She was a member of Br. 731 First Catholic Slovak Union and the Slovak Cultural Association. Virginia was also a member and officer of Sr. Br. 161 and Jr. Br. 192 of the First Catholic Slovak Ladies Association.
Virginia leaves her husband, Fred DeLuca Jr., whom she married May 1, 1982; her parents; two sons, Daniel (Amie) DeLuca and Edward DeLuca; daughter Lauren DeLuca; three grandchildren, Adalynn and Francesca DeLuca, and Logan Gasparek. She eagerly anticipated the July birth of her first grandson.
She also leaves behind her siblings, Raymond, Marian (John) McCreery, Thomas (Lisbeth), and Barbara (Drew) Monitto; uncle Michael Hamrock; father-in-law Fred DeLuca Sr.; brothers-in-law Anthony (Donna) DeLuca and Bill DeLuca; and a host of nephews, nieces, cousins, and beloved friends.
She was preceded in death by her grandparents, Michael and Julia Hamrock; nephew Jared Fabiny; uncles Michael and Joseph Fabiny; aunt Anna Yurcisin; and mother-in-law Betty DeLuca.
Friends may call from 4 to 7 p.m. on Monday, June 19, at the Rossi Brothers & Lellio Funeral Home, 4442 South Ave. in Boardman.
The family would like to give special thanks to her medical teams both locally and at The Cleveland Clinic for care given throughout her illness. "We most especially thank all our extended family, her close personal friends, and her co-workers at Southwoods for their extraordinary expressions of love and concern."
Ginny loved to travel; she loved everyone, and she was loved by so many. Her generous and vivacious spirit will be sorely missed.
Family and friends may visit the Book of Memories at www.rossifunerals.com to view this tribute and send condolences to Ginny's family.