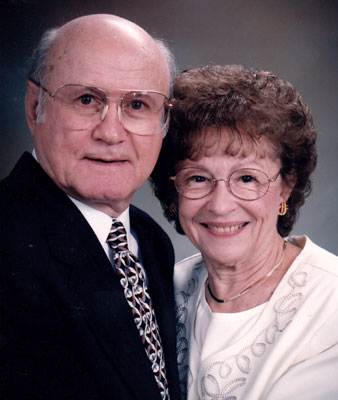 "Together Again"
YOUNGSTOWN – A Mass of Christian Burial will be celebrated at 10 a.m. on Friday, Aug. 19, 2016, at SS. Cyril and Methodius Church, Our Lady of Sorrows Parish, 252 East Wood St. in Youngstown, with the Rev. Melvin Rushnak celebrating the Mass for Mary A. (Sofranec) Pavlina, 92, who passed away Aug. 15.
Mary was born July 1, 1924, in Youngstown, the daughter of Martin and Veronica (Panik) Sofranec.
Mary was a lifelong member of SS. Cyril and Methodius Church, it's Altar and Rosary Society, Infant Jesus of Prague Guild, Ladies Guild, and SS. Cyril's Seniors, also, St. Rita's Lodge LPSCU Branch 132.
She enjoyed cooking, baking, shopping, dancing and listening to polka music. Most of all, she enjoyed spending time with her children and grandchildren.
Mary was a homemaker and a devoted loving wife. As a mother and grandmother, she loved her family dearly. She lived her entire life in this area.
She was a graduate of Woodrow Wilson High School, class of 1943.
Mary will be sadly missed by her children, Marilyn (Leonard) Sheehn of Big Pine Key, Fla., George M. (Susan) Pavlina of New Middletown, and Debra (Brian) Sobnosky of Highlands Ranch, Colo.; three granddaughters, Lindsay Pavlina, Marissa Sheehn and Emma Sobnosky; two stepgrandchildren, Duane (Karla) Harris of Ward, Ark. and Jessica Harris of Boardman; two stepgreat-grandchildren; and many nieces an nephews.
Mary was preceded in death by her parents; her beloved husband, George R. Pavlina, whom she married Sept. 12, 1946, and who passed away Sept. 22, 2007, after 61 years of marriage; and a brother, Thomas "Tom" Sofranec.
Mary leaves two brothers, Joseph (Janet) Sofranec of Poland and Robert "Bob" Sofranec of Boardman.
The family will receive friends at SS. Cyril and Methodius Church from 9 a.m. until the time of Mass on Friday.
Interment will take place at Poland Riverside Cemetery.
Arrangements have been entrusted to the professional care of the Rossi Brothers & Lellio Funeral Home, 4442 South Ave. in Boardman.
Family and friends may visit the Book of Memories at www.rossifunerals.com to view this tribute and to send condolences to Mary's family.