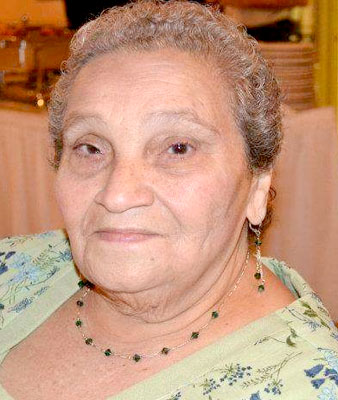 YOUNGSTOWN - There will be a prayer service at 9 a.m. on Saturday, Nov. 26, 2016, at the Rossi Brothers & Lellio Funeral Home in Boardman, followed by a 10 a.m. Mass of Christian Burial at Christ the Good Shepherd Parish Sta. Rosa de Lima Church in Campbell, with the Rev. Shawn Conoboy celebrating the life of Alfonsina Morales, 80, who passed away peacefully on Sunday, Nov. 20, 2016, surrounded by her loving family.
She was born Jan. 26, 1936, in Humacao, Puerto Rico, the daughter of Antolin Cintron and Herminia Silva. She resided with her granddaughter, Julie Strozier and her husband, Cory, along with their children, Jia and Niko Strozier.
Alfonsina was a homemaker and a member of the Christ the Good Shepherd Parish Sta. Rosa de Lima Church. She was named Mother of the Year in 1985 by the Sons of Borinquen.
Alfonsina had a loving hand in help raising all of her grandchildren.
Her husband, Francisco Morales, whom she married in 1951, passed away Jan. 6, 2006.
She will always be lovingly remembered by her five children, Elisa (Johnny) Lopez, Maria (Evaristo) Silva, Jose (Audrey) Morales, Aida (Felix) Rivera, and Jaime (Nilsa) Morales; daughter-in-law Melissa Morales; 20 grandchildren, Jessica Silva, Veronica (Gary) Ridgell, Angelica (Reynaldo) Aguirre, Franika (Victor) Flores, Jose Jr. and Roberto Morales, Felix (Tammy) Rivera, Marisol and Aida Luz (Adalberto) Rivera, Tyanna (Shawn), Jaime Jr., Alexander, and Ruben Morales, Victor Jr. (Odessa), Joey (Amber), Francisco (Alise), Christina, Sierra, and Sandro Morales, and Rafael (Tamika) and Jenna Morales; and 26 great-grandchildren, Jia, Niko, Mariah, Nasya, Zion, Everly, Victor Jr., Ava, Briana, Estavon, Des'rae, Marisol, Anthony, Aldelina, Alvani, Aiden, Noelani, Xander, Xavier, Zoee, Rafael Jr., Amya, Alecya, Ariya, Shave'z, and Shamar.
Besides her parents she was preceded in death by three sons, Roberto, Rafael, and Victor Morales; grandson Robert Morales, and great-granddaughter Victoria Morales.
Friends may call from 5 to 8 p.m. on Friday, Nov. 25, at the Rossi Brothers & Lellio Funeral Home, 4442 South Ave. in Boardman.
Family and friends may visit the Book of Memories at www.rossifunerals.com to view this tribute and send condolences to Alfonsina's family.