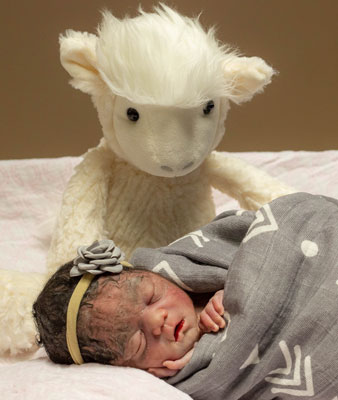 KAMRYN AVA-LEE MCCLAIN
YOUNGSTOWN - A home going celebration in honor of Kamryn Ava-Lee McClain will be held on Saturday at 10 a.m. at the Washington Funeral Home. Kamryn Ava-Lee McClain, beloved daughter of Terrah White and Kavon McClain was born sleeping on May 16, 2019, at 9:30 a.m. at Mercy Health Boardman campus.
Besides her parents, she leaves to cherish her memory, her siblings, Kai'lee and Kevin McClain; her grandparents, Sabrina White, Arthur White, and Brian McClain Sr.; her great-grandparents, Helen Steele, Darlene McClain, and Annette Harmon; her aunts and uncles, Ricky D. Williams, Richard D. Williams, Fashion Taylor, Shianne White, Shaquala Harmon, Brian McClain Jr., Brauna McClain, Abeion Walker McClain, Kaiyden A. White, Javonte Wallace, and Shaniqua Wallace; her great-great-grandmother, Martha Harris; and a host of great-aunts, uncles and cousins.
She was preceded in death by her grandmother, Cherise Eartha Harmon; her aunts, Ric'quell Daniel Williams, Annette Harmon Wallace and her uncle, Kevin McClain.
Interment will be at Tod Homestead Cemetery.
Ministry of comfort and transitional care entrusted to J.E. Washington Funeral Services Inc.
Guestbook Entries
My deepest condolences
"Now is Kamryn's time to sleep...may Jehovah God the God of all comfort...comfort her family and friends in this time of need...2 Corinthians 1:3,4"
» KMB on May 31, 2019
Another Beautiful Angel..
"May God keep u and ur family strong. The pain never heals!! But know u have a beautiful angel in ur heart mind and watching over u..I know this pain very well and I'm so sorry!! Bless u always.. Sleep well lil angel in the hands of our Lord. "
» Ayanna on May 25, 2019
Sincerest compassions
"Total understanding for the void your heart now carries! Patience for the swirling your head now tries to comprehend! Hugs from a stranger who knows your heart will always carry a piece of the unfathomable love you hold forever in your being for this precious child! In Jesus Name I pray for you, your family & your shattered heart! What a precious beauty she was! "
» A mom who understands your pain on May 24, 2019
Sign the Guestbook
---