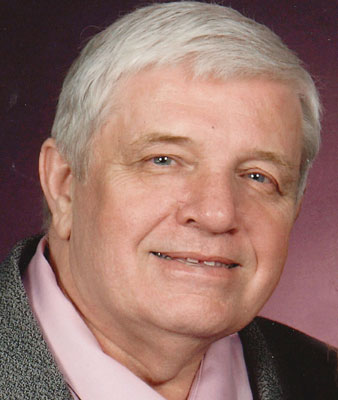 K. JAMES COOPER
YOUNGSTOWN – Memorial services will be at 11 a.m. on Saturday, May 18, at the Highway Tabernacle Church, for K. James Cooper, 75, who died unexpectedly Thursday morning, April 25,  at his residence. Friends may call for one hour prior to the service on Saturday at the church.
James was born June 28, 1943, in New Brighton, Pa., a son of the late Lester and Evelyn (Schaeffer) Cooper, and came to this area in 1972 from Beaver, Pa. 
James graduated from Freedom High School in 1961 and served in the U.S. Air Force.  He was a typesetter for the Youngstown Vindicator for several years before working on the assembly line for General Motors for 30 years, retiring in 2014.  He was a member of the Highway Tabernacle Church, where he sang in the choir.  He also served on the board at the church and for Valley Christian School. 
James leaves his wife, the former Phyllis Irene Nunamaker, whom he married Oct. 11, 1969; two daughters, Deborah (Mike) Marrie of Altamonte Springs, Fla., and Lori (Dr. Charles) Hill of Greer, S.C.; eight grandchildren; and one great-granddaughter. 
James also leaves a sister, Barbara (Ernest) Inman of New Brighton; a brother, Chester (Patty) Cooper of Rochester, Pa.; three half brothers, George (Nancy) Hohla of Aliquippa, Pa., John (Linda) Hohla of Aliquippa, and Gerald (Margie) Cooper of Endicott, N.Y.; and three half sisters, Cindy (Steve) Matkan of Beaver, Linda (Ken) Alexander of New Brighton and Sandra (John) Janicki of New Brighton. 
Besides his parents, James was preceded in death by a granddaughter, Elizabeth Hill, and a sister, Ruth Cooper.
In lieu of flowers, the family requests material tributes take the form of contributions in Jim's memory to Valley Christian School, 3919 Southern Blvd., Youngstown, OH  44512.
Guestbook Entries
FINALLY HOME
"To Jim's family and close friends, I sorrow in your loss . . . to Jim, I rejoice in your victory over this world and all the evil in it. Jim this is what you lived for, to be with Jesus, you're finally home."
» Pastor Bob Brookhart on May 17, 2019
Condolances
"Dear Phyllis and family. So sorry to hear of the death of Jim. I pray God will give you Peace, Comfort and Strength in your time of loss. Prayers for you and the family. In Christian Love, Judy Sheridan Bogan"
» Judy Sheridan Bogan on May 17, 2019
My Condolences
"Mrs. Cooper, Deborah and Lori, Very Sorry to hear of the passing of Mr. Cooper. He was a very nice next door neighbor to my family for many years. He was also extremely understanding for the, probably thousands !, of times our basketball went into his yard. I have prayed for you all at this time. God Bless you all. I truly believe Mr. Cooper is now in the presence of the Lord. Dominic DiPietro"
» Dominic DiPietro on May 16, 2019
Sorry to hear
"Phyllis, Was so sorry to hear of Jim's passing. Are praying for you at this difficult time. One good thing, we know where he is. God Bless, Jim & Mary Varney "
» Jim & Mary Varney on May 15, 2019
Sign the Guestbook
---