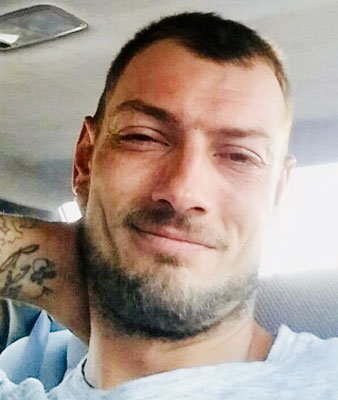 JOSEPH P. BROWN
LOWELLVILLE - Joseph P. Brown, 33, died of injuries sustained by a hit and run vehicle early Wednesday morning, March 13, 2019.
Joey was born Jan. 3, 1986, in Manteca, Calif., son of Joseph Bova and Leona Richards Brown.
In 1989, Joey and his family returned to area and he was raised in Struthers and Lowellville where he attended both Struthers and Lowellville grade schools. While in Struthers, Joey excelled in youth football. He later attended Mahoning County Career and Technical Center. Joey worked as a roofer for Allstar Exterior Construction in Struthers. Throughout the years, Joey enjoyed helping his father with their horses on the family farm in Lowellville. Joey will forever be remembered for his warm smile and good heart by his loving family and friends.
He leaves his father, Joseph Bova and stepmother, Ruth Holmes of Lowellville; his mother, Leona Richards Brown of Conway, Alaska; siblings Joseph (Sherri) Bova, Jason Bova, and Jennifer (Calvin) Patterson, all of Struthers, Jayson Brown of Alaska, Steven Brown of Canfield, and Bill Brown of Struthers; grandfather Vince Bovo of Lowellville; grandmother Mabel Richards of California; eight nieces and nephews; numerous aunts and uncles; many cousins; and his special friend, Rhiannon.
Joey was preceded in death by his grandmother, Patricia Bovo and grandfather, Bill Richards.
A Memorial Service celebrating his life will be held Sunday, 6 p.m. at the Cunningham-Becker Funeral Home, Lowellville Chapel.
Friends may call Sunday prior to the service from 4 to 5:45 p.m. at the funeral home.
Visit www.beckerobits.com to send condolences.
Guestbook Entries
Sympathy
"Joe and Family, So sorry to hear this news about your son, my prayers and thoughts are with you and your whole family."
» Jim Bisconti (California) on March 16, 2019
R.I.P. Joe
"It was a pleasure coaching you and seeing you in action. Joe Bova, you had one fantastic, hard working son."
» Greg Davern on March 16, 2019
Joe and ruth
"So sorry for your loss"
» Don and Ginny labor and sandy Johngrass on March 16, 2019
Sign the Guestbook
---