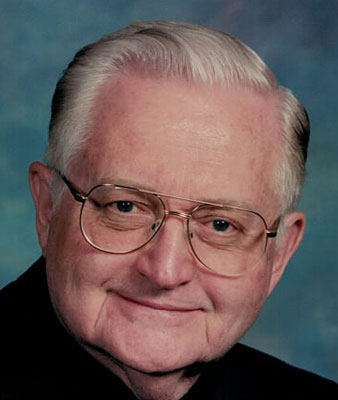 REVEREND EDWARD JOHN NERODA
YOUNGSTOWN – An hour of calling will be held from 8:45 a.m. until 9:45 a.m., followed immediately by a Mass of Christian Burial at 10 a.m. on Saturday, March 16, 2019, at St. Stanislaus Church, celebrated by the Most Reverend Bishop George V. Murry, SJ, for Reverend Edward John Neroda, 88, who passed away peacefully on March 11, 2019.
Fr. Neroda was born Dec. 12, 1930, in Campbell, a son of the late Louis and Mary Magolan Neroda.
He graduated from Campbell Memorial High School in 1948, and continued his education at St. Mary College, Kentucky and Mount St. Mary of the West Seminary in Cincinnati. He was ordained May 25, 1957, by the Most Reverend Emmet M. Walsh at St. Patrick Pro-Cathedral and was the first priestly vocation from St. Joseph the Provider Parish in Campbell.
He was an assistant pastor for various parishes in Mahoning and Stark Counties until he was assigned as pastor of St. Mary Newton Falls in 1970, and then St. Stanislaus Kostka Parish in 1980 until his retirement in September of 2017.
In additional to his parish roles, Fr. Neroda taught for Youngstown Ursuline, Cardinal Mooney, Canton Central Catholic, and Louisville St. Thomas Aquinas high schools. He served as diocesan director of refugee resettlement, as well as chaplain for several organizations, including the Knights of Columbus, the Catholic War Veteran Post 1222, the Ohio Catholic War Veterans, and for the Ohio State Patrol and Youngstown City Police Department. He also was an advisor with Mahoning County Parole Board, the Mahoning County Sheriff Department Association and the Buckeye State Sheriff's Association. He belonged to several cultural organizations.
Fr. Neroda had a fine singing voice and was a self-taught pianist and composer. He had a very large collection of tropical and semi-tropical plants and was an avid gardener. He was always very happy to share his plants and horticultural knowledge with others. He was fluent in numerous Slavic languages.
He is survived by many nieces and nephews.
Other than his parents, he was preceded in death by his siblings, Frank Neroda, Nell Kellish, Albina Satkovsky, Irene Botch, and Wanda Novak.
The family has entrusted Fr. Neroda's care to the Kubina Yuhasz Wasko Funeral Home. He will lie in state at St. Stanislaus Parish from 4 p.m. until 7 p.m. on Friday, March 15, 2019, and again in the morning.
Donations for Fr. Neroda may be made to the church in his memory. Please do not send flowers.
Visit www.waskofamily.com to send the family condolences.
Guestbook Entries
« Be the first to sign REVEREND EDWARD JOHN NERODA guestbook.
---