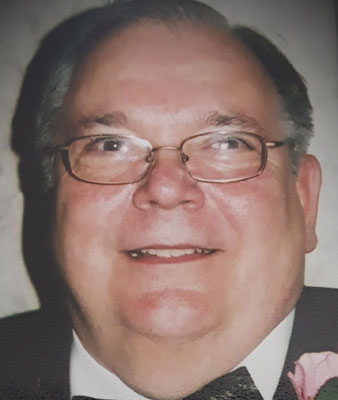 PATRICK CHAMBERS PINNEY
LIBERTY TWP. - Patrick Chambers Pinney, 76, passed away on Friday, March 8, 2019, at the Cleveland Clinic.
Patrick was born Oct. 20, 1942, in Ashtabula, the son of Harold E and Janye E Pinney.
He was a graduate of Harbor High School, earned a BS degree at Mount Union University, a Masters in Education at Youngstown State University, and worked on his Doctorate in Education at Kent State University. 
He served in the U.S. Navy from 1966 to 1970, stationed at Bethesda Naval Hospital, and had two sea duties on the US Estes and US Vancouver in Vietnam. He taught advanced biology at Liberty High School from 1970 to 2000. He also taught at John Carroll University in the Education department. 
He belonged to several Masonic organizations (Demolay, York Rite and Scottish Rite Masons); Eastern Star where he served as Patron many times and Grand Chapter Drill Leader, White Shrine of Jerusalem served as WOS several times, Supreme Shrine served as Supreme Third Wiseman and SWOS. He was active in Trumbull Retired Teacher's Association (TRTA) where he served as Treasurer, and he was a registered Parliamentarian for several of those organizations.
He loved to travel, play crossword puzzles, cards and enjoyed music.
He leaves behind Carol, his wife, of 53 years; daughter Laura of Dayton; brother Harold (Joe) of Nashville, Tenn.; sister-in-law Connie in Henderson, Nev.; and nieces, nephews and cousins.
Family and friends may pay respects from 2 to 3 p.m., immediately followed by a memorial service on March 16, at the Church Hill United Methodist Church.
The family suggest that donations be made to the Ohio Eastern Star Home or to the Vietnam Veterans in his name.
Visit www.blackstonefuneralhome.com to view this obituary and to send any condolences to the family. 
Guestbook Entries
Prayers for the family
"I'm so sorry for your loss. My thoughts and prayers are with your family. Many blessings, love and light. "
» Jenn Hassler on April 12, 2019
My deepest sympathy
"Dear Carol and Laura, I am so sorry to hear of Pat's passing. He was a great guy always in a good mood. I remember his infectious laugh. My thoughts and prayers are with all of your family. Love, Diane"
» Diane (Angelot) Rose on March 15, 2019
Sincere Condolences
"I send my sincere condolences to the family and friends of Mr. Patrick Chambers Pinney. I had Mr. Pinney as a biology teacher at Liberty High School. I always respected him and appreciate Mr. Pinney for what he taught me. May you all be comforted during this time or transition. "
» Latya Reed on March 14, 2019
so very sorry
"We are all so very sorry about Patrick,he was the sweetest man even in a dental office. Every time we would see him ,always so kind and soft spoken. Thinking of Carol and all his family ,we know he will be truly missed."
» Braydich Dental on March 14, 2019
Sign the Guestbook
---