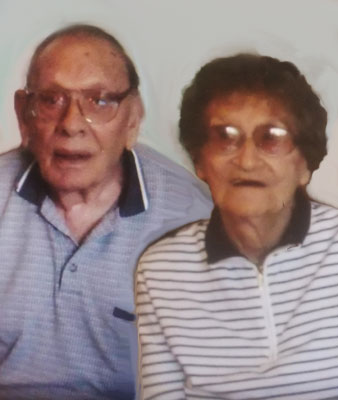 JENNIE GADZIA
"Together Again"
EDINBURG, PA. – Jennie Gadzia, former resident of Edinburg, Pa., passed away the morning of March 13, 2019, at the Golden Hill nursing home. She was a 100 years old.
She was born in what is now Hillsville, Pa., on May 2, 1918, the daughter of John and Anna Nocera Calabrese.
Jennie grew up in Hillsville and graduated in the class of 1936. She married her husband, James Gadzia, on Aug. 3, 1940, and together they raised two daughters. Jennie was a devoted mother and wife, and enjoyed baking and cooking for her family. She was a member of the Christ the King parish and had attended the former St. Lawrence Church.
Jennie leaves behind her daughters, Carol Coppola of Lowellville and Rosemary (Gary) Grgurina of New Castle,  Pa.; grandchildren Joseph Coppola III and wife Michelle of Lowellville, Jayanne Silvers and husband Brian of Shenango Twp. and Jason Grgurina and wife Rebecca of Charlotte, N.C.; great-grandchildren Joseph Coppola, Alexandria Coppola, Kate Coppola, the triplets Lilly Vari Coppola, Carlina Vari Coppola, and Patrick Vari Coppola, and Andrew Silvers and Gianna Silvers; also many nieces and nephews.
She was preceded in death by her parents; her husband, James, granddaughter Jodi Ann Coppola; sisters Margaret Ricciuti, Jeanette Pacillo, Josephine Notareschi, Mary Nerone and Dorothy Baker; and her brothers, Charlie, Anthony and Vincent Calabrese
Family will receive friends on Saturday, March 16, 2019, from 11 a.m. until 1 p.m. at the Terry A Cunningham Funeral Home at 203 Oak St. in Bessemer, Pa. A blessing service will begin at 1:30 p.m. Jennie will be laid to rest at St. Lawrence Cemetery.
Guestbook Entries
PRAYERS
"LOVE HUGS AND PRAYERS TO CAROL AND ENTIRE FAMILLY ON LOSS OF JENNIE."
» DEBBIE SHEELY (ARIZ) on March 14, 2019
Sign the Guestbook
---