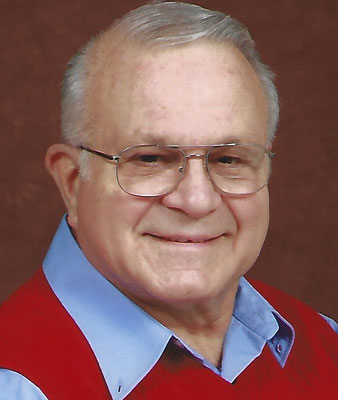 FRANK LOUIS SPENCER SR
BOARDMAN – A Mass of Christian Burial will be celebrated by the Rev. Terrence Hazel and con-celebrated by the Rev. Vincent DeLucia, at 11 a.m. on Friday at St. Michael Church for Frank Louis Spencer Sr., 75, who passed away peacefully Monday, March 11, 2019, following a serious illness.
Frank was born March 13, 1943, in Youngstown, a son of Louis J. and Mary Alice Kacenga Spencer.
A life time resident of the area, he was a 1961 graduate of Ursuline High School and entered the Armed Forces and was honorably discharged from the U.S. Navy in May of 1970.
Frank earned a Bachelor of Science degree in Education from Kent State University, he enjoyed teaching electronics, and was a vocational educator at Choffin Career Center. He retired from there Jan. 31, 1996.
He was the owner and operator of Spencer Electronics, where he specialized in intercom installation and repair as well as television and antenna tower installation and repair. He also worked on security camera installations. Frank was an avid gardener and loved to share his abundance with many.
He leaves to cherish his memory, his wife, the former Barbara Kaluczky, whom he married on July 17, 1999; his children, Frank L. (Shari) Spencer Jr. of Youngstown and Michele (John) Seese of Canfield; brothers Lawrence (Sandra), John, and Mark (Thelma) Spencer; sisters-in-law Sally Spencer of Rockford, Ill., and Jeanette King of Painesville; and grandchild William A. Spencer of Youngstown.
Besides his parents Frank was preceded in death by his first wife, Shirley Bungard, whom he married June 1, 1968, and who passed away May 12, 1998; and his brother, Louis J. "Sonny" Spencer Jr.
Friends and family may call from 4 to 7 p.m. today at the Fox Funeral Home, 4700 Market St. in Boardman, and also from 9:45 to 10:45 a.m. on Friday at St. Michael Church, 300 N. Broad St. in Canfield.
Franks family wishes for material tributes can be made in Frank's name to St. Michael Church family life center mortgage fund or the Youngstown DAV (Disabled American Veterans) and Angels for Animals building funds.
Interment will be Saturday at 10:30 a.m. at Lake Park Cemetery.
Arrangements are by the Fox Funeral Home in Boardman.
Family and friends may visit www.foxfuneralhome.org to view this obituary and send condolences.
Guestbook Entries
In sympathy
"Barb, you are in my thoughts and heart! May Frank rest peacefully in the arms of Jesus. God be with you giving you peace and comfort. Blessings and prayers, Alvera"
» Alvera Bell on March 15, 2019
I WILL MISS FRANK
"BLESS ALL THAT KNEW FRANK AS I DID... HIS INSURANCE AGENT. I WILL MISS HIM POPPING IN TO SEE ME MONTHS UPON MONTHS AND THE YEARS WE WERE FREINDS. I AM SO BLESSED TO HAVE HAD HIM IN MY LIFE... YOU WILL BE MISSED... BLESSINGS TO THE FAMILY... "
» GLENDA J PORTERFIELD on March 14, 2019
Sign the Guestbook
---