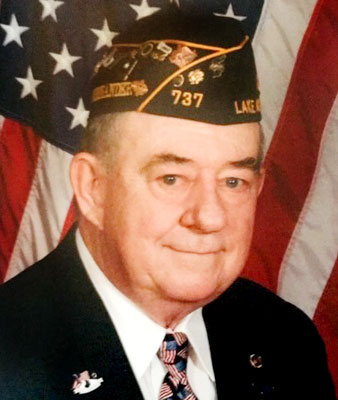 JAMES E. FRECKLETON
BERLIN CENTER – Funeral services celebrating the life of James E. Freckleton, 87, will be held at Noon on Saturday, June 15, at the Ellsworth Community Church, 11171 W Akron-Canfield Road in North Jackson. James passed away peacefully on Sunday, June 9, at Hospice House with his loved ones by his side.
He was born Nov. 11, 1931, in Youngstown, the son of James and Stella (Dowell) Freckleton.
He was a graduate of South High School and served his country in the U.S. Army. He was the owner/operator of Jim's Tire Pad on Southern Boulevard and retired in 1993.
Jim was a member of American Legion Post 737, where he served as Commander five times. He was also a lifetime member of the VFW in Ligonier, Pa. His hobbies included antique cars and tinkering in his garage, which he named "Jim's Tire Pad #2" following his retirement.
James leaves his wife, the former Donna Seres, whom he married Nov. 12, 1955; two daughters, Sandy Freckleton of Pittsburgh and Kathy (Pascual Jr.) Zamudio of Ft. Myers, Fla.; three grandchildren, Matt Schriner of Youngstown, Pascual (Shannon) Zamudio III of Las Vegas, and Deanna Zamudio of Cleveland; as well as four great-grandchildren.
Besides his parents, Jim was preceded in death by two brothers, Cal and Don Jardine; and one sister, Laurine Zimmerman.
Friends may call from 10 a.m. until Noon on Saturday at the church, where the American Legion will pay final tribute to Jim at 11:45 a.m. and services will begin at Noon.
In lieu of flowers, donations may be made to Hospice House, 9803 Sharrott Road, Youngstown, OH 44514 in Jim's name.
Friends and family may visit www.lanefuneralhomes.com to view this obituary and give their condolences.
Guestbook Entries
You are in our hearts
"Kathy and Pat, You are being held in our hearts with prayers that you cherish the wonderful memories always. Ellen and Charlie"
» Ellen on June 12, 2019
Our deepest sympathy
"So sorry to learn of Jimmy's passing. We all remember the many parties at your home and Christmas parties at the tire pad. I'm sure my dad met Jimmy at the pearly gates and they are having fun planning another party together "
» Terry &Mary Katherine (McCarty) Weese, Spring Hill FL on June 12, 2019
Sign the Guestbook
---