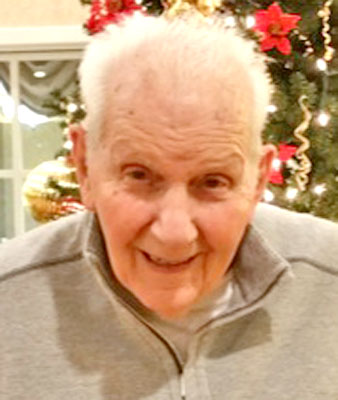 JOSEPH RELO
GAHANNA – Joseph Relo, 92, passed away Monday, July 22, at Chestnut Hill Senior Living in Gahanna, where he had been a resident for two years.
Joe was born on Jan. 19, 1927, in Hillsville, Pa., to parents Phillip and Josephine (Startari) Relo.
He graduated from Struthers High School and immediately enlisted in the U.S. Navy, proudly serving his country during World War II on the USS Little Rock.
Joe continued his service to the community as a Struthers Firefighter for over 30 years, retiring in 1983. Always working a second job, he was also employed at the Federal Wholesale Company in Hubbard. He was an avid golfer and played regularly at the Rolling Hills Golf Course in Pulaski, Pa.
He married the former Josephine Merlino of New Castle, Pa., on Feb. 27, 1960. She passed away on Jan. 17, 1997.
In addition to his parents and wife, Joe was preceded in death by his sister, Mary Triveri, as well as several brothers- and sisters-in-law.
Joe will be deeply missed by his daughter, Sue Ann Hufford, son-in-law Larry, and the light of his life, granddaughter Abigail, all of Johnstown; as well as several nieces and nephews.
A funeral Mass will be held, officiated by the Rev. Michael Swierz, on Saturday, Aug. 3, at 10:30 a.m. at Christ Our Savior St. Nicholas Parish in Struthers.
Friends may call at the church on Saturday, beginning at 10 a.m.
Joe will be buried next to his wife at St. John's Cemetery in Coitsville.
In lieu of flowers, the family suggests donations in Joe's memory to the charity of your choice or brighten someone's day by visiting with the residents of a local senior living community.
Visit www.schoedinger.com to share memories or extend condolences.
Guestbook Entries
Sign the Guestbook
---