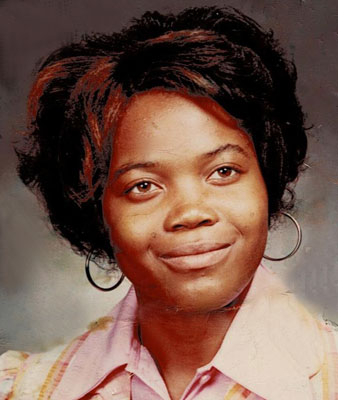 PHYLLIS D. STINSON
YOUNGSTOWN – A home going celebration in honor of Mrs. Phyllis D. Stinson will be held Saturday at 11 a.m. at the New Bethel Baptist Church. Mrs. Stinson departed this life July 5, 2019, in Poland, surrounded by her loving family.
Phyllis was born on March 1, 1957, the third of eight children born to Joseph and Ann Oliver of Youngstown. She was educated in the Youngstown City School system and was a 1975 graduate of South High School. Phyllis also attended Youngstown State University.
Mrs. Stinson stayed to herself, but loved to cook, line dance, go to the casino and travel, but most of all she loved spending time with her family. Phyllis was a dedicated God-fearing woman, who taught her children by example, how to find strength in God. She touched so many people with her caring and giving ways.
She had previously been employed at the Ole Ebony Record Shop, C. Staples BBQ restaurant and Heritage Manor.
It is in her home-going that we celebrate her life , legacy and share the wonderful memories of her spirit and essence.
She was a loving wife, devoted mother, grandmother, great-grandparent, servant, leader, and friend.
Mrs. Stinson leaves to cherish her legacy, her daughter, Devalynn D. Searcy and her son, Alvin C. Stinson Jr., all of Youngstown; three grandchildren, Aj'ah and Ashley Eldridge and Blaine Spires; three great-grand children; one sister, Amanda Rivers; and three brothers, Gary (Glenda), Timothy (Jill) and Dwayne Oliver of Youngstown; and a host of other family and friends.
Beside her parents and husband Alvin Stinson Sr., she was preceded in death by a sister, Francis Oliver and brothers Waverly and Joseph Oliver.
Friends may call today from 3 to 5 p.m. at the Washington Funeral Home.
The family will receive friends Saturday from 10 to 11 a.m. at the church.
Interment will be in Belmont Park Cemetery.
Ministry of comfort and transitional care entrusted to the J.E. Washington Funeral Services Inc.
Guestbook Entries
Sympathy
"My condolences to the family. Sorry for your loss.Prayers to the family"
» CARLA SHAW on July 16, 2019
In Sympathy
"To AJ & the other family members, our sincere condolences. Our prayers are with you during this time of sorrow. "
» Gwendolyn & Edmond Flakes on July 13, 2019
Sympathy
"My Condolences To The Family, My Prayers Are With You All. God Bless You."
» Linda Bell on July 12, 2019
Haven's Earth Angel
"Phyllis, I will never forget your smile. You were truly a Woman of God and the world has lost a living angel. You have impacted so many lives with your beautiful spirit and kind soul. Your children and those you helped to rear are in my thoughts on this day. The Mayo family sends their deepest sympathies and you all will be in our prayers. Rest peacefully."
» Candys Mayo on July 12, 2019
Sending Prayers
"With sympathy to the family. I remember her well in school a beautiful person and a beautiful spirit. May the Lord her and guide her to her new home."
» Victoria (Mabry)Rogers on July 12, 2019
My Condolences to The Family
"My most sincere sympathies to The Stinson and Search Families ! Phyllis was a Great woman , Mother and Friend whom I will truly miss ! I've known her and her family since we were kids and she's always been that same kid who grew up into a more mature version ! Phyllis was always just Phyllis so You knew what You got and I loved her for that !"
» Reuben D.Robinson on July 12, 2019
Condolences
"My sincere condolences for your loss. I graduated with Phyllis, she was truly awesome person. My prayers to the family. "
» Dorothy Dixon on July 12, 2019
Condolences
"Phyllis was a good friend of mine in school We graduated together in 1975. She was sweet, kind, and pretty!!❤️🧡💛 So sorry for your loss, she will be missed!! Condolences to the family!! Rest in peace Phyllis love you!! 🙏🏿🙏🏿🙏🏿"
» Linda Poindexter on July 12, 2019
Deepest sympathy
"My deepest sympathy for Phyllis's passing. I had the pleasure of working with her at Heritage Manor. She was a shining example of what a caring STNA should be. She took great pride in her work and was a compassionate care giver. We were very lucky to have her. May she rest in peace."
» Jacci Stiver T.N. on July 12, 2019
Sympathy
" "My condolences to the Family, Praying your strength and comfort during this difficult time." "
» Janice Torbert on July 12, 2019
Sign the Guestbook
---