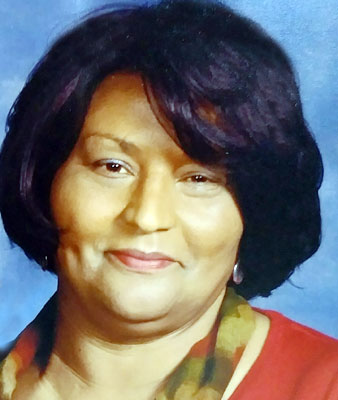 LISA N. JEFFRIES
YOUNGSTOWN – Funeral services will be held at 10 a.m. on Friday, July 12, 2019, at St. Patrick's Church for Ms. Lisa N. Jeffries, 52, who departed this life on Saturday, July 6, 2019, in Cleveland Clinic.
Ms. Jeffries was born March 16, 1967, in Youngstown, a daughter of Thomas H. and Arlene Isom Jeffries.
She was a LPN, a member of the church, loved movies, reading, and going to the YMCA.
She leaves her mother; her son, Thomas Jeffries; a sister, Leslie Williams; her niece, Victora (Anthony) Blackmon; her special friend, Mr. and Mrs. Kenneth Simpson; her godmother; Joezetta Carter; her cousin, Bill Isom; two  nieces, Olivia and Melissa Williams; and a nephew, Jordon Williams.
She  was preceded in death by her father.
Friends may call from 9 to 10 a.m. at the church.
Arrangements are being handled by the F.D. Mason Memorial Funeral Home Inc.
Guestbook Entries
Dearest Ms. Jeffries
"Our thoughts and prayers are with Thomas and your family. We watched Thomas bloom over the last few years. Your steadfast kindness, patience and courage was ever present. Godspeed. You will be missed. Your Walgreens Family"
» Eva Murphy on July 14, 2019
Sending my love...
"I had the privilege of being Thomas' kindergarten teacher. She (along with her mother) faithfully picked up Thomas daily. We were able to converse not only about Thomas, but each others' lives. I know she didn't always have it easy, but she did the best she could. She loved Thomas more than anything. I'm so sorry for your loss, Tom-Tom! Your momma was a special woman. You have ALL of her good qualities. I love you, buddy! — Miss Anderson ❤️"
» Nadine (Anderson) Mashburn on July 11, 2019
Dearly loved
"Lisa and I met when our boys were in kindergarten together. Caleb and Thomas were good friends and I'm so thankful to have been friends with Lisa because of their friendship. Lisa and I had many conversations in Chuck-E-Cheese while our boys played! I will cherish those memories. Thomas, your Mama loved you dearly. Sending much love, Garret and Mandy White Caleb, Charis and Micah"
» Garret and Mandy White on July 11, 2019
to the family of Lisa jefferies
"Lisa and I worked together. she was thoughtful kind beautiful on the inside as well as outside, She truly was a woman of God who cared for each and every patient of hers as if they were her own family member, Her strength and positive outlook has stayed with me, My prayers go to her family and friends because her smile was what I will remember as well. Fly strong high and proud because you truly were an Angel of Mercy on Earth "
» Terry Waltter-DeBerry on July 11, 2019
Thomas. Her. Son
"I love her so much she love me so much we had great moments together. she loves watching movies and going to the y and listen to music rest in peace Mom see you in heaven love you. 💔💔♥️"
» Thomas Jeffries on July 11, 2019
Precious lady
"My heart is so sad to hear of your passing. You were one tough lady, but always always made me feel so loved And appreciated. You always encouraged me even when I know you were in need of the encouragement. I will see you in Heaven!!! We will keep an eye in Thomas. 💝 "
» Rhonda Gray on July 11, 2019
Gods Angel
"R.i.h my friend im gonna miss you we had some good times together i will never forget you love you"
» Andre Adkins on July 11, 2019
Gods Angel
"R.i.h my friend im gonna miss you we had some good times together i will never forget you love you"
» Andre Adkins on July 11, 2019
Gone too soon
"Lisa, I simply cannot believe you are gone. I always thought we'd have time to make amends and to catch-up like we used to but time escaped us. I will be forever grateful for that last conversation we had on the phone while you were in St.E's. We laughed and talked like our old selves. Little did I know at the time it would be our last conversation...I will miss our shared interest in movies, your generous soul with others (especially animals), and your biting wit the most. I rest safe in the knowledge that our Angels above will look after you now and shelter you from harm. (Grandma Ruth, your dad Tom & Uncle Chuck, and my parents Uncle Bill & Aunt Elayne ). I Love You with all my heart. Rest in Pease-Billy"
» William Isom-Biasella on July 10, 2019
Sign the Guestbook
---