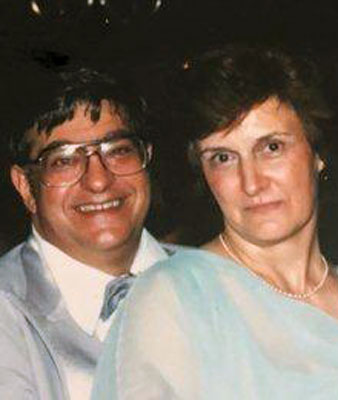 JANE M. LANZO
"Together Again"
CAMPBELL – Funeral services will be held at 10:30 a.m., Friday morning at the Wasko Funeral Home and 11 a.m. at Christ the Good Shepherd Parish at St. Lucy Catholic Church for Jane M. Lanzo, 83, who passed away Saturday morning at St. Elizabeth Hospital.
Jane was born, May 28, 1935, in Girard, the daughter of Dominic and Alberta Nuccio Casale.
She was a 1953 graduate of McDonald High School, where she was a class officer and a member of the National Honor Society, and a 1956 graduate of St. Elizabeth Hospital School of Nursing.
Jane began her nursing career with St. Elizabeth Hospital from 1956 to 1960 and then went on to work for the Youngstown Hospital Association from 1970 until her retirement in 1996. Following retirement, she was a volunteer with Ohio Reads Association for the Campbell City Schools.
She was a member of St. Lucy Catholic Church and the Youngstown Nurses Assoc.
Jane loved to cook for her family, and made the best sauce for Sunday dinners. She enjoyed going to the casino and traveling, but what she loved the most was spending time with and attending her grandchildren's events.
Her husband, Carmen R. Lanzo, whom she married on June 7, 1958, passed away on Aug. 26, 1985.
She leaves to cherish her memory, her six children, Lou (Janice) Lanzo, Josie Minnie, Don (Mary) Lanzo, Bertie (John) Verbanac, Ray (Debbie) Lanzo and Bob (Carolyn) Lanzo; grandchildren Jena (fiancé Bill Ramirez) Minnie, Alyssa Lanzo, Carmen Lanzo, Kiersten Lanzo, Kayla Lanzo, Cara Minnie, Lauren Lanzo, Ross Lanzo, John Verbanac, Justin Lanzo, Jarod Lanzo and Kiley Verbanac; one sister, Kathryn (Bob) Rimedio; sisters-in-law Helen Casale and Theresa Casale; brother-in-law Judge James R. (Kristine) Lanzo; her aunt, Mary Ronci; and many nieces, nephews and cousins.
She was preceded in death by her parents; her husband, Carmen; her grandson, Ryan Lanzo; son-in-law Frank Minnie; two brothers, Dr. Michael Casale and Donald (Ducky) Casale; and one sister, Tina (Don) Dorn.
The Lanzo family has entrusted their loved one to the care of the Wasko Funeral Home and will receive family and friends on Thursday evening from 4 to 8 p.m.
Visit www.waskofamily.com to send Jane's family condolences.
Guestbook Entries
My deepest sympathy
"To Ray and Bobby: so sorry for the loss of your mother. My prayers to you and all your family for comfort and healing! RIP Mrs. Lanzo"
» Kathleen Pesa Maley on February 4, 2019
Deepest sympathy
"Deepest sympathy to the Lanzo Family. Jane was a dear friend whom I enjoyed working with for many years. We also enjoyed many breakfasts with our retirees breakfast club and numerous fun trips..🙏🙏🙏🙏"
» Peggy Fox on January 31, 2019
Condolences
"My thoughts and prayers the Dorn family"
» Donna Dorn on January 30, 2019
With Deepest Sympathies
"So sorry to hear of the passing of your mother, my deepest sympathies. Cherish your memories."
» Debbie Johnson Boyer on January 30, 2019
Condolences
"To the family that made me feel as one of their own, please accept my prayers and thoughts for a wonderful woman who accepted me as one of her own. Mrs. Lanzo you will be greatly missed and may God Bless you through all Eternity."
» Tony on January 30, 2019
Condolences
"Jane Lano made the world a better place. She always had a smile and a word of encouragement. May God bless her family and friends as they reflect on her life. She will be missed by all."
» Nicholas Timcisko on January 30, 2019
Condolences
"My heart goes out to Jane's family. She was kind and sweet. She will be missed by many. She always had a smile on her face and made you feel special. She was loved by all who knew her. "
» Nicholas Timcisko on January 30, 2019
From Maria and family
"Ray and family, Deepest condolences and sympathies for your family on the passing of your mom. May her memory be eternal."
» Maria Cambouris Tsakas on January 30, 2019
Sign the Guestbook
---